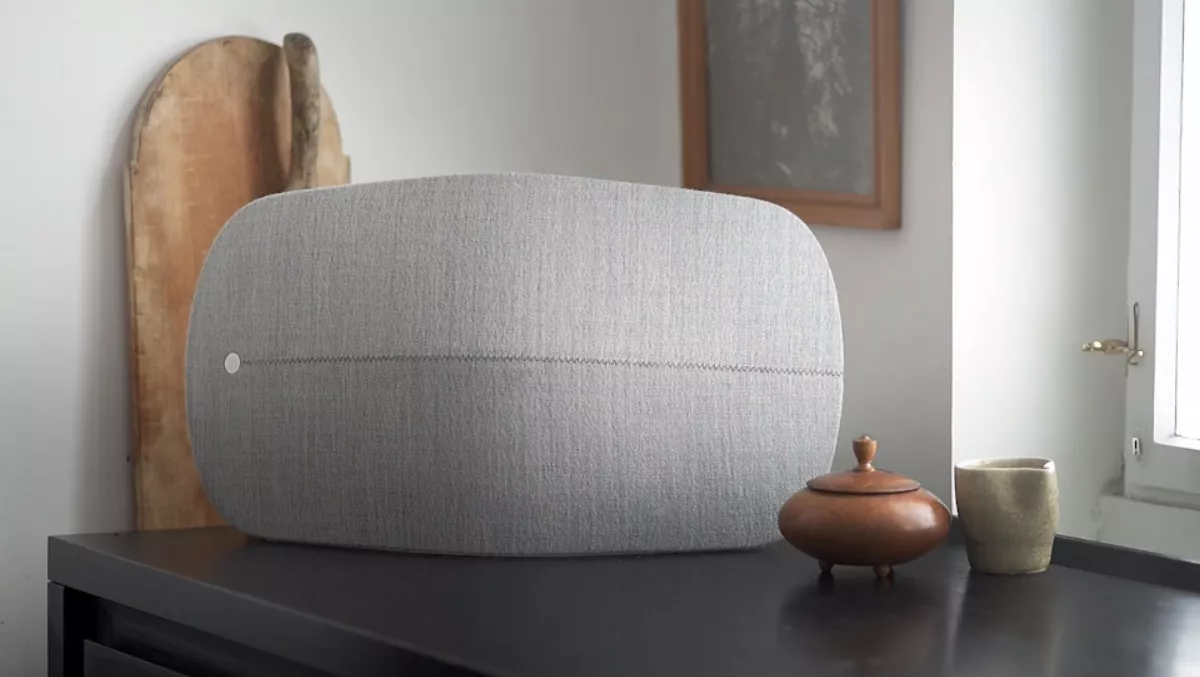 Hands-on review: B&O Beoplay A6 in-home speaker
FYI, this story is more than a year old
Bang & Olufsen (B&O) strikes me as being one of those premium Danish brands that screams quirky home décor that looks like it's been dreamed up by an interior designer.
The Beoplay looks like the jaws of a whale. Apparently inspired by the colours of the rugged Nordic landscape, this speaker offers loud, clear and crisp sound in three varieties that can match whatever décor you have.
Design
Curved almost like an arrow to ensure a wide spread of sound, its minimal design doesn't do what's under its skin justice. According to the amp specs, there's two 60-watt woofers, one 60-watt for full range and two 30 watt tweeters – together you could not ask for a crisp yet bass-heavy sound.
There's what appears to be a woollen thread frontage, allowing porous transmission of sound. Around the back, a white rubbery back offer support. On the top edge of the speaker are the controls: Swipe left and right to change volume, press left and right to skip tracks.
Hit the O to pause and of course the power button on the left. Swiping left and right can take some practice, and the controls are a little fiddly. I found it much easier to control through my streaming device. Speaking of streaming: With Bluetooth, wi-fi, Ethernet, Google Cast, AirPlay, Spotify, DLNA and others, you have no shortage of connection options.
However, as minimal as its design is, there's something of a niggly part. The buttons and cable panel are neatly tucked away into the bottom, but that does make them hard to get to. Those buttons include the three settings (wall, corner or freestanding), as well as the Ethernet cable, USB, Line In and power cable plug sockets.
There's no internal battery on this speaker, so AC connection is mandatory. Depending on the quality of your Bluetooth specs and placement of your transmitting device, I found that there may be a slight sound delay. Better positioning or a different choice of streaming method can mitigate this issue.
There's some tech stuff to do first:
Have an Ethernet cable handy, because you will need to plug the speaker into your modem. Download the BeoSetup app on your smartphone and through a simple connection process, the A6's firmware will be updated.
How does it sound?
Now to the important part: With a New Zealand retail price of around $1850, you'd expect great things.
The sound can get a wee bit distorted at very high volumes. Note: this thing can go deafeningly loud, so distortion to be expected. Its ideal range falls in between 35-22,000hz, so adjust accordingly. The sound gets a little too high on the treble side when up loud too, so again a quick crash course in music sound settings or an equaliser would help you make the most of this speaker.
I could hear the muffled bass booming from downstairs – a mean feat considering the speaker's size.
When at reasonable levels, the music genres fared well all up. Rap sounded fantastic, dubstep even more fantastic, as did classical, pop, pop rock and jazz. Rock came across as a little distorted.
I even tested it through some movie and TV media. Both did well as you could hear vocals and soundtracks crisply and clearly.
When I put aside my initial surprise that such a strange looking speaker could put out some seriously smooth sound, the A6 is not to be laughed at. For its price point, it wants to provide quality, and it does just that.
While the controls and access panel can be a little fiddly and the sound a little fizzy at deafening levels, this is an all-around great performer that promises some serious boom for its buck.
Related stories
Top stories