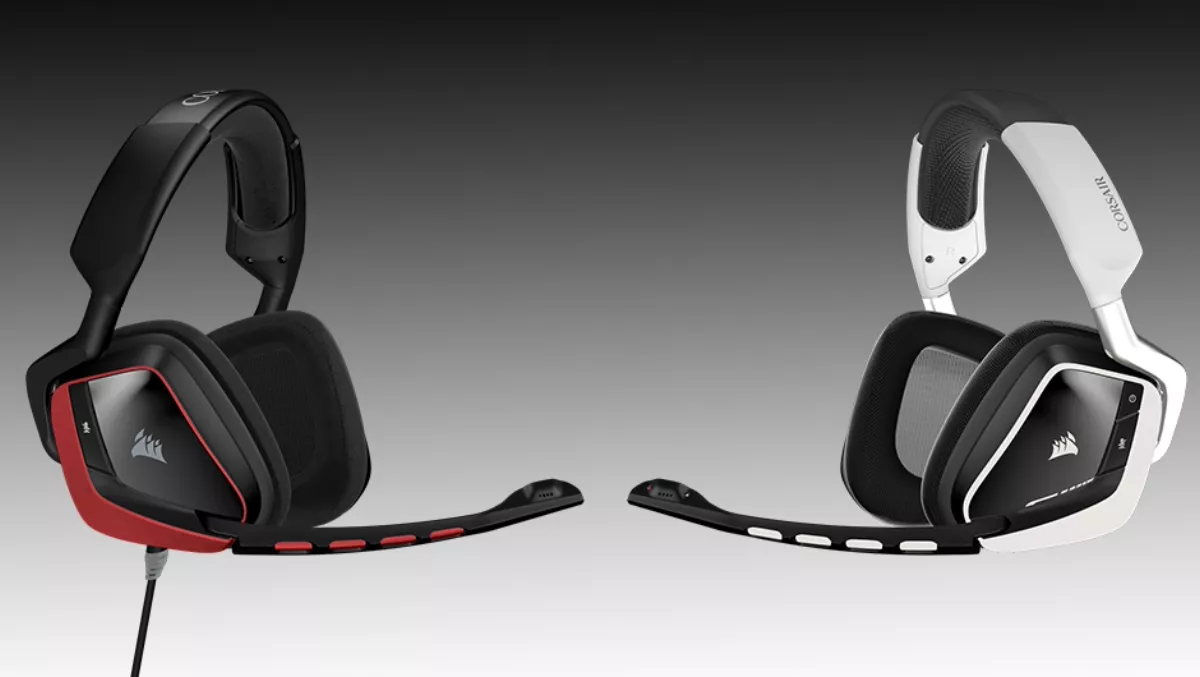 Hands-on review: Corsair Gaming Headphones - wireless or wired?
FYI, this story is more than a year old
The Products: Corsair VOID Surround Hybrid Stereo Gaming Headset with Dolby 7.1 USB Adapter AND Corsair Void Wireless Dolby 7.1 RGB Gaming Headset
I love the fact that in this job I get to try out new technology, to play with it and then to covet it, glancing longingly in my darling's direction with puppy-dog eyes and a wistful expression. My old gaming headphones are great, or so I thought. Spending a happy week with the red and black wired set, I dragged my feet into the Netguide Office, where I was passed a set of wireless headphones. "You can review both sets together," I was told. Great! Now how the heck am I going to compare these two?
The first thing I did was to connect these to my MacBook pro using the USB dongle, (which I then mislaid; sorry Ed.)
The first impression was just how light and comfortable these are. I would have worn them to bed but I was stopped at the door and ordered to take them off. But what you will doubtless want to know is how they sound. Comparing them to my old faithful headphones is like comparing the performance of a Bugatti Veyron with a Toyota Corolla. Both are excellent vehicles in their own right, but the gap in performance is unmeasurable.
I put on my favourite piece of music at the moment before settling back to listen to Adele's coffee-painted tones. I live in a quiet street but the lack of background noise of any kind was amazing. No static or crackle that I could hear, and then the music started. That's when the Dolby 7.1 made itself known. Closing your eyes you would swear you were in a recording studio. The bass tones and the higher registers rang out with a clarity that was like having the best seat in a concert. Even if you're not into gaming, I'd still recommend these headphones.
Headphones (both sets)
Type: Dolby Headphone 7.1 positional audio
Frequency Response: 20Hz to 20kHz
Impedance: 32 Ohms @ 1kHz
Sensitivity: 107dB (+/-3dB)
Drivers: 50mm
Connector: USB Type A
Connector: 4-pole 3.5mm min-jack
Wireless dongle connects to USB port, and charged, the headphones will last 16 hours before recharging.
Microphone
Type: Unidirectional noise-cancelling condenser with adjustable, rotating boom
Impedance: 2.2k Ohms
Frequency Response: 100Hz to 10kHz
Sensitivity: -38dB (+/-3dB)
The wired headset comes with a soft rubber cable, almost two metres in length.
The styling and colour accentuates the light feel of these headphones - they are a truly attractive piece of hardware.
Whether you are an avid gamer or purely someone who listens to music and Skypes occasionally, you are going to love these headphones. If you get uncomfortable when gaming, these headphones may be the answer to your woes. They are so comfortable you'll forget you're wearing them.
The Wireless Headset:
After a wonderful week with the black wired set, I plugged in the dongle, donned the white headphones and sat down for a solid week of gaming, listening to music, and gaming.
The great thing about the wireless set, beyond the cool RGB colours, is the fact that I can wander around the house, listening to my tunes, without having to cart my laptop with me. I have eclectic music tastes, so moving right along from Adele, I tuned in to a leisurely song by a band named after a German Airship, Led Zeppelin.
According to the specs, the sound qualities of both headphones are identical. I couldn't tell any difference, but I'm told my selective hearing may interfere with my judgement. Checking out the prices, both sets are similar, and even the Special Edition Yellow set are comparable.
Your choice is going to come down to how you use your headphones. The wired set can be used with your gaming console, and even your tablet or smart-phone. That gives them a variety of uses while the wireless set is limited to items that will take the dongle.
The choice is yours, but no matter how you choose, I can promise you a quality experience, with a sense of cool that Mac users will instinctively identify with. As you read this and rush off to the Corsair site, spare a thought for me as I sadly pack up the headphones and contemplate a sad journey back to the office to return them.
Related stories
Top stories