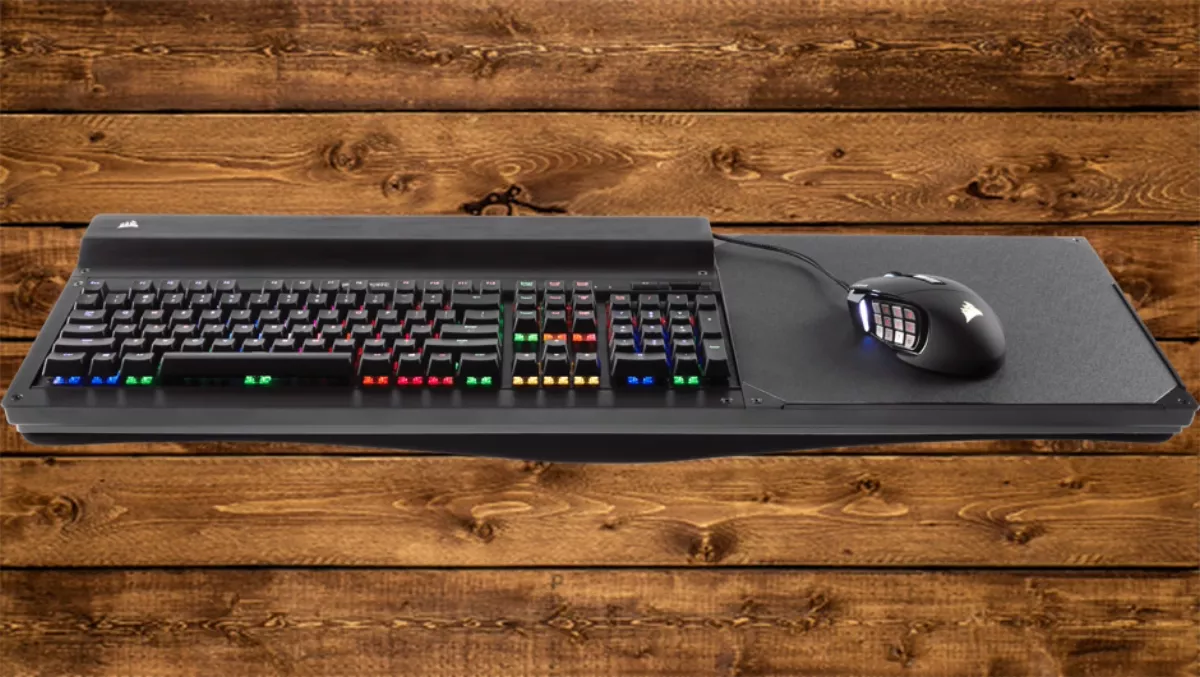 Hands-on review: Corsair Lapdog - Living room gaming with zero compromise
By Owen McCarthy,
Tue 6 Sep 2016
FYI, this story is more than a year old
I'm reluctant to review this product after only a month or two of testing, but my polite but insistent email tells me I need to return the gear. This ensemble has to be some of the best gear I've reviewed, and I've broken the review of the Corsair Lapdog Console down into its components.
The Corsair K70 Rapidfire Gaming Keyboard
What a positive, tactile experience it is just typing with this keyboard. Your fingers have space to flex and move, and the experience can be likened to using a keyboard on one of the old electric typewriters. But, I hear you asking, what has this to do with gaming? This extended keyboard will turn you into an ace with any games requiring keyboard controls. Once plugged in via two USB cables, the keyboard lights up and can be programmed to glow in a variety of colour schemes. Red and white were the default and my extensive classical education suggests to me that this is symbolic of all the cyber-blood I was about to spill in the e-killing fields of gamedom. The W A S D keys are thoughfully lit up in white, and gamers won't need an explanation of that. For the uninitiated, I'll give you a clue. The forward, reverse, left and right arrows are also lit in the same colour. Head down to no. 4 and there's more!
The Corsair M65 Pro RGB Gaming Mouse
This mouse positively glows! It complements the headphones nicely, but suffice to say, that it's a wonderfully tactile mouse that would also serve those of us who suffer from OOS from repeatedly hitting the same buttons over and over and over. On this mouse you can get your thumb to do most of the work and the experience is ergonomically thrilling. Speaking of ergonomics, the M65 moulds to your hand, so much in fact I'm undergoing separation anxiety as I type... Oooh, all better now. I just went for a scroll up and down the page using just my index finger. I can't wait to shoot some bad-guys with this bad-boy.
The Corsair Void RGB Wireless Gaming Headset
I wrote about these headphones a while back and suffice to say, I now own a set. Yes they are that good. The sound quality with games is brilliant. Explosions really…er.. explode, footfalls fall, and the grunts of expiring enemies are so authentic it brings me almost to tears. The 7.1 surround sound experience is amazing, and I spent hours and hours listening to my favourite music. Eventually though, my neighbour demanded his son's Wiggles DVD back.
The Corsair Lapdog Console
Imagine snuggling up to your 50 inch telly, with your PC using it as a monitor. Reclining in your comfy chair, with the Lapdog console nestled on your lap, you're ready to defeat the Borg, waste those pesky zombies or beat Mikey's best score in Bejewelled. The console comes complete with instructions and Allen keys, and all you have to do is remove some panels, nestle in your keyboard, and connect the cabling. It functions as a powered hub for all those peripherals. Included in the console is a massive 11" square mouse pad, and a lovely moulded foam underlay for comfortably resting the whole thing on your lap. The console comes with its own power adapter, so your peripherals will be powered up. The adapter plugs into a y-split cable that runs the USB cable to your PC.
The experience
There is something for everyone in this ensemble. The Lapdog will appeal to those wanting gaming in comfort. The keyboard will take your typing skills to a new level, and you'll love the positive clicky sound and the comfortable action of the keys. (By the way, spare keys are included in the package. Gamers will guess which they are. The mouse is a must for serious gamers, but will be a godsend for the digitally damaged. The headphones will delight you with their 7.1 channel experience. The only negative I can find is that I have to return this gear tomorrow. Oh, and in case you didn't get it, your gaming experience will rock, be it in an online gaming room or simply playing your favourite Y8 game.