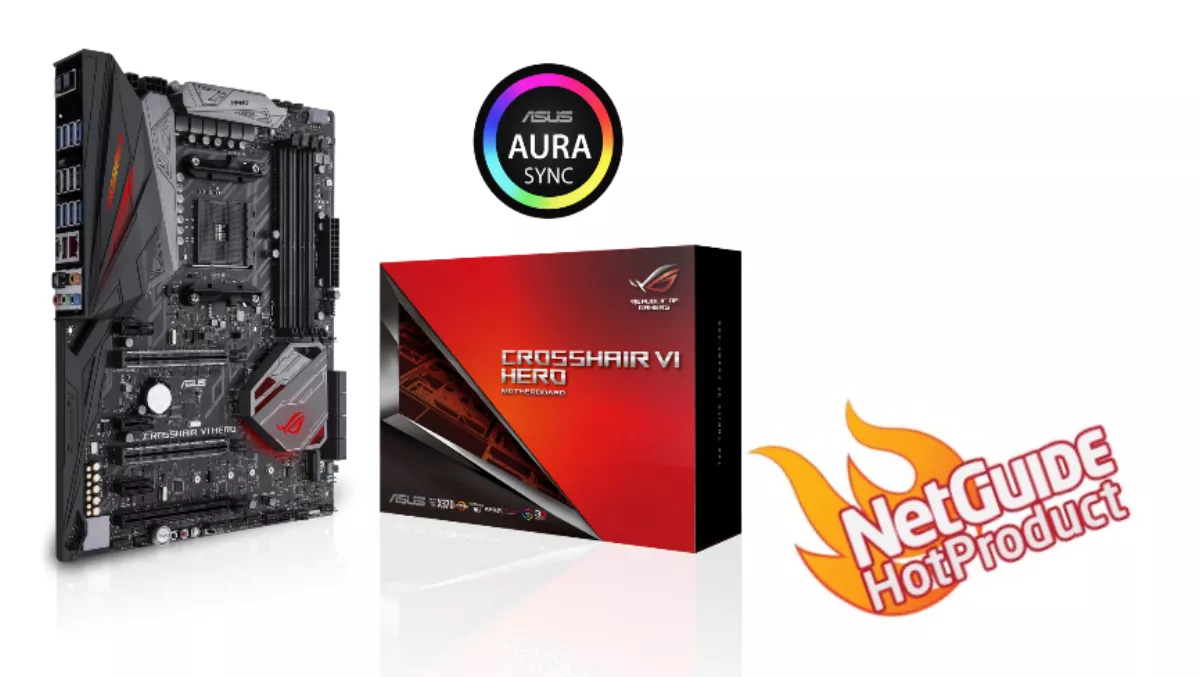 Hands-on review: ASUS ROG Crosshair VI Hero Motherboard
FYI, this story is more than a year old
AMD X ROG: The Golden Combination.
It has been six years since AMD last had a new platform that could go head to head with its rival Intel. It is unfortunate that the development of relative parts such as quality motherboards has also slowed down due to lack of high performance processors. At last, after years of waiting, it finally time for AMD to make its comeback.
We are blown away by what AMD has on the plate when we first saw the Ryzen processor. Sporting an impressive 8 core / 16 thread horsepower, up to 4GHz Turbo Core, unlocked CPU Ratio, it is the perfect platform for high performance workstations. Of course, a great processor cannot make a great system without an impressive motherboard, and this is our main course today, the CROSSHAIR VI HERO from the Republic of Gamers.
The CROSSHAIR VI HERO is the 6th Generation product in the ROG Crosshair series. Being the flagship board at first wave launch, the CROSSHAIR VI HERO has the feature and quality to make this new platform shine at its fullest.
One thing that makes the AM4 platform unique is the integration of high speed host controllers in the SOC module of the CPU. The GEN3x4 M.2 and four of the eight USB 3.0 ports are moved from the PCH into the CPU, offloading the PCIEx4 communication lane for higher I/O throughputs.
Gamers will love their SupremeFX gaming audio, based on their custom made SupremeFX S1220 codec plus Hi-Fi Grade ES9023P DAC from ESS plus other Hi-Fi grade components. This is essentially mounting their famous STRIX gaming audio card onto the motherboard. I found it hard to believe this is coming out from an onboard solution. Despite being on AMD platform, it still features the quality Intel LAN and GameFrist IV to combine multiple network sources for smoother connectivity.
For people wish to push the platform to its fullest, there is dual EPS power feed and their famous Extreme Engine DIGI+ power design. These ensure there is sufficient power for even the highest current draw during extreme overclocking. There is also an external clock generator that allows the control over BCLK for more tweaks, as well as bypassing platform restrictions. There are also a set of handy overclocking tools such as voltage readout points (ProbeIt), LN2 Mode switch and Retry Button at the side if you need them. Extreme overclockers can also reuse their existing LN2 pots on this platform as it also comes with the standard AM3+ mounting holes.
For people desiring a bit of the extra, there is dedicated water pump header for both AiO and custom water cooling solutions. All fan headers feature both PWM and DC control, and can be calibrated and adjusted to reference up to three temperature reference points. While chassis fan headers turns off at idle, CPU Fans can make use of both PWM and DC control at the same time, reducing fan noise to the absolute minimal. There is also a series of AURA SYNC ready RGB LED lights that can be synchronized to your VGA card, DRAM, RGB strips, mouse, keyboard and more.
Finally, for people who simply want a system to last, they are taken cared of well by the Gamer's Gradient, Safe Slot, and USB BIOS Flashback, assuring bulletproof protection against environmental hazards as well as human errors.
It has not been easy to construct an all-rounder with solid performance for design work while also great for gaming at an attractive price point. With the strong come back of AMD and great performing products like the CROSSHAIR VI HERO, we can foresee bright future coming for tower desktops.