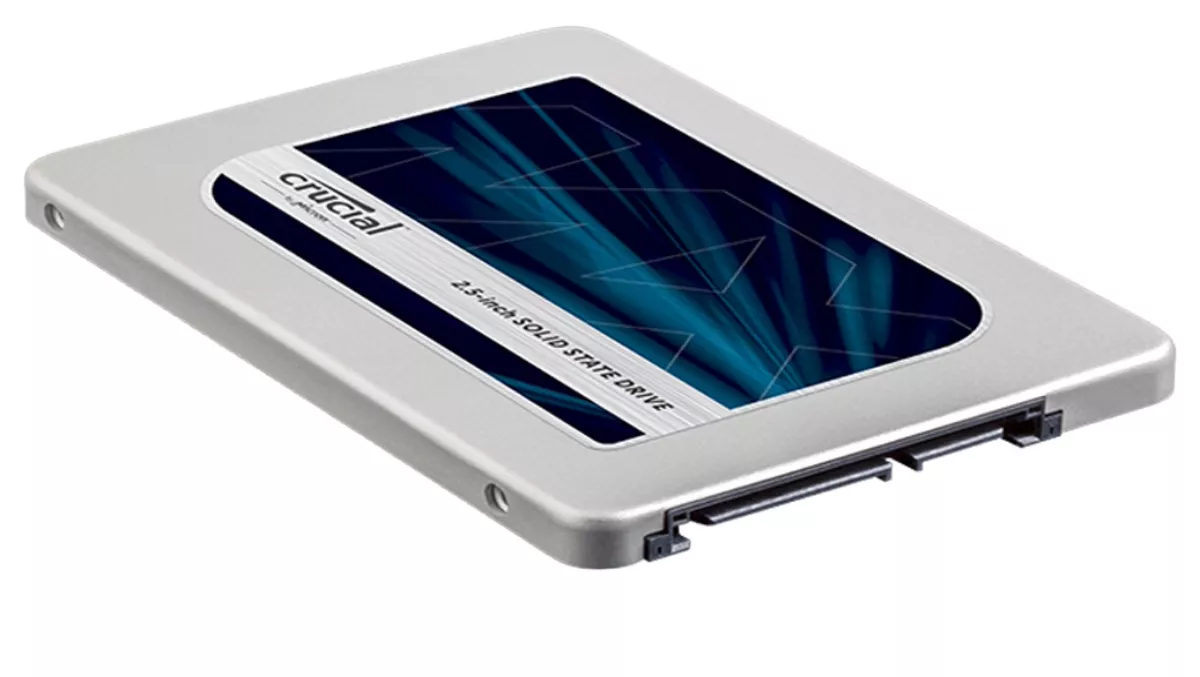 Hands-on review: Crucial MX300 750GB Limited Edition SSD
Tue, 2nd Aug 2016
FYI, this story is more than a year old
Crucial's new MX300 750GB solid state drive finally gives hardcore PC users the fast hard drive space they've been asking for.
A measly 120GB or even 250GB SSD is of little use for the PC power user. OK, so you can put the operating system on it, but it leaves precious little space for anything else. Your games and apps are going to have to reside elsewhere on your system, probably on a regular hard drive.
If you've a laptop without the available bays for multiple hard drives, up till now, you've had a choice between a fast booting SDD or having enough storage capacity with a traditional 2.5-ince hard drive.
Things are changing and with Crucial's 750GB MX300 SDD, there's no longer the need to make the compromise between fast data access and data storage capacity. And priced at around NZ$350, it's not going to break the bank, either.
Housed in a sturdy metal shell, the MX300 not only looks tidy, but is also fairly robust. The drive is light as a feather and comes complete with an optional plastic space to aid installation.
I've been using the MX300's little brother, a 500GB BX200, to store my review games for almost a year without any fault. Being a Crucial SSD- from Micron, the same people who produce Lexar memory cards and, of course, Crucial DDR memory, I trust my data with the brand.
Crucial boasts that the MX300 uses Micron's 3D NAND acceleration technology to give us sequential reads/writes up to 530/510 MB/s and random reads/writes up to 92k/83k. As you can see from my CrystalDiskMark 5 bench test, they are not far off.
With these speeds you get near instant boot times and programs loading lightning-fast. You can work and play harder and faster than ever. I found Crucial's MX300 750GB is an essential upgrade, giving my C: drive the access speed I need and enough storage capacity so that I don't need to worry about how many programs I'm installing on it.
Other features of the drive, as per the spec sheet are:
Dynamic Write Acceleration: This technology uses an adaptable pool of high-speed, single-level cell flash memory to generate blistering speeds throughout the drive's long life.
• Extreme Energy Efficiency: The Crucial MX300 extends laptop battery life by using only 0.075W of power – that's over 90x more energy efficient than a typical hard drive, which uses 6.8W.2
• Crucial® Storage Executive: This complimentary downloadable tool is easy to use and helps monitor and enhance the performance of the Crucial MX300. With the tool, users can update to the latest firmware and enable the Momentum Cache feature to instantly improve burst performance by up to 10x.3
• Encryption: Keep personal files and confidential data secure from hackers and thieves with top level, government-grade AES 256-bit hardware-based encryption that meets or exceeds all industry standards, including Microsoft® eDrive, IEEE-1667, and TCG Opal 2.0.
• RAIN: Protect your data at the component level with RAIN technology, which stores data in multiple locations on the drive for increased reliability. This high-end feature works similar to how RAID is used with multiple hard drives.
• Exclusive Data Defense: Prevent photos, music, videos, and other files from becoming corrupted and unusable with exclusive technology that protects the components data is stored on.
• Inherent durability: Since SSDs don't use moving parts that wear out over time (like hard drives), files are less susceptible to a crash. SSDs can also survive physical trauma, like getting dropped, since they don't rely on mechanical parts.
Crucial's downloadable Storage Executive tool allows you to keep an eye on the drive's status, set over provisioning speed optimisation tool and update the firmware. It also allows you to keep tabs on your non-Crucial drives as well.
I can't help but be impressed by the Crucial MX300's performance in my gaming rig. The 750GB capacity also makes the MX300 a great energy-efficient replacement hard drive for your laptop, allowing you to work longer on a battery charge. Crucial boast that the MX300 is over 90x more energy efficient than a usual hard drive, using only 0.075W of power rather than the typical 6.8W.
Crucial's MX300 750GB has made fast Solid State Drive technology affordable and economically available with enough storage space for it to be used as your main drive. With real-world file transfer speed up in the 500MB/s range, the MX300 should be your next hard drive upgrade.