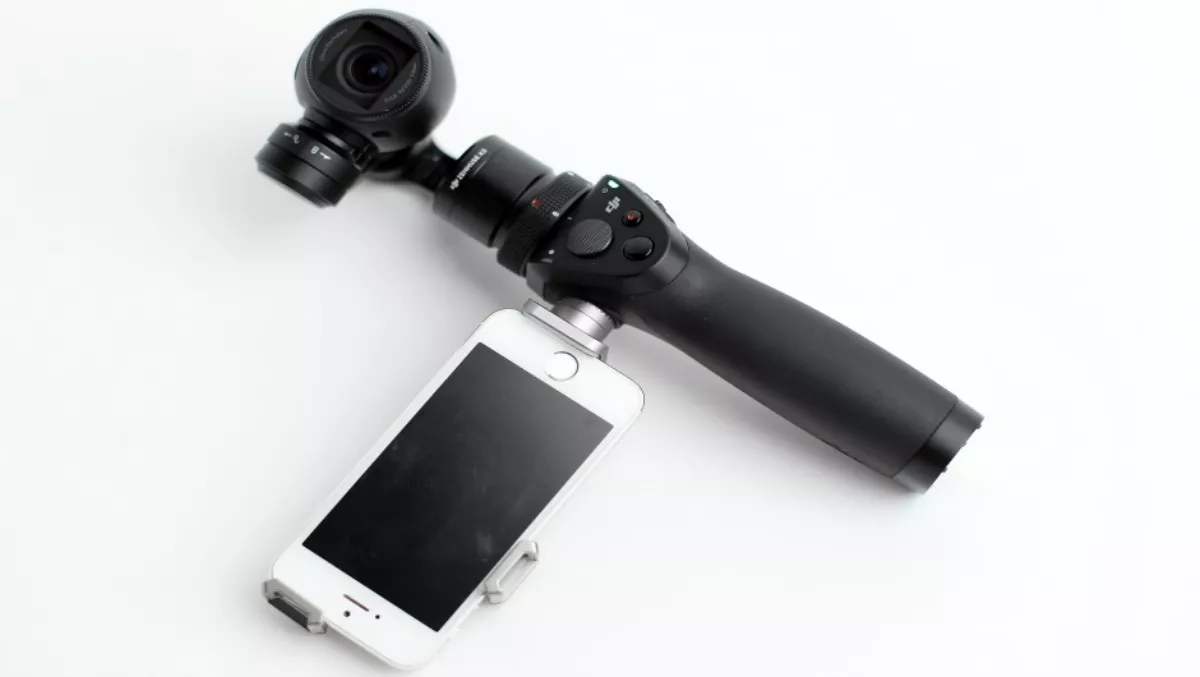 Hands-on review: DJI OSMO handheld 4K camera
FYI, this story is more than a year old
The DJI OM160 OSMO has the precision of joystick control and steadycam gimbal. It's a drone camera without the drone, so you can keep your feet and camera close to the ground... if you want to. The 12MP camera is packed with a Sony Exmor R CMOS; 1/2.3" wide angle lens, attached to a fully rotatable gimbal with joystick controller. Your phone or your tablet acts as a live viewfinder with full manual camera settings via Wi-Fi connection.
The OSMO
You can shoot up to 4K resolution on this camera, with sweeping 360° panoramic videos with vertical tilt and horizontal pan. Full manual controls allow you to tweak your ISO (which ranges from 100-3200) and camera settings in the app. A 2-minute video at 4K quality uses approximately 910MB of storage space in MOV format, which is saved to MicroSD card. Photos can be shot in RAW format so if you want a high-quality panoramic selfie photo or video on your next adventure, you can get exactly that. Manual shutter speeds range from 1/8000 to 8 seconds and ISO from 100-1600, allowing more control over your photos from dawn to dusk.
The indoor video quality coupled with the SmoothTrack technology was very good; there weren't many bumps or jarring motions. The camera seemed more suited to an outdoors (or at least a brighter) environment. If you're looking for a better camera, the DJI X5 or X5R camera may be better than the OSMO X3. As for the internal microphone, it isn't great at picking up voices but it is good at recording the loud whir of the camera's fan and motors. An external microphone is recommended.
The main controls are located on the gimbal: shutter button, record button and the small circular joystick button. The trigger button around the front can centre the camera or lock its position. You're also not limited to just portrait or landscape shooting modes. The way you position the OSMO also triggers different operation modes: upright, underslung, flashlight and portrait.
The detachable phone mount is on the side, which can be replaced with other accessories like a bike mount, vehicle mount or tripod. The OSMO also has a set of three locking mechanisms, while the carry case will further protect it from knocks and bumps. This is important since the entire device can't stand up on its own. The battery lasts around 90 minutes of active use so you may need to invest in a couple of spares if you plan to use it for long shoots.
The OSMO isn't waterproof or dustproof. There are sensitive electronic parts lurking, especially one major chip set just within the gimbal lock, so you won't want to take the OSMO through muddy mountain bike tracks or white water rafting. It's great for scenic photos and could even make the grade for semi-professional movie shoots.
The DJI GO App
To use your phone or tablet as a live viewfinder, you will need the DJI GO app to register your OSMO. It also helps control all video and photo settings like the shutter speed, HDR, timelapse, battery level, exposure and ISO settings, gimbal control, camera control settings and more. Functional, detailed and continually being improved, this is the engine room of the entire system.
A trawl through the DJI user forums shows that the OSMO is clearly a popular product. There is a very competent OSMO customer support service that can help out for any issues. The app is constantly being improved and will be tested to ensure compatibility with a variety of devices. The DJI OSMO is an innovative device that I hope will be improved to become a benchmark for quality actioncams.
You can find the the OSMO at PB Tech, New Zealand's largest computing and IT retailer. Click here if you would like to know more.