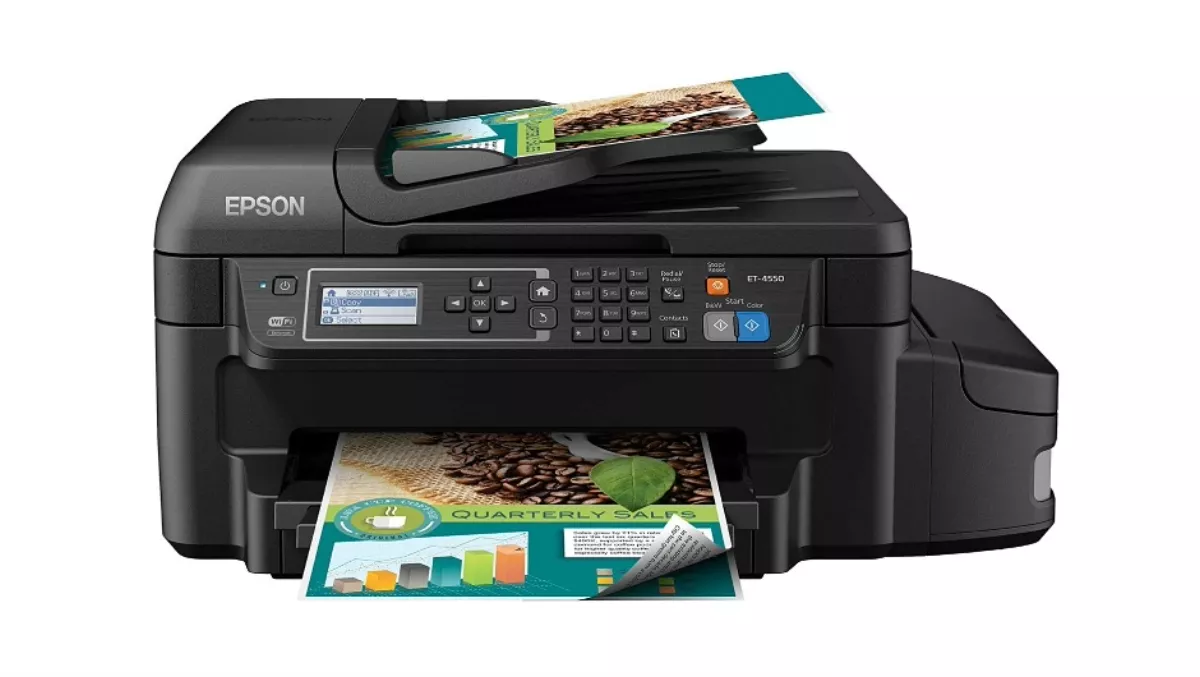 Hands-on review: Epson WorkForce ET- 4550
Thu, 21st Jan 2016
FYI, this story is more than a year old
By Sean Mitchell, Publisher
You might think that all printers are the same. Well the Epson WorkForce ET- 4550 is quite different and it's part of a new breed of inkjet printer.
First of all and one of its most defining features is its new approach to ink. It doesn't have ink cartridges. Instead it has four ink tanks that are located on the right hand outside of the device. Each of these can be filled up easily with a squeeze bottle of ink.
Epson calls this new approach 'Ecotank'.
These external tanks store a huge amount more ink than the small internal cartridges on other printers. Which in turn means that the printer ships straight out of the box with approximately 2 years of ink. More precisely that's 11,000 pages in black only or 8,500 in full colour mode.
Secondly you can easily see on the outside of the device the four ink levels. Plus it's incredibly easy to fill up the individual tanks.
This means less trips to the stationery store for new ink cartridges. Although you do need to take that into account when purchasing the device as essentially you're buying two years worth of ink upfront, instead of a cheaper competitor with just a few months worth.
Aside from the ink, this is an awesome model. It's a full multifunction printer with colour printing, scanning and fax sending.
You can connect to the device via Wifi, USB and ethernet (that's your wired network). Plus it includes a port for plugging in your telephone line for sending faxes.
It's really high quality, printing at 4,800 x 1200 dpi (dots per inch) and scanning at 1,200 x 2,400 dpi.
It's also really fast, printing up to 13 pages a minute single sided and up to 6 pages a minute in double sided mode.
The front of the unit has a neat little LCD unit that explains the status of everything, although with so much ink on board from day one, you won't be seeing the low ink message much.
Epson also has some printing and scanning Apps available for your smartphone or tablet. These can be very useful and mean that essentially you don't need a computer to fully use the printer.
Overall, this is a great printer and could easily replace a laser printer in a small office or workgroup situation. It's much better quality than laser and the cost per page to print in most instances would be lower. The ink included is incredible, although expect to pay a bit more upfront for the 2 years worth of ink.
Well done Epson, you've outdone yourself with this model.
If you would like to know more about what Epson has to offer, click here.