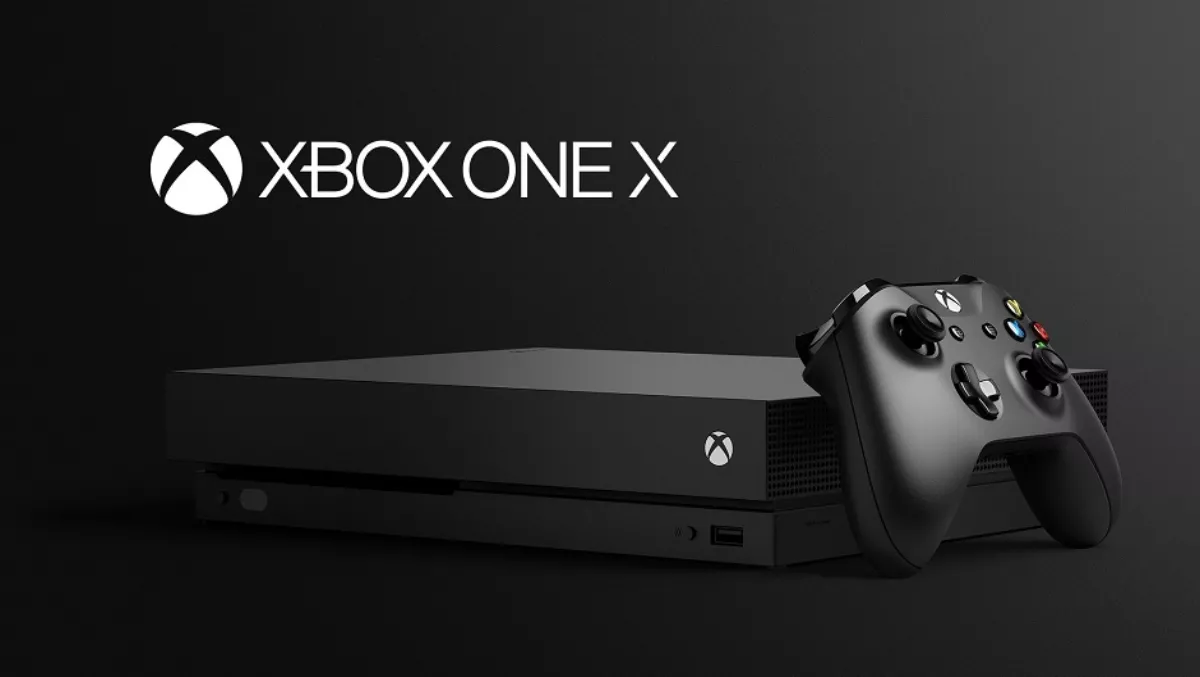 Hands-on review: The final verdict on the Xbox One X console
By Damian Seeto,
07 Nov 2017
FYI, this story is more than a year old
The Xbox One X is the highly anticipated new 4K capable console from Microsoft. Is the new console worth the upgrade if you already own the previous iterations of the Xbox One?
When the original Xbox One was released in 2013, some people criticised its lack of power. First party games looked good, but several third party titles looked better on the PS4 console instead.
Fast forward a few years later and we have got two upgraded versions of the PS4 and Xbox One. Sony released the PS4 Pro first in 2016 and now we have the Xbox One X in 2017. Let's rundown what Microsoft's new console has to offer.
Price: Here in New Zealand, the regular retail price for the Xbox One X is $749.00 NZD. This is the same price of the original Xbox One when it first came out in November 2013.
The price only includes the console itself and no extra games. In comparison, you can get an Xbox One S with one game for prices well under $500 NZD. Microsoft's console is also several dollars more than Sony's PS4 Pro. A normal PS4 Pro bundle in New Zealand costs $595.00 NZD.
That said, the upgrade is actually worth it as the Xbox One X offers a lot under the hood. This takes me to the next category and that is the specs.
Hardware and specs: The Xbox One X is a beast of a machine and is comparable to a decent gaming PC. As noted by Microsoft, the console has "6 teraflops of graphical processing power" meaning games look and load better than ever before. It also has "12GB of GDDR5 of graphic memory" so it can output games in stunning 4K up to 60fps.
There's a 1TB hard drive plus one Xbox One controller included with both a power cable and HDMI cable. The fact that the console does not have a power brick this time is a big bonus for me. It's still sad the controller still requires AA batteries. You still need to buy an additional play and charge kit for a rechargable battery...
The 1TB hard drive is quite small because many of the 4K assets that you have to download for games are close to 100GB in size. Thankfully, you can use an external hard drive to expand memory if you run out of space. Trust me, the 1TB hard drive will be filled up in no time! Size: Despite being more powerful than the original Xbox One, the Xbox One X is a much lighter and sexier looking console. It's comparable in size to last year's release of the Xbox One S and kind of resembles the original PS2 console.
Even though I like my original Xbox One, I hate the fact that it as large as a VCR. Thankfully the Xbox One X fits nicely under my television and is much easier to carry around. The new console is also quieter when playing games and/or watching movies which is another huge plus from me. Below the next paragraph is a picture where you can see both the Xbox One X and the Xbox One S.
Compatible discs and digital media: Microsoft has been very good lately at allowing us to play many different types of physical media. The Xbox One X is compatible with all previous and future Xbox One video games. You can also play the many Xbox 360 backwards compatible video games. Some original Xbox games are now playable too.
Unlike the PS4 Pro, the Xbox One X is also able to play 4K UHD Blu-ray discs. This is a big bonus for me as I love watching movies. It can also play standard Blu-ray and DVDs if you still own a big collection.
Despite playing lots of physical media, the console is also digital friendly. All your digital Xbox One games can be transferred digitally and some content can be streamed in 4K too. Not to mention apps like YouTube, Netflix, the WWE Network and more can be downloaded for all your entertainment needs.
4K visuals are impressive: For the purpose of reviewing the Xbox One X, I went to my friend's house who owns a 43 inch 4K TV with HDR support. Last year I went to the same house to test out the PS4 Pro.
Anyway, the upgrade to 4K is a noticable leap in visual quality compared to playing video games on a 1080p TV. Forza Motorsport 7 is arguably the best looking game you can play on the new system. It runs at native 4K at a silky smooth 60fps.
Forza Motorsport 7 also has HDR making the colours more vibrant. Other games that impressed me with their 4K enchancements included Recore, Assassin's Creed Origins, Quantum Break and Call of Duty: WWII.
That said, not every game manages to hit it out of the park. Super Lucky's Tale and FIFA 18 didn't look all that different to me. This isn't the fault of the console, it's just that some games will look better than others.
However, my favourite visual upgrade was the Planet Earth documentary on the 4K UHD Blu-ray. It's the best looking documentary I have ever seen as everything was crystal clear. The documentary made me realise that 4K is a noticable step up from normal HD.
4K is something you have to see for yourself to full appreciate its wonder. Before you decide to buy the Xbox One X or a new 4K TV, visit your local electronics store for a demonstration first.
1080p owners still benefit: Despite the Xbox One X catering towards 4K TV owners, 1080p TV owners will also see some improvements. After testing the console out on my friend's 4K TV, I played it on my two 1080p TV sets at home. I was surprised to see some noticeable graphical improvements compared to my original Xbox One console.
Again, Forza Motorsport 7 is a highlight. My brother and I noticed a red Ferrari was shinier and cleaner looking on Xbox One X compared to our original Xbox One. The colours also popped out more on our 1080p television for games like the aformentioned Forza 7, Recore and Assassin's Creed Origins.
The Planet Earth documentary also looked great yet again on my 1080p TV set. It's an upgrade to any standard Blu-ray movie I have at home playing on a normal Xbox One or PS4 system.
Content available: There are/will be over 75 Xbox One X enhanced video games at launch. Games that will look better on the new console include Forza Motorsport 7, Assassin's Creed Origins, Call of Duty WWII, Middle-earth: Shadow of War, Minecraft, Recore and tons more. In the future, Star Wars Battlefront 2 and Final Fantasy XV will be added to the list too.
However, not every Xbox One game will see 4K benefits anytime soon. Activision has kept quiet about Destiny 2 getting any enchancements soon. Not to mention loads of other past released games may not get any updates. There's been no news of 4K upgrades for games like WWE 2K18, Sunset Overdrive, Ryse: Son of Rome and more.
Another worrying thing is the number of 4K UHD Blu-rays available in New Zealand. There's hardly any stores out there that sell many 4K UHD Blu-rays. The only 4K movies I found at my local Warehouse were Deadpool, X-Men Apocalypse and Spider-Man: Homecoming.
Many movies are yet to have the 4K upgrade. No Star Wars movies have been upgraded to 4K yet and Christopher Nolan's movies such as The Dark Knight Trilogy and Interstellar aren't available yet either.
Verdict: Overall, the Xbox One X console is an impressive new machine that will please 4K TV owners. It's powerful and features great looking visuals for both games and movies. That said, the high price tag means the console is more suited for people with higher disposable incomes. If you already own an Xbox One or Xbox One S, the Xbox One X is not an essential purchase, but it may be worth getting if you never owned the Xbox before.
Anyway, the content available for the Xbox One X is not extensive right now. The whole Xbox One game library is not all 4K enhanced yet, plus UHD Blu-ray is still in its infancy due to the little number of titles available here in New Zealand. For this reason, the new console is suitable for those that mainly want to see the best graphics and visuals possible.