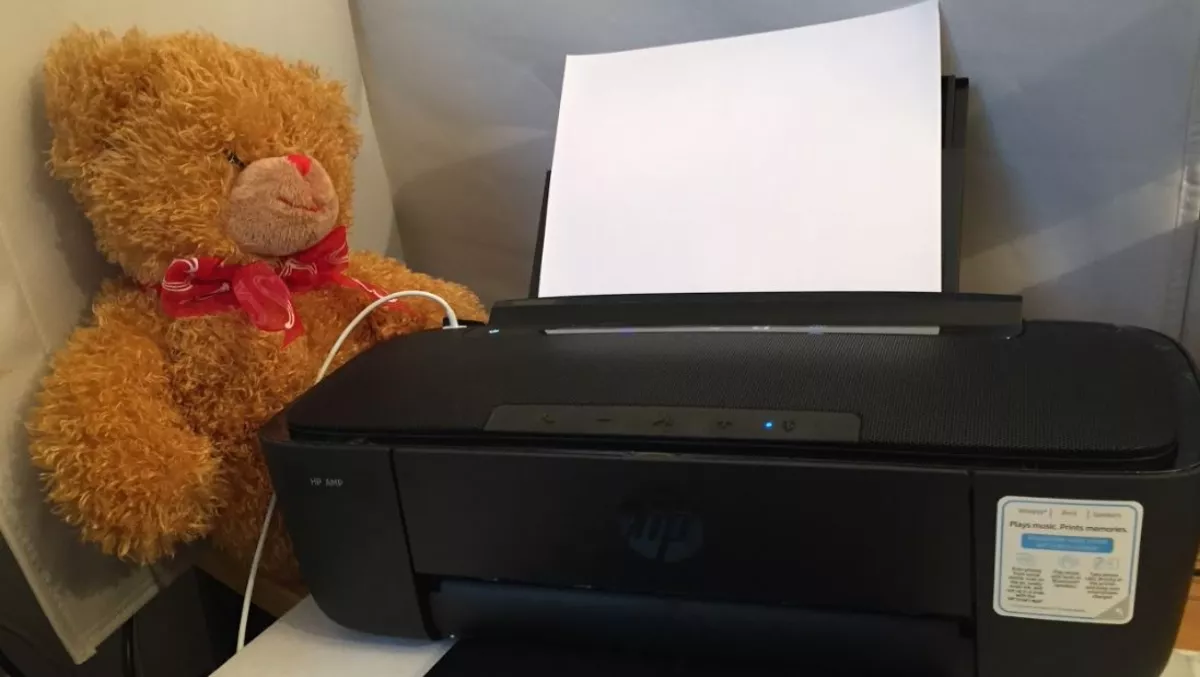 Hands-on review: HP AMP 120, print, talk and play
FYI, this story is more than a year old
A hands-on review by Owen McCarthy
When you search for a printer, what do you have on your checklist?
I've talked about the designers at HP before, and even I am surprised at how laterally their thinking is. I'll admit that at the beginning I was a tad confused. Who, I wondered, wants a printer that plays tunes and charges their phone?
You'll see that it didn't take long for the penny to drop. Looking at my desktop with its clutter of review items, speakers, handset phone, teddy-bear, laser printer, inkjet printer, I finally understood their rationale.
The AMP 120 will help Ted and me clear up our clutter. With its small footprint, it promises to free up a lot of space as I put my speakers, phone charger and phone handset on Trade Me as "superfluous to my needs.
Teddy will have room to invite his mates over for a picnic. When you're not printing, the in and out trays fold away to leave even more free space.
My first revelation came when speaking to a colleague while working away on this article. "Why do I need a printer with hands-free calling?" I asked, while feverishly typing.
Oh, I see! I'd been listening to U2 when she called, and as soon as answered the call, the music faded away to the call. When we finished, the music resumed where it had left off. The sound quality is excellent, the equal of other Bluetooth speakers I've tried. And none of them could print!
This is an inkjet printer that's designed for the occasional print job.
The information sheet suggests a workload of from 50 – 200 pages a month. It takes the HP 65 cartridges which are easy to load. In fact, once you install the driver on your computer and the app on your phone, The AMP 120 pretty much runs itself. I only had one minor issue, which could be easily addressed in the instructions.
It concerned pointing the printer to my WiFi network, which I was trying to do from my phone after installing the HP Smart App. Once I had that sorted, I haven't looked back. Even when I return the printer, I'll be keeping the app for my other HP Printer. I haven't had time yet to explore all the app's functions that include scanning to a variety of sources, printing from Google Drive and contacting HP Support.
The Technical Stuff
This is an A4 printer which will handle other sized paper as well, including photo quality paper and envelopes. You will have to duplex manually, but if you need that function, most likely you'll be looking for a different printing solution.
The printer is rated at from 15 – 18 pages a minute, depending on the use of colour and whether you're printing in draft quality or higher. I had some fun shooting paper across the office until I engaged the paper stop. The input tray will handle up to 60 pages and the output tray takes up to 25 sheets.
I was impressed by the excellent print quality of the AMP 120, with its bright clear text and well-defined graphics.
This printer will appeal to users with occasional printing needs. If you're set up in an office or study, you will love the speaker, internal microphone and charging capability.
Ted and I have grown to love its multifunctionality, and for around $200, you're certainly gaining a lot of function for a modest price.