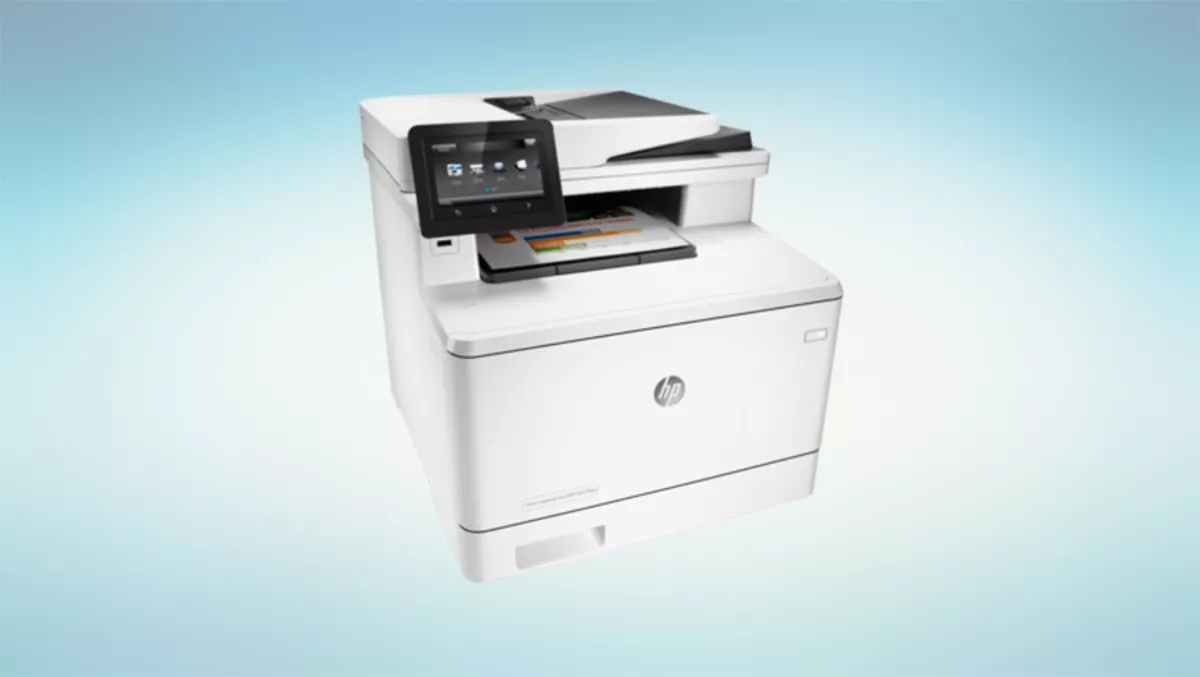 Hands-on review: HP Color Laser-Jet Pro MFP M477fdw
FYI, this story is more than a year old
This article is hard to write. Once it's submitted, I'll have no reason not to return this printer back to the NetGuide offices.
In a very short time this printer has become a friend. Easy to set up, easy to connect, it's been my quiet buddy in my little office. If I were asked to come up with three words that define this printer it would be easy. I want one.
On this Laser-Jet, HP has gone out of its way to make everything easy. From the nifty packaging to the ridiculously easy setup, it took me less than ten minutes to unpack and have it up and printing. The hardest part will be packing it up again. I didn't need the installation DVD, as the drivers automatically uploaded to my laptops.
The quality of the printing is more than adequate for a small office, and I've printed flyers, envelopes, photos, spreadsheets, letters, and even a rather flash new resumé. Built-in duplexing means that two-sided printing is easy. The printer takes up to A4 paper, which is all most offices will need.
The colours are sharp with no discernable bleed, and it can print, email or scan your documents. For those of us who lead mobile lives, it's nice to know that thanks to Air Print, all my invoices will be printed, ready to mail out or even email to my clients.
t's reassuring that the printer can scan, email, download, and pretty much look after itself while the user is on the road. Air Print is simple to set up, and while I unpacked the USB cable, I haven't bothered connecting it. If my router had been handy I could have connected it that way too, but my world is wireless. My laptops don't even have Ethernet ports any more.
Although I'm familiar with the HP printer interface, I confess that this is the first time I've made use of some of the built-in apps. I've been a fan of Tony Robbins ever since Shallow Hal and those infomercials. Now I'm getting his thoughts on Peak Performance sent directly to my printer. Sigh! Parting will be such sweet sorrow.
The touch screen panel is in colour, has two screens you can slide to, and is similar to the screen on HP's inkjet range of printers. Everything is comfortingly familiar.
I've researched the consumables, and at the time of writing am waiting to hear the cost of the toner cartridges. They are available in a range of sizes that will handle from 2300 to 6500 pages.
With a printing speed of up to 27ppm, and a recommended monthly volume of 750 - 4,000 pages, HP have created a middle of the range laser solution. Alternative low-cost solutions for office printing have been reviewed here recently, but this Laser-Jet Pro will be difficult to ignore.
Related stories
Top stories