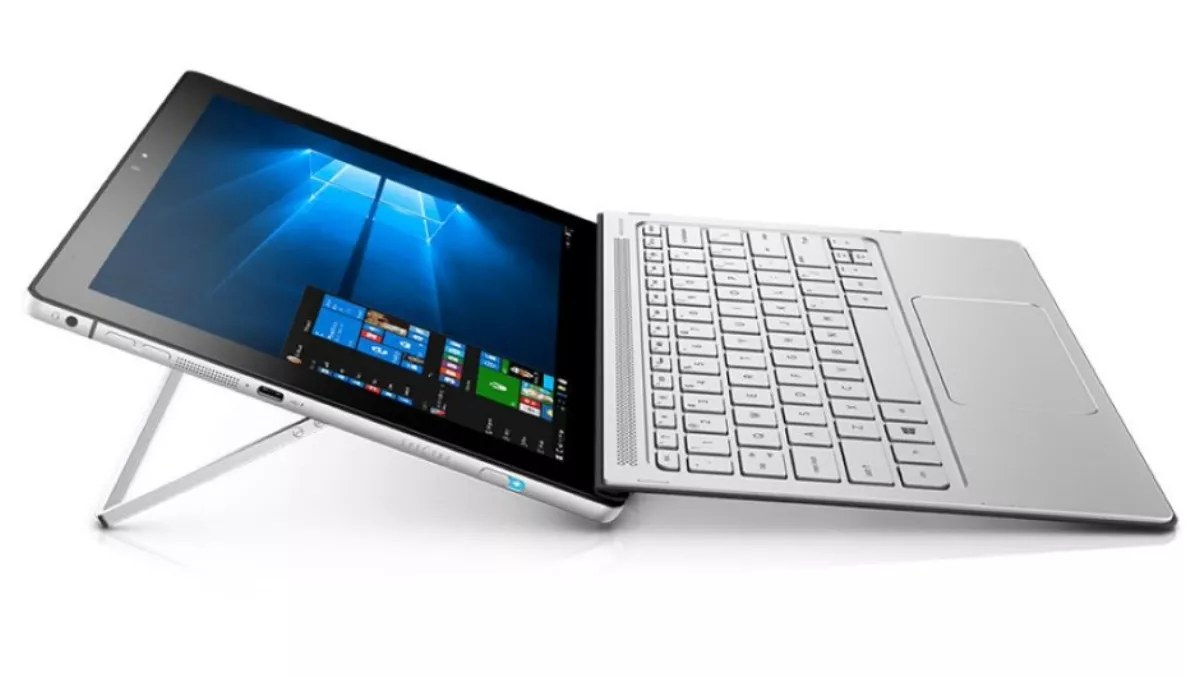 Hands-on review: HP Spectre X2
FYI, this story is more than a year old
Microsoft should be pretty pleased with themselves. When they first launched the Surface it caught everyone off guard and many didn't quite know what to make of it. Since then it became a design classic with others using elements of its design. This is precisely what HP has done with the Spectre X2.
Look and Feel
HP has taken the Surface's already good design and refined it. The result of this is a great looking piece of hardware that is a design hit with some minor misses. The X2's alloy chassis look great. Its smooth edges and brushed alloy body sports a hint of chrome, giving the X2 an up-market design.
One key area where the X2 outshines the Surface is its detachable keyboard. Like the Surface, the X2's keyboard attaches/detaches using a magnetic connector, but unlike the Surface, the X2's keyboard is metal which makes it more rigid. This translates into a better typing experience, especially when your lap is the only place to rest the keyboard.
Like the Surface, the X2 also has a rear kick stand. On the X2 the kickstand is a chrome hoop that is recessed in the X2's rear. It looks great, but requires you to use a slider tab to release it. It isn't a biggie and is perhaps the only real flaw in an otherwise impeccable piece of design.
At just a shade under 300 x 210 x 7.8 mm, the X2 weighs in at 848.2g making it marginally larger and heavier than the Surface Pro 4. This said, it can still be carried with no visits to the chiropractor required.
In Use
When typing, the X2's keyboard impressed. It allowed me to knock out text at a reasonable clip with only the usual amount of typos. Being a slim detachable keyboard, key travel is only 1.5-mm according to HP, but that didn't hamper typing.
Another feature that other manufacturers could benefit from copying is the X2's track-pad. Where most track-pads tend to be cramped and squarish affairs, HP have opted for a wide rectangular design which measures 120.6 wide x 57.1mm high. For navigation purposes its brushed metal finish and roomy layout worked well. Navigational mishaps were all but non-existent and for use with image editing software, it worked like a charm.
The X2's 12" 1080 touch sensitive display was both bright and vivid, making it ideal for media consumption or productivity chores like crafting documents. Touch screen functionality was also accurate, especially when used with the X2's optional stylus.
HP makes a big deal out of the fact that the X2 uses Bang - Olufsen speakers. These are built into the left and right hand sides of the X2, and another two are tucked away above the keyboard. Highs and mids were clear but not shrill, but the space constraints meant bass was lacking.
Specs and stuff
On the connectivity front, the X2 is well appointed. It comes with 2 USB C ports. The lack of legacy USB ports caused a brief moment of head scratching, until a quick check in the X2's box revealed an old school USB adapter. Other connectivity options also include headphone/mic sockets and a microSD card slot for expandable storage. It also turns out that the X2's USB C ports can do double duty outputting video (provided you have a USB C to HDMI adapter).
The X2 packs an Intel Core M7-6Y75 CPU, a healthy 8GB dallop of RAM and a roomy 256GB SSD. The use of an SSD made for near instant boot times and it seemed happy to handle most productivity chores I threw at it, barely breaking a sweat in the process.
That said, gamers seeking highrates may need to look elsewhere as the X2's integrated Intel HD Graphics 515 GPU limits gaming to basic casual gaming titles. Battery life isn't terrible either, with the x2 lasting just under 7 hours with typical use.
Verdict
HPs Spectre x2 is one of the better 2-in-1 devices available. Its keyboard offers solid usability and it looks great too. It's perfect for those wanting the versatility of a tablet, but with all the good stuff that comes with a Windows 10 notebook.