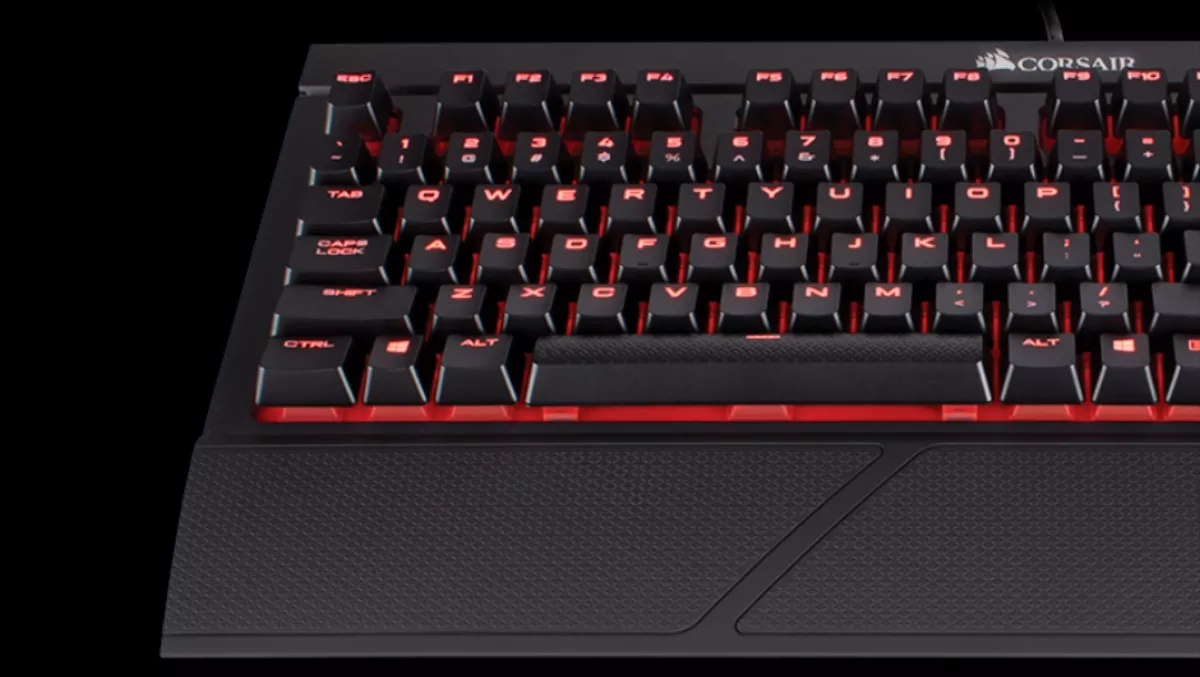 Hands-on review: Immersive and intuitive gaming with Corsair's K68 keyboard
By Kai Ping Lew,
Mon 18 Dec 2017
FYI, this story is more than a year old
Durability, sensitivity, and ergonomics are some of the deciding features gamers consider when looking for their next keyboard.
Competitive gamers need equipment that can keep up with them and won't slow them down.
Corsair's latest K68 keyboard has been built with this in mind, making it the ideal keyboard for even the most demanding gaming needs.
The K68 is rated IP32 dust and water-resistant with dynamic backlighting and full-key rollover.
That comes in handy for those extended WoW raids that go on for longer than expected if you need to have a quick bite at your battle station to refuel.
The Corsair's key configurations are slightly narrower than my current keyboard – the keys are rectangular – which takes some getting used to, but is great for hitting those multi-key combos at top speed once you've adjusted.
This keyboard handles all gaming scenarios like a breeze, regardless of whether you're a fan of MMORPGs, shooters or strategy games.
I tried three games out with this keyboard, StarCraft 2, PUBG and of course WoW.
For StarCraft, I was most impressed with how easy and accessible my key bindings were, meaning I was able to deploy each set of actions with lightning fast precision.
In PUBG keyboard to on-screen action latency was non-existent, this meant that I could execute those subtle and precise movements that keep you alive until the end of the game.
Like with StarCraft, in WoW, having my key bindings easily accessible meant that I could execute each of my character's combat cycles seamlessly, this gave me a major competitive edge in PvP.
The keyboard has full key rollover, making it accurate enough register every keypress correctly, once again making sure your keyboard can keep up with your gaming and not vice versa.
The K68 comes with the expected media controls, something I find indispensable for easily playing and pausing my music while maintaining a seamless gaming experience.
It comes with "serious gamer" red backlighting if you needed something to complement the rest of your serious gaming kit.
The backlighting can be adjusted to three levels of brightness by installing a Windows driver and the keyboard shortcuts are also set up for PC configurations - something to consider if you're a die-hard Mac user.
The K68 driver also lets you programme custom keys with the Corsair Utility Engine (CUE) software.
One of the other features I really enjoyed and I find underrated in gaming keyboards is the added ergonomics of having a wrist rest.
The K68's definitely made a difference to the level of comfort and pain in my wrist over extended use.
Overall, I found that the K68 delivered an immersive and intuitive gaming experience once I got used to the closer configuration of the keys.
The mechanical keys have high accuracy and responsiveness, making them an effortless extension of myself to deliver gaming commands, and the ergonomic design of the keyboard allowed me to game in comfort for hours on end.
Retailing at $209.99 in New Zealand, it's not a price to sneeze at.
However, if you're a serious gamer and put your keyboard through heavy use, it's definitely an investment worth considering.