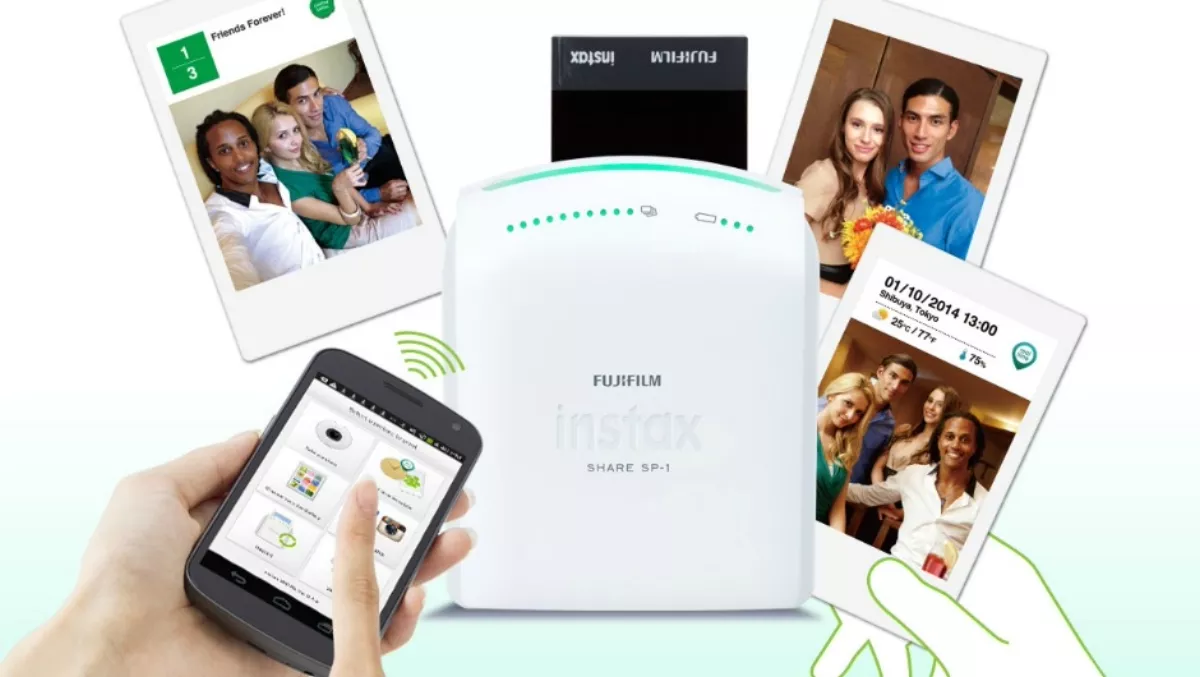 Hands-on Review: Instax Sharer Printer
By Patrick Pilcher,
Wed 18 May 2016
FYI, this story is more than a year old
Like many, I take several bazillion metric tonnes of photos using my phone. I usually carry a smartphone and the sheer convenience of whipping it out to take a photo is just too easy. This also means that I have dozens of photos on my phone that are never likely to get looked at. The simple fact is that beyond sharing a few pictures on Facebook, we rarely print photos shot using our phones.
This is a real shame as there is nothing quite like leafing through a pile of photos.
Look and feel
The Instax Share retails for $299.99, putting it in the league of a good inkjet photo printer. Its key point of difference is its portability. Measuring just 101.6 x 42 x 122.5 mm, it is pocketable. It also doesn't need ink cartridges or photo paper helps it along on the portability front.
The Instax comes from the KISS school of design (keep it simple stupid) as there isn't much to it. Its rounded form has a compartment plus a photo cartridge cover and indicators for film and battery.
Instead of paper and ink, the Instax uses photo cartridges like those sold by polaroid back in the day. Cartridges range from a 10-print cartridge for $20 to a 50 pack for $79. Thats not cheap, but there are no wasted prints thanks to the well thought out Instax app.
Getting set up
Getting set up proved to be so straightforward that even I got it right first time around (Not even a glance at the manual required!). I usually find getting wireless printing set up to be an exercise in frustration and RTFM (reading the flipping manual!). With the Instax, it was as easy as installing the Instax app, making sure wifi was on and letting the app detect the the Instax Share.
In Use
Printing within the app proved an idiot-proof undertaking. This was thanks to the well thought out and intuitive Instax app. Zapping out a photo involved choosing a photo from my phone's gallery or taking a photo using the app and then printing it. The prints are tiny, at 3.4" x 2.1" and like those Polaroid photos of old, they develop over 5 minutes. The prints may be small, but they're well formed. They even captured small details such as added film grain or my Greyhounds fur.
Verdict
The Instax Share is a fun idea, and is a great way to get a permanent record of photos stored on your phone. This said, it isn't much more difficult to set up wireless printing with an Inkjet. Even though photo paper and ink can cost a bomb, you do get the flexibility of being able to A4 sized photos. This said, the Instax is both fun to use and a doddle to set up. Its photo cartridge system is also pretty fool proof too.