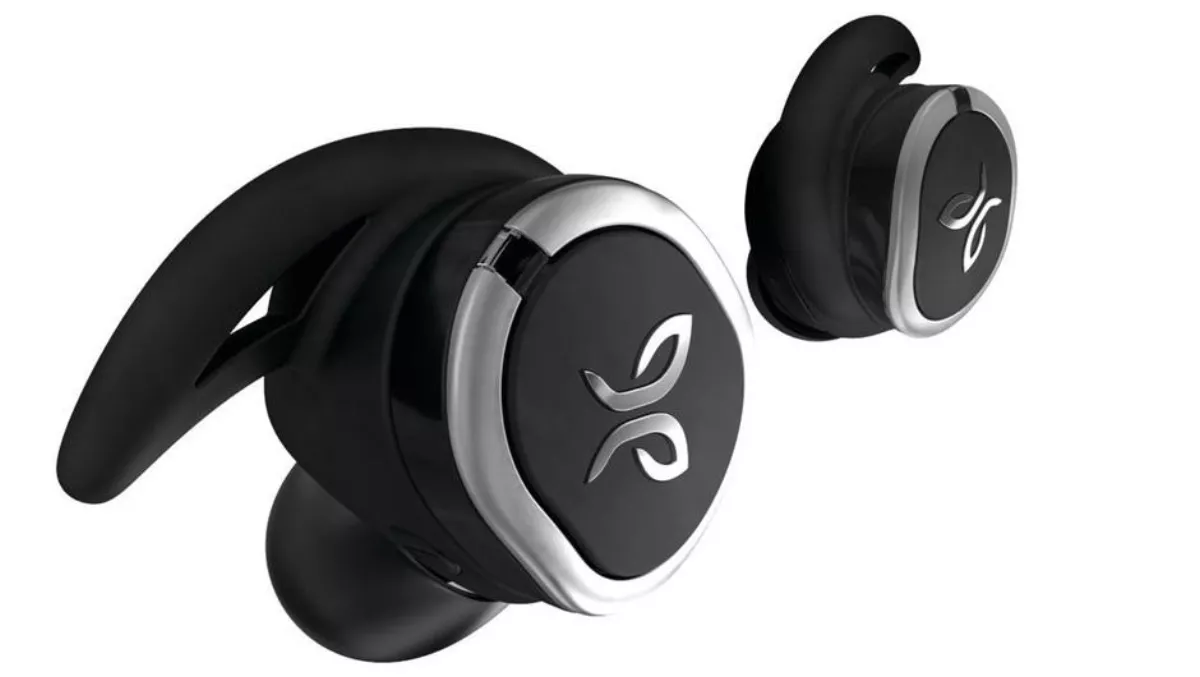 Hands-on review: Jaybird Run True Wireless Sport Headphones
Tue, 15th May 2018
FYI, this story is more than a year old
Designed and built by runners, but are they any good? We check out Jaybird's Run True Wireless Sport Headphones.
Wireless headphones are awesome. Having a couple of tiny buds in your ears, streaming your favourite music, via Bluetooth, from your phone, safe in your pocket without having a tangle of wires under your chin is the future today.
If you are into exercise, the convenience of untethered headphones delivering the soundtrack to your workout is be an absolute godsend.
In the past I've always been a bit nervous about ramming wireless earbuds in my ear, hoping that friction alone is going to hold them in place. In comparison, the Jaybird Run buds really bed themselves into your ears.
The Jaybird Run headphones come with different sized earbud tips and finned rubber gaskets. You chose from small medium or large tip depending on the size of your ear canal and the same with the fins. The finned rubber gaskets are a surprisingly useful addition.
With the Jaybird Run, instead of just screwing them into your ears and hoping for the best, twisting the earbuds in place uses the shape of your ear to interlock with the little fins on the buds giving you that little extra piece of mind. This enables you to enjoy your exercise without having to worry about losing one of your earbuds when things get a bit physical.
For those that like to go hardcore with their exercise, the Run headphones are sweat-proof and water resistant.
Whilst I'm not much of a runner, I did test the headphones whilst riding my bike. Even with my helmet strap worryingly close to my ears, the buds stayed exactly where they should have been, delivering crisp, clear sound.
The downside of the firm fit, is that they are not as comfy as some other earbuds. But you do get used to them and it's a small price to pay for the piece of mind that you are unlikely have them fall from your ears.
The earbuds are designed to function only a short distance from your Bluetooth device. Regardless of this, I managed to walk a good ten metres from my phone without losing the signal. Of course, your range will depend on the capabilities of your phone.
Right out of the box, the earbuds sound great. Set up is easy. As you pull them from their charging case, the right bud starts telling to pair it up with your phone. The left bud is factory paired to the right, so once the right one is connected to your audio source you are good to go.
Fully charged, the earbuds should be good for four hours of use. You can get another eight hours of charge my popping them back in the charging case and waiting five minutes per one hour of play time. Twelve hours of use with only twenty minutes of downtime is pretty good and should suit most users.
Those that can't help but tinker with graphic equalizer settings will have a field day with the Jaybird Run app, available for iOS and Android. The app enables you to choose from a number of pre-set settings, download extra pre-sets and manually adjust the sound levels to produce bass, mid-range and high-frequency audio to fit your musical taste.
Jaybird Run True Wireless Sport Headphones are easy to use, firm fitting and deliver great sound, absolutely perfect for in the gym, on the bike or intense runs.