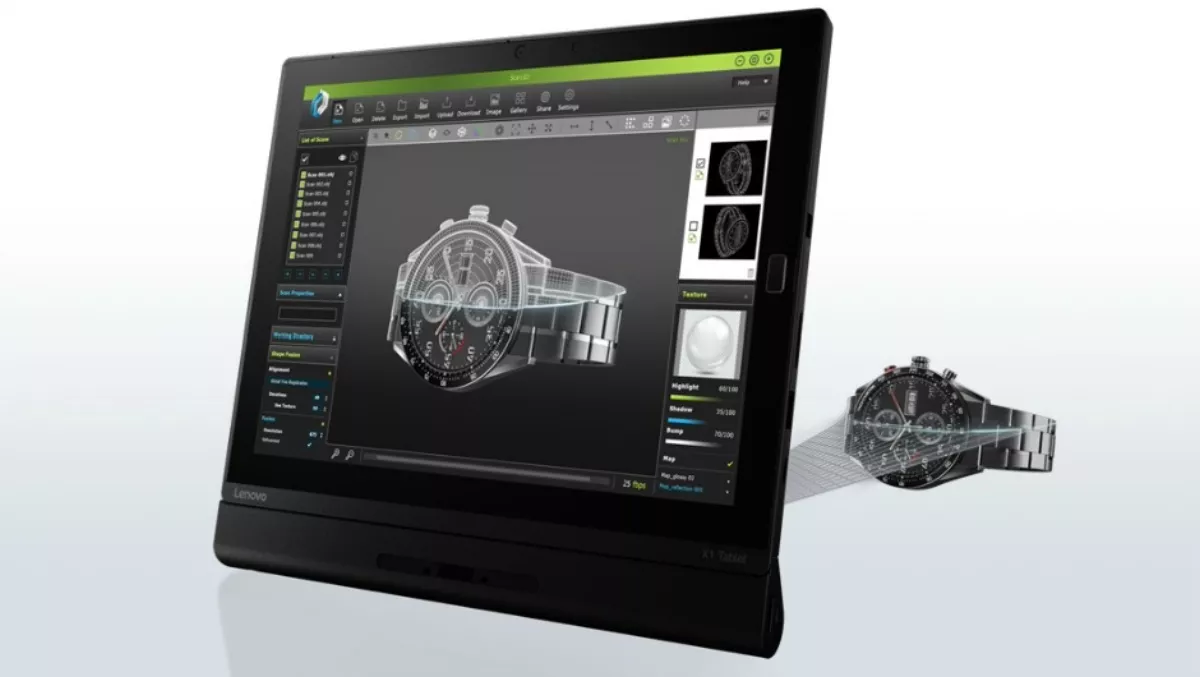 Hands-on review: Lenovo ThinkPad X1 Tablet
FYI, this story is more than a year old
If Darth Vader owned a laptop, I'd wager that it'd be a Lenovo. They're built like brick you-know-what houses. The Lenovo marketing blurb says they're military spec. I'm guessing that like most ThinkPads, they're built to withstand more than the odd bit of force strangulation.
Lenovo has taken a leaf out of Microsoft's book. They've crafted their take on the Surface, and come up with the ThinkPad X1 Tablet. It comes with a stylus, and bridges the gap between tablet and notebook PC.
Look and Feel
As you'd expect with a Thinkpad, the Lenovo X1 Tablet is done out in a slick no-nonsense black on black finish. This minimal design might be the antithesis of anything shiny, but it does hint at the X1's solid build.
The X1 Tablet has a reinforced carbon fibre chases and is MIL-Spec tested. This is borne out in a light, yet solid build. There was no flexing, creaking or any other signs of flimsiness. Dropping the X1 (not that I dared) is most likely to result in damage to the floor rather than the X1.
The X1 Tablet is a convertible with a twist. Like other convertibles, it has a 12" tablet, and can take a detachable keyboard and stylus. The twist comes in the form of various detachable modules. These range from a 3D depth scanning camera through to extra batteries (which can deliver 5 hours of continuous use) and even a projector.
Under the Hood
The X1 Tablet packs a 6th generation Intel Core m CPU. It can be spec'd up to a Core m7 and 1TB of solid-state storage plus 16GB of RAM. This is all tucked away behind a 12" 2,560 x 1,440 IPS LCD touch display.
The X1 tablet's detachable keyboard cover, is a pleasant surprise. As well as bringing some much needed QWERTY, it has a roomy trackpad and a TrackPoint widget too. In use the X1 Tablet felt comfy to type on even though I was doing so on a wafer thin type cover. The tracepoint widget also proved handy for mousing in cramped conditions.
Lenovo win brownie points for cramming a USB 3.0 and a USB-C port plus a mini DisplayPort and microSD port. There's also a 3.5mm audio jack plus a nanoSIM slot for its integrated 4G LTE. About the only thing missing on the connectivity front is a kitchen sink. Considering that the X1 Tablet is 13mm deep and weighs just 1.1kg (with the keyboard attached), this is pretty impressive.
Verdict
If you're looking for productivity while on the move then the X1 Tablet is just what the doctor ordered. Its size plus great keyboard and connectivity make it ideal for uncompromising road warriors.