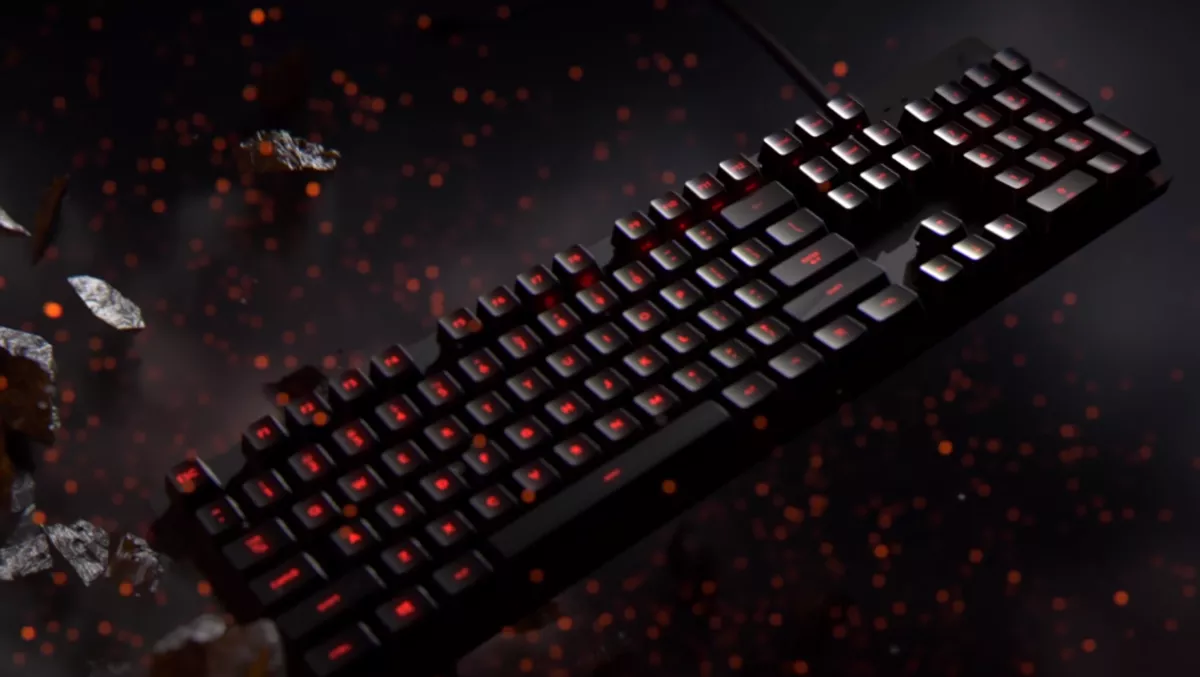 Hands-on review: Logitech G413 Carbon mechanical gaming keyboard
FYI, this story is more than a year old
I've recently developed a passion for mechanical keyboards. I've cited ergonomics and health factors but as I was blitzing my previous best score in my favourite speedboat shoot 'em up game, it finally hit me. I'm a much-improved player, thanks to gaming keyboards.
The Logitech G413 Carbon Mechanical Gaming keyboard is a delight to use. The brushed aluminium-magnesium alloy construction gives it a solid, yet silky feel. There is even a USB pass-through port, should you need to charge a device or plug in a mouse. The keyboard comes with full function keys, which you can configure using the LGS software which I will mention later. For the hardcore gamer, the keyboard comes equipped with 12 extra gaming keycaps, so you can use the provided puller to swap out keys.
The Logitech G413 has a back-lit keyboard and numeric pad. The "mechanical" part refers to the action of the keys. In fact, they have the feel of an older electric typewriter from a different age. I still remember how cool I thought they were, with their built-in eraser tape and those fancy golf balls.
When we talk ergonomics, the range of movement of a mechanical keyboard ensures a positive feel as you type, with a lowered risk of your fingers, wrists and arms developing any physical injuries from repetitive key-strikes. For the gamer, it means a feeling of having more control. If you're prone to being fumble-fingered, the Game Modes enable you to enter Game Mode using the LGS software.
While I really enjoy the back-lit experience, I've noticed one problem on some brands of keyboards, namely my inability to tell when the Caps-lock key is engaged. However, the Logitech G413 has a friendly indicator to the top of the NUM key which will indicate that. It's the small things that can make all the difference.
On a personal note, I've been in a bit of a frenzy, writing a number of articles one after the other. We're heading off on holiday on Monday, and I'm trying to get ahead. I can tell you that my fingers have never felt so nimble. Two days of intensive typing and my digits feel as fresh as a daisy. I also like the "tap-tap" sound generated as I strike the keys just as my fourth-form typing teacher taught me. Another two hundred or so years of this, and I'll have developed the strength to master the one-inch finger punch.
Coupled with the Logitech Gaming software you will have a degree of control over your keyboard that will enable you to customise it depending on how you're using it. Once you enter a supported game, you can customise the look and feel to suit your needs. As I type, I've opted for the "breathe" look, with the keys brightening and dimming at the rate I determine. It's a cool and somehow restful look. I can also alter the brightness settings for the backlighting. On my Mac, the gaming software interface sits in both my menu bar and dock, ensuring quick and easy access.
Pricespy places the G413 in the $127-$150-ish range, depending on your preferred reseller. If you're a gamer on a budget, you can be up and running for less than $400 with those Logitech surround-sound headphones and this killer keyboard. The keyboard comes in either carbon or silver.
Logitech promise to take your gaming to a new level, and believe me, they will.
Related stories
Top stories