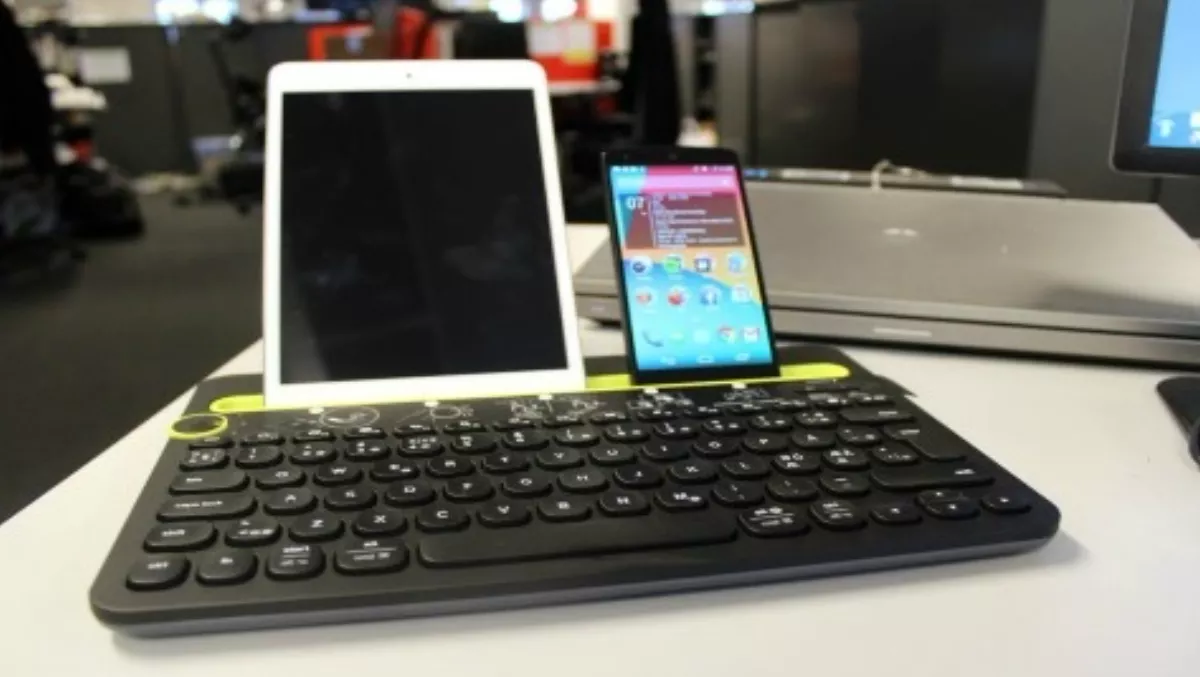 Hands-on review: Logitech K480 Bluetooth smartphone keyboard
FYI, this story is more than a year old
Back in the bad old days, phones had key pads with a whopping 12 physical keys.
Knocking out a text message meant tapping a key up to three times to get the right letter and predictive text was your best friend.
Unless of course you were one of those smug Blackberry owners with full-on QWERTY goodness, it was a pretty clunky experience.
There were good reasons for this. Fitting 108 key QWERTY keys to a phone meant a keyboard sized phone (hey is that an accordion in your pocket or are you pleased to see me???) or a standard sized phone with teensy keys that are all but impossible to use.
Then along came Steve Jobs and the iPhone. Touch-screen technologies bought a whole new layer of convenience to proceedings. On-screen keys could change to reflect the app. Smartphones were now smart and keyboard conundrums vanished in a puff of digital smoke.
Or did they?
The sad fact is that entering text on a phone sized on-screen keyboard is about as much fun as a DIY root canal surgery. No tactile feedback to aid muscle memory, finicky predictive text and stupid auto-correct mean that the scope for smartphone email mayhem is huge.
None of has escaped the attentions of those clever clogs at Logitech. Feeling the collective pain of several billion smartphone owners, they crafted the K480 keyboard.
It's one of those clever concepts that had me wondering "Why didn't I think of this?". It consists of a Bluetooth connected keyboard that'll play nice with IOS, Android and even Chrome OS or Windows.
Look and feel
The K480's design is as clever as it is usable. The K480 is a notebook PC sized keyboard. There is a small slot along its topmost edge that is wide and deep enough for several smartphones or a smartphone and tablet to slot into. This gives the K480 into a notebook PC like form factor, adding to its usability.
On the left hand side near the slot is a small dial with three settings. Up to three devices can pair up with the K480. Switching the dial allows you to switch between devices.
Last but by no means least the actual keyboard also has IOS, Android, Windows and Chrome OS shortcut keys. All told, it's a clever design.
Usability
As you'd expect from someone with Logitech's experience in crafting keyboards, process was pretty bomb-proof. Getting set up was a simple matter of selecting one of the three dial settings and pairing a device via Bluetooth. The process is so simple that Logitech explains it on a sticker stuck above the top row of keys on the K480. Note: No manuals were harmed in the setup process.
The K480 was a pleasure to type on. The keys had plenty of travel and spaced out enough that I could touch type without feeling cramped.
Verdict
The K480 is a practical solution for people who find themselves pecking at (and cursing) their smartphones. Its compact design means it can sit on a desk while its slot provides a place to store smartphones and tablets, freeing up scarce desk real-estate.
The proof is in how well it works. I can say, hand on heart that the K480 worked a treat as this entire review was typed on my iPhone via the K480.
Related stories
Top stories