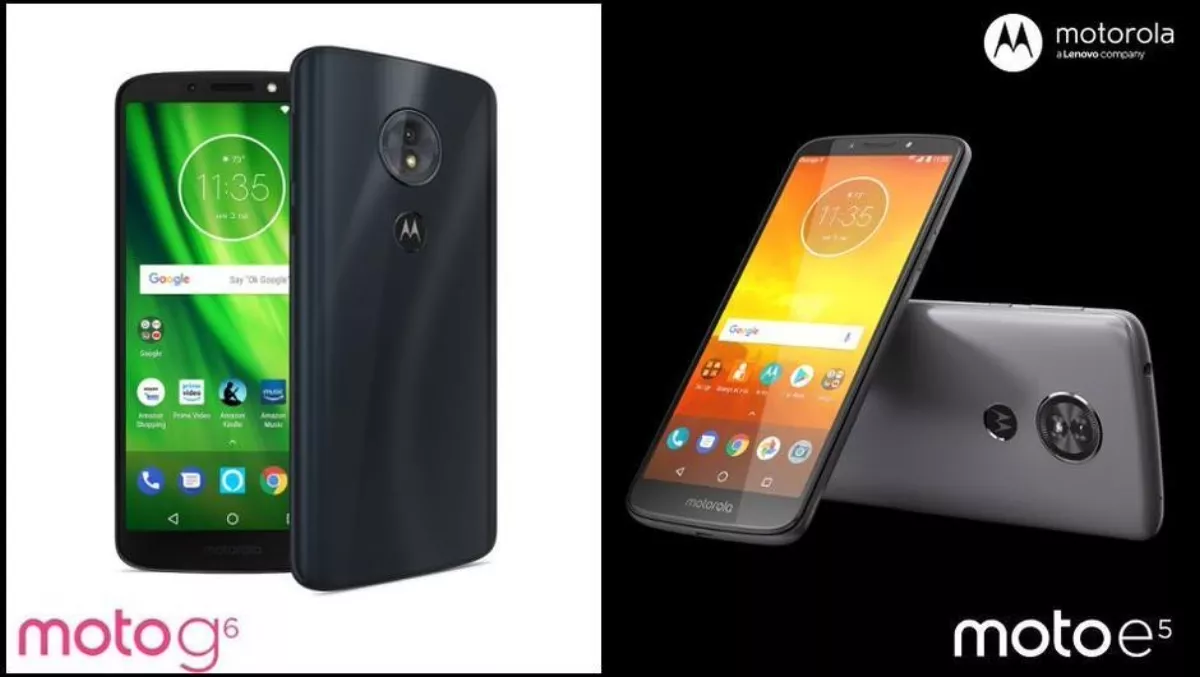 Hands-on review: Motorola moto g6 play & moto e5: Mobiles with power and pizzazz
By Owen McCarthy,
Thu 19 Jul 2018
FYI, this story is more than a year old
Given my oft-stated predilection for things of a fruit-based origin, some of you may be surprised to hear that for the past several days, I've gone "Android."
I've never been fond of Android-based phones, but Motorola's moto g⁶ and the moto e⁵ have caused me to seriously review my position. My issues with Android phones have been their confusing interfaces and their inferior App stores.
Motorola must have been listening, because they have removed the confusion, and their App store is a delight, with clearly defined areas and a nice clean interface.
Setting up both phones was a simple process. I simply backed up my phone data to Google Drive, and my calendar, contacts and photos were transferred quickly. Transferring from the moto g⁶ to the moto e⁵ was simply a matter of pairing. The phones seemed to intuitively know what I wanted to do and all I had to do was angle my tongue correctly.
Performance
Firstly, there's the 5.7" display. The almost narrow bezels give you an impression of a screen comparable to some of the more expensive models out there. The crystal-clear displays are great for people like me who strain to see tiny print.
The moto g⁶ features a 2160 x 1080 edge to edge Max Vision display, a feature not included in the moto e⁵ display. I've already sampled a quick look at Netflix, and the colours and sharpness were great, with no lag that I could discern. The only difference I could see between the two phones was that the moto g⁶ provides a better viewing experience, with superior clarity.
The sound quality is good through both phones' speakers and I spent some time getting carried away by the Beatles during their now famous rooftop concert. My conclusion is that the sound quality, like the band, passes the audition admirably.
There is little to differentiate the camera experience between the phones. The moto g⁶ camera has phase detection and autofocus, which will ensure better photo clarity. It basically means that there are more sensors helping the lenses focus. Both cameras are equipped with 13MP rear cameras, and the front imagers are 8MP for the moto g⁶ and 5MP for the moto e⁵.
For the user on the go, you'll be pleased to know that the Motorola moto g⁶ PLAY comes equipped with space for dual sim cards as well as a micro SD card. The TurboPower charger was as good as its word and my phone was fully charged in the time it's taken me to get to this point.
The moto g⁶ claims a battery life of around 92 hours. I charged the phone fully on Sunday, and by Wednesday the battery level read 50%. I suspect that the moto e⁵ probably won't match this level, but I've run out of time to find out.
The App store has been a revelation. The categories have kept me browsing for ages, and it's taken only a little time to download my most frequently used apps. The layout is clean and logical with clearly defined categories.
Choosing the right model for you
If you were faced with a choice between the two, ask yourself how much you'll be using it for watching movies, tv programmes and those funny cat videos. If the answer is "a lot," then I recommend the moto g⁶. Motorola tell me that the price difference between the two is only around $100, and given the prices they have set for retail, the Motorola moto g⁶ and moto e⁵ will be giving their competitors some sleepless nights.