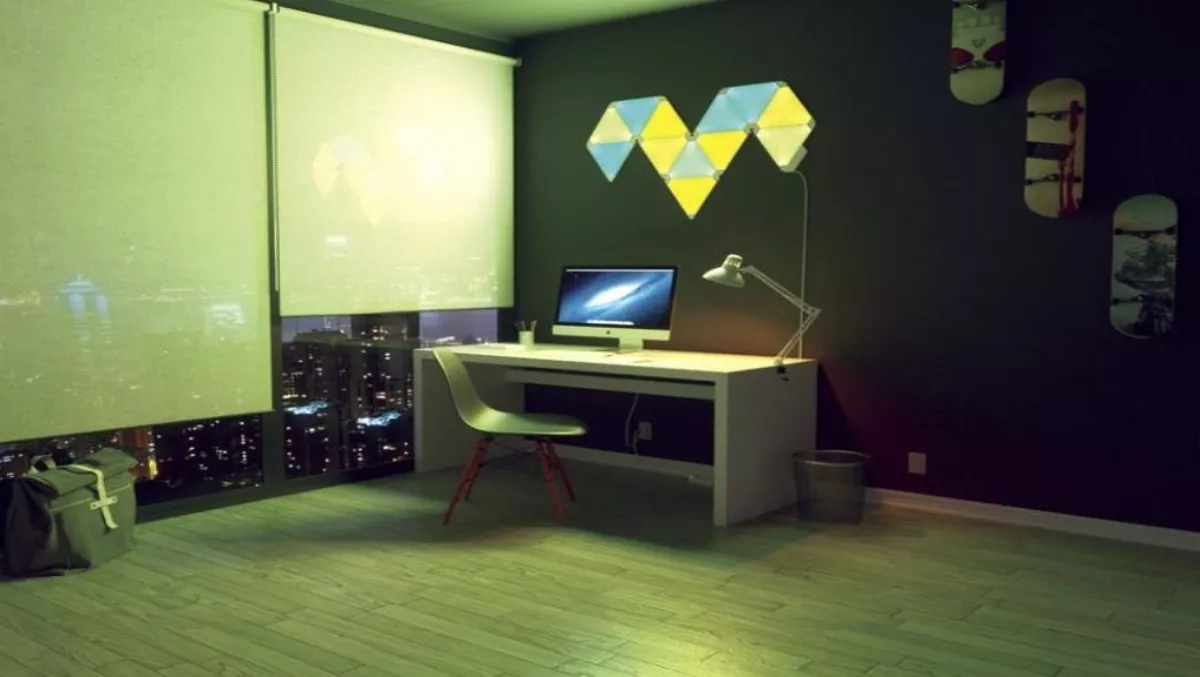 Hands-on review: Nanoleaf Light Panels and Nanoleaf Rhythm
FYI, this story is more than a year old
A hands-on review by Owen McCarthy
Is your living space lacking a certain "je ne sais quois" that you can't quite put your finger on? Are you struggling to get in the mood when you play your favourite tunes? Are you looking to create the right ambience for an upcoming dinner date with a significant other? The Nanoleaf may just be the answer to your needs.
What is it?
I've spent a few minutes trying to define the Nanoleaf. It's a customisable series of interlocking light panels that you can interlock and then control via your iOS or Android device. Sensitive to sound, you can customise it in a variety of ways to add effect to your music experience, whether you're grooving along to Adele or dancing with the Wiggles.
The light panels are connected together with, er, connectors that you slot into the panels. If you have a wall with angled surfaces, you can get special adapters called Nanoleaf Flex Connectors that allow you to follow the contours of your wall.
The video that the accompanying paperwork points you to will guide you through what's contained in your kit. You'll most likely want at least the starter kit, and if you're at all musical, you will choose the Rhythm accessory too. My sample kit contained some of those 3M removable hanging strips. You can choose to purchase the Nanoleaf Screw-mount kit if you're planning on a permanent mount.
Setting Up
I expect that most of you will spend some time choosing how you want your set of lights to be arranged. Set everything up flat upon a table first. Once affixed to the wall, it will be fairly permanent, especially if you're planning to use the screw-in fittings. Treat it as you would a piece of modern art. You'll be wanting to make a statement, so get it right before you commit.
There are a variety of ways to link the triangular panels, so be ready to spend some time having fun with the arrangements. I'd add here that you need to handle with care, as the connectors and the panels are relatively delicate and your connected pieces will feel flimsy when you pick it up.
The Technical Stuff
The only issue I had was related to my WIFI network. I had to switch wifi networks for the Nanoleaf to connect. Luckily I have a dual-band router. The review unit contained eight panels, but your starter kit will have nine. You can create a network of lights containing up to thirty panels.
Once you download the app, your mobile device will control the Nanoleaf. If you have multiple groups of lights you can control them all from the same dashboard.
The Dashboard
The interface is simple to use, and when you set up, it will guide you through your first steps. The light panels are customisable, and I wish I had more time to play with their settings. If it's ambience you're after, allow me to recommend Forest, Inner Peace and Romantic.
You can create warm or cool features as the mood takes you. Rhythm allows you to download a variety of scenes, which interact with the audio sensor which detects the music you're playing. It will obviously be a hit if you host a lot of parties.
A Final Word
The Nanoleaf promises to deliver ambience and artistic effect, whether you use it as a conversation piece of an accessory to your music or both. The website also promises some exciting new developments in the pipeline, so your Nanoleaf experience will doubtless be added to as you expand it.
I guarantee that the starter kit will just be the beginning. Nanoleaf has other lighting products for the home and coupled with a soon-to-be-released Nanoleaf Remote, you will add the Nanoleaf to your Smart Home product suite.