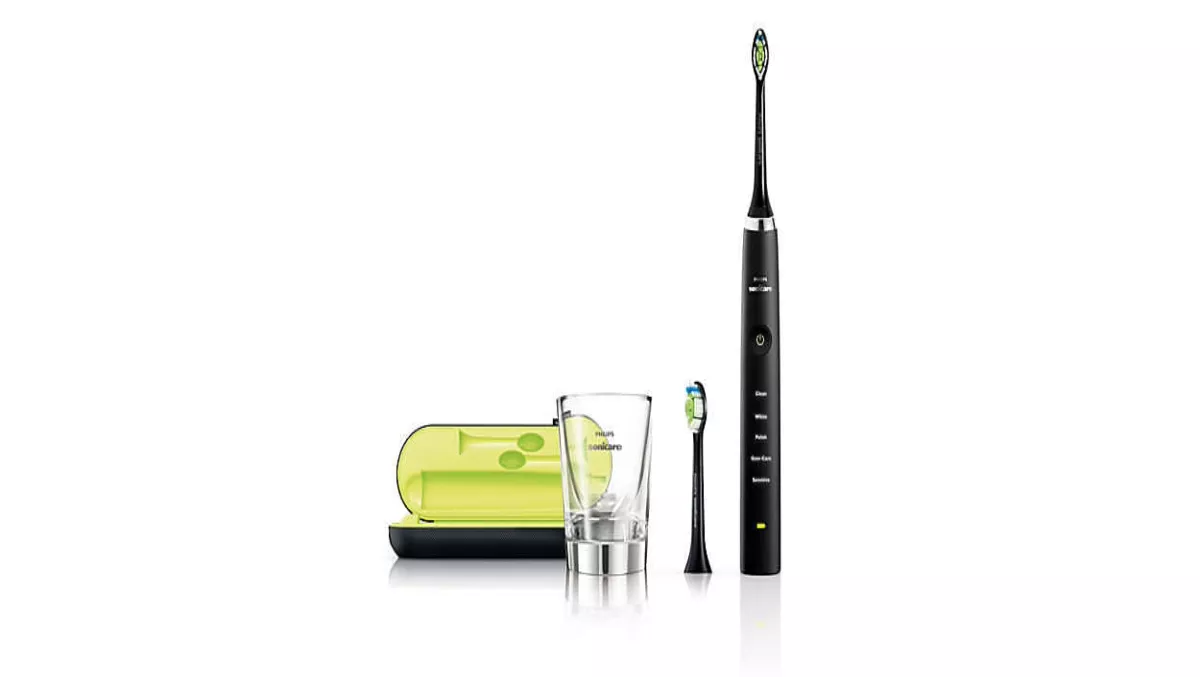 Hands-on review: Philips Sonicare DiamondClean electric toothbrush
FYI, this story is more than a year old
From birth, we're told dazzling white teeth are the ideal look and a huge industry has sprung to help us achieve this. Philips have joined the fray with their high-tech Sonicare DiamondClean electric toothbrush.
Keen to see if it could work its claimed magic with my gnashes, I went teeth-on for a fortnight. Here are my impressions.
Look and Feel
Depending where you shop, you can pick up an electric toothbrush for about $50. taking this into account, the Sonicare DiamondClean's $399.95 sticker price seems steep. Considering what you get and its effectiveness, it turned out to be good value for money. Then there's also the money saved on dental hygienist bills.
The Sonicare DiamondClean is as simple as it is elegant. Finished in stealth jet black, there's indicators down its side that illuminate when it's powered it up. These tell you what setting you're using and how much charge there is.
Bells and Whistles
The Sonicare is simple. There's no charging ports as it uses inductive charging. This also means it is waterproof and easy to keep clean. The cleaning heads are swappable too.
A wireless charging cradle comes in the form of a small glass. This is easy to clean. Philips also bundle a USB-connected travel case/charger. In my books, this earns them a bazillion brownie points. Charger clutter usually means that electric toothbrushes make bad travel companions.
I tested its travel chops during a brief visit to Singapore and Hong Kong. The Sonicare DiamondClean didn't need a charge for the duration of the trip.
In Use
Clever charging tech aside, there's other reasons the Sonicare DiamondClean commands a price premium. Short of paying thousands for the commercial dental gear, the Sonicare is about as good as it gets.
There's five brushing programmes: These are Clean, White, Polish, Gum Care, and Sensitive. These work by changing the amount of vibration and oscillation delivered onto your pearly whites. There's also a micro pause that signals when you need top brush the next part of your mouth. The Sonicare DiamondClean turns off after it has determined that you've done enough teeth cleaning.
Philips says that the Sonicare DiamondClean can remove 7x more plaque than an old school toothbrush. This is due to its ability to whip bristles around your gnashes at a zippy 31,000 brush strokes per minute.
Verdict
It felt like it worked. Your mileage will vary depending on what toothpaste you use, your age and the state of your teeth.
What I can say is that after using it, my teeth felt as if I'd taken them and subjected them to a full clean from a dentist. The cleaning cycle is dialled down and ramps up over 14 uses. Cleaning is now quicker, cleaner and I have a travelling toothbrush that's easy to charge. It may cost more, but this said, you do get a hell of a lot more for your money.