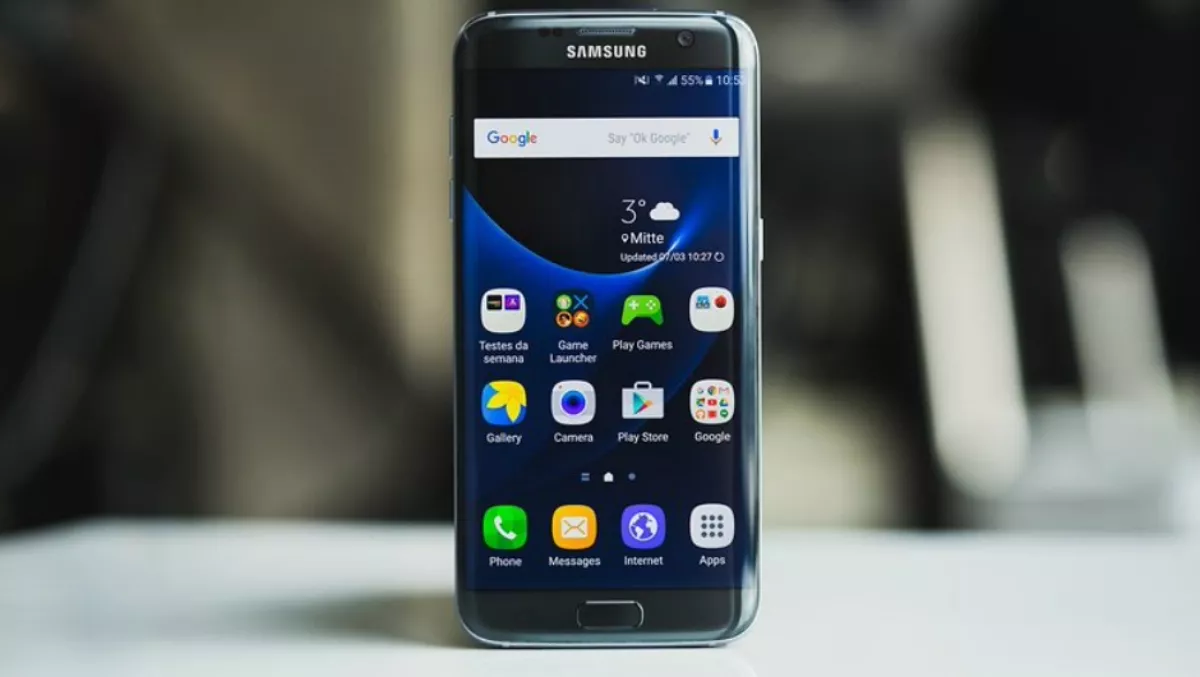 Hands-on review: Samsung Galaxy S7 Edge
By Patrick Pilcher,
Thu 10 Mar 2016
FYI, this story is more than a year old
Samsung's Galaxy S7 is a solid evolution on the S6. So too is the S7 Edge. It takes what is good with the S6 Edge, adding useful upgrades to make it a compelling option.
Look and Feel
A lot of the effort put into the S7 Edge focused around subtle design tweaks. An example of this is the S7 Edge's back. It's curved, and that means that it sits comfortably in the hand. It might not sound like a big deal, but the lack of sharp edges do make a surprising amount of difference.
Like the S6 Edge, the S7 Edge eschews Tupperware in favour of glass and alloy. This helps lend it a solid, upmarket and dare I say it, premium feel.
The S7 Edge's screen is now 5.5". This is a step up from the 5.1" display used on the S6 Edge. The S7 Edge doesn't feel too big or unwieldy despite a big increase in screen real estate.
A big part of this involves the Edge's curved screen. This also means the screen disappears around its side, which translates into no bezel. This makes for a seamless experience compared to the displays used with other smartphones.
The obvious criticism levelled at the S6 Edge still remains. While a curved display is cool, it doesn't bring much in the way of extra functionality to the fore.
In Use
That said, the S7's edge display can now get social media updates, football scores, news, and weather and even has a compass/ torch combo (which actually proved quite useful).
The other nifty screen feature is an always-on display. Like the Moto G, the S7 Edge shows the time and calendar notifications even when on standby. It might sound gimmicky but it is also pretty useful.
Perhaps the biggest consideration with any smartphone usability is battery life. A bigger chassis and the use of flexible battery technologies (which squeezes into the extra space inside the S7 Edge's body) mean that battery capacity is now 3,600 mAh . Compared to the S6 Edge, that's an increase of 1,000 mAh. Combined with Android Marshmallow and a more energy efficient CPU, serious gains in phone uptime have been made. With typical use, I got a full day's use and the S7 Edge still had charge on its battery to spare.
Add to this wireless charging and fast charging technologies and there's a lot to like. When the S7 Edge battery dipped below 5 percent, it only took an hour and a bit to bring it back to 100 percent.
A lot of the interface design of the Galaxy S7 Edge will be familiar to S6 Edge users. It should also feel quicker as Samsung have pared back some of the bloat in Touchwiz.
I found that sometimes my palm would brush against the curved screen edges when holding the S7 Edge. This would sometimes make it do unpredictable things, I got used to this after a few days and it ceased to be an issue.
Under the Hood
On the plus side, the S7 Edge now packs a microSD slot. Because the microSD sits in an extra space on the SIM tray, a sim removal tool is vital for inserting or removing it. This said the extra storage will be a welcome addition for those with large media collections.
This means it'll work with the Gear VR. Better still, it'll play movies off of a microSD card with the Oculus cinema application. This should be a real boon for long haul travellers. A downside is that the S7 Edge lacks Google's Adoptable Storage which integrates microSD and built in storage.
The Edge S7's camera sensor has gone from the 16MP of the S6 down to 12MP. Based on snaps I took, it's still a step up. This is because the aperture has gone from f/1.9 used in the S6 to f/1.7. Image sensor pixels have been up-sized from 1.12μm to 1.4μm. Both of these features allow the S7 Edge to capture 50% more light.
Samsung have also baked in what they call a Dual Pixel Sensor focus system. This is usually the domain of DLSR cameras. It allows the S7 Edge to quickly focus on objects. Hitting the home button twice fires up the camera, even from the lock screen. With Dual Pixel Sensor Focus smarts, the odds of capturing a snap of kids or pets in focus improves a lot.
Photos I took usually came out sharp. Even more impressive were its low light capabilities. Images shot as the sun went down looked bright with great colour saturation and little noise. There's also a Pro mode (which gives you full manual control). All told, the S7 Edge gives a lot of costly photographic gear a real run for their money.
The S7 Edge packs an Exynos 8890 processor, made in house by Samsung. It's an Octa-core monster, with 4 cores running at 2.3 GHz for demanding tasks while the other four are at a more battery friendly 1.6 GHz for less demanding tasks. According to Samsung, the Exynos 8890 supplies the S7 Edge with anything up to 30% more processing grunt.
Verdict
The S7 Edge is proof that listening to your customers can pay big dividends. Adding microSD support and waterproofing while maintaining a premium build is a move that is bound to see the S7 Edge maintaining the positive momentum garnered by the S6 Edge. While you could argue that the Galaxy S7 Edge isn't the most innovative phone on the market, a bigger screen, an excellent camera and better battery life do make it a compelling upgrade to the S6 Edge.