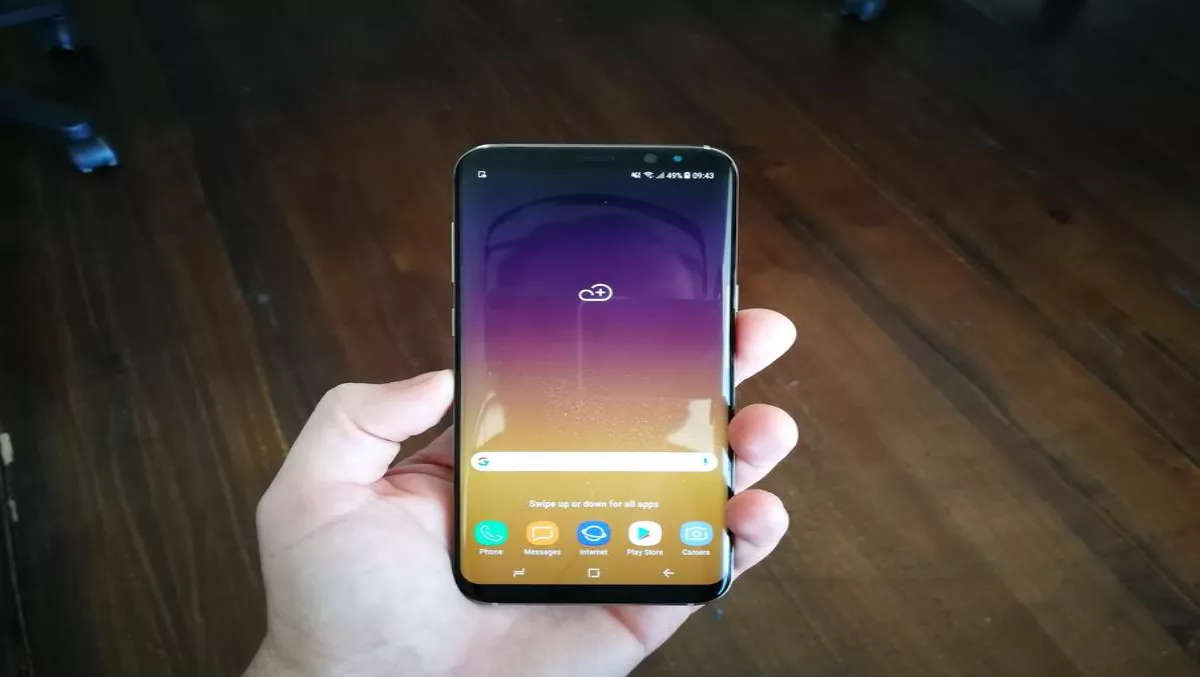 Hands-on review: Samsung Galaxy S8
Tue, 9th May 2017
FYI, this story is more than a year old
By Alex Crossan, Contributor
The Samsung Galaxy S8 would be remembered for its design alone. It's aesthetically pleasing, it's sleek, and it's big without feeling big. The infinity display looks huge, and the screen bezels are almost non-existent.The screen is probably the best on any smartphone you can find today, which is saying a lot. It's crisp, it's massive, and watching videos on this phone just feels right. I've never been the kind of person to sit and watch anything for an extended period of time on a phone but the S8 changed my mind.
The script has been flipped for smartphones. "Form follows function" is the mantra repeated by creatives and designers and the like, but these days? We spend so much time with our phones in hand, it's actually pretty important for them to look good. They are as much about fashion as they are about functionality. On this front, the S8 delivers.
The security biometrics were, frankly, annoying as hell. The face scan, when it works, works really well. This wasn't often in my experience. In low light situations, or when I was walking, or doing anything that wasn't purposely trying to use the facial scan, the unlocking just didn't work. When it did work, it felt very futuristic. It became too much trouble.
While we're discussing biometric unlocking, the fingerprint scanner was in perhaps the most awkward spot they could find. It's located next to the rear camera. And yes my camera has fingerprints on it, as I had to look at the screen while trying to move my finger around on the back of the phone so it could record my entire fingerprint.
Bixby is largely useless currently, as the voice recognition has not be integrated yet. Samsung is confident that Bixby is going to be a game-changer, much like Apple's Siri, and it shows as they have dedicated an entire button on the side of the phone to launching the Bixby application. The phone is so minimally designed that they couldn't even include a physical home button, but Bixby has a button for itself. I found that strange.
The camera is very nice, albeit rather standard. It takes nice photos, which is all you can really ask for, but after becoming accustomed to the highly adjustable camera in the Huawei P9 I am somewhat of a phone-camera snob and rather spoilt, so that may be affecting my judgement.
I was super impressed with the power of the phone. It runs like a dream and is responsive and quick. The high res display is gorgeous. The battery lasted me a day with medium-to-heavy use, which isn't as common in smartphones as you'd think. You'd be hard pressed to find a phone with better specs (although they are out there) and it's nice to see that although the price tag is immense, Samsung has thrown some serious specs into the phone to at least semi-justify it.
A few other notable features:
It has a headphone jack (Still baffled by Apple's decisions in this area)
The buttons are well put-together and nice to use - although I sorely missed a physical home button
The fast charging feature works very well
The display is possibly the brightest on any smartphone (almost too bright at max brightness)
If you can justify the price of the Samsung Galaxy S8, and you're just after an all around good phone, then it's probably for you. It was seriously impressive in a lot of aspects, underwhelming in some, and downright frustrating in just a few. Overall I would give this phone a 7.9/10. Mostly because while this phone is nice looking, powerful, and has the best screen around, it didn't feel very inspired otherwise. Still, if you watch movies on your phone, like gaming on the bus, and have some money to burn then consider this phone.