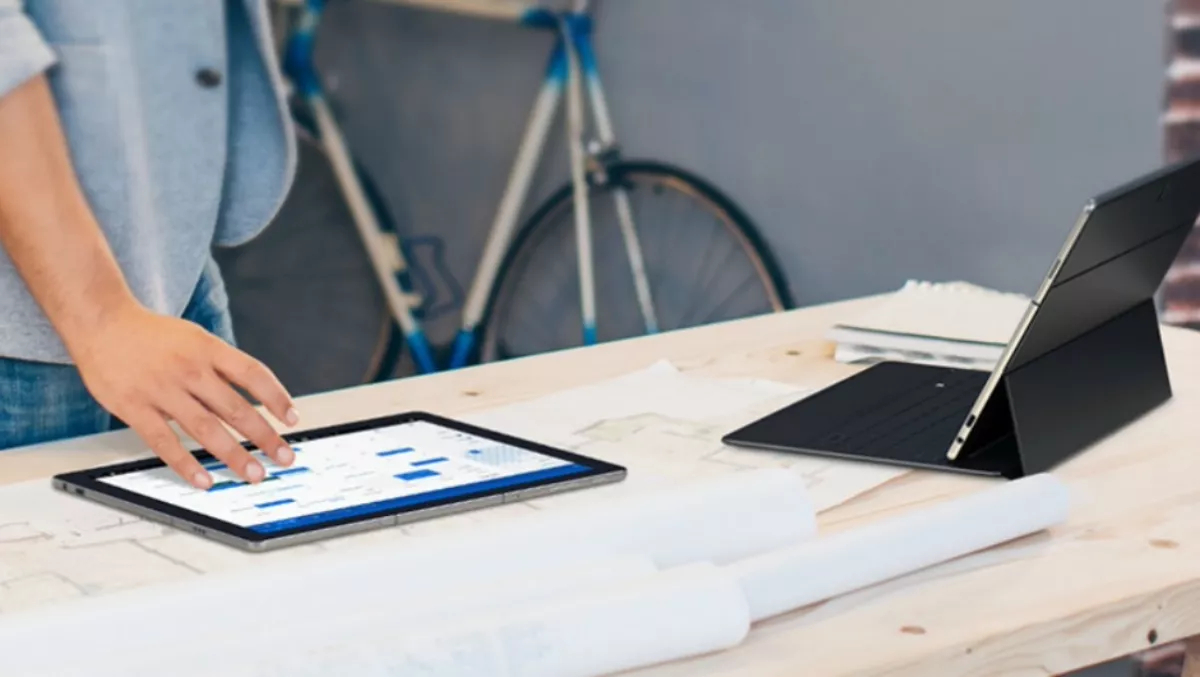 Hands-on review: Samsung Galaxy TabPro S - 4G LTE
Mon, 27th Jun 2016
FYI, this story is more than a year old
The Samsung Galaxy TabPro S has been officially described by Samsung as the perfect tablet for work and play - fusing Samsung's defining technology and Microsoft's Windows 10 into a lightweight, premium tablet/folio in two varieties: The 4G LTE, and the Wi-Fi version. That's the official word, anyway. But what's behind the hype and how does it perform in real conditions?
Build
Its look and feel seems and feels nice considering its price, however the backing, which looks steel but is actually with metallic paint, feels slightly underwhelming, although Samsung says this helps make the tablet as lightweight as possible. It is, compensated by the metal edge trim and the thick screen. The four buttons: Start, power, volume are all easily accessible.
The folio backing feels slightly cheap for its price range and I suspect underneath the faux leather finish resides a few flimsy pieces of plastic, but the bendable nature helps it to function as a pogo pin so you can easily stand the tablet upright on an angle in mini-notebook form.
Unfortunately, the folio keyboard is lightweight but suffers from a distinct lack of quality and function. The keys are small, plastic and feel very brittle. They look like they've been cut from squares of paper and stuck on. There's barely any delineation between keys. The touchpad works fine and has good movement, though with one touchpad you do have to use your wits to find out where left-click options stop and the right click starts.
But this is a tablet, not a notebook, right? Shouldn't be the touchscreen be the most important part? Yes, but if you're going to include a keyboard and a touchpad, at least make them quality offerings.
Specs
Samsung's fantastic Super AMOLED screen is back in 12" 2160x1440 form, and it pays off beautifully. It claims to represent 94% of natural tones to show details and colours, even in power saving mode.
The 5,200mAh battery can last for around 7-8 hours on the highest brightness setting there is. This will of course depend on you what you're using it for - high draining apps will diminish battery life considerably. Moderate use gives about 4 hours. Thanks to Windows 10's nifty little battery feature, I was informed that it would take two and a half hours for it to fully charge, whilst on and idle, from a completely flat battery.
The sound is slightly tinny although much, much better than sound I've heard from most other tablets, including other competing ones on the market, but as with most devices that aren't purely made for great sound, they will always leave room to be desired. I recommend using headphones through the multipurpose jack.
The 5MP rear camera (with autofocus) and 5MP front camera (no autofocus) do a relatively decent job of capturing photos and videos in both daylight and low light settings. 1920x1080 recording with the front camera using only the screen brightness as a light source worked well, although it was expectedly grainy. Recording with the rear camera in low light isn't recommended unless you have an external light source.
On board is 4G Cat6 capability, with a nano sim slot, Wi-Fi, Wi-Fi Direct, NFC and Bluetooth 4.1. That in conjunction with cloud storage access and WIndows Homegroup mean you'll always have easy sync and access to your files.
The 128GB SSD drive is slightly less after all the Windows 10 Professional operating system files.
OS and handling
As with many tablets, using Windows 10 Professional on a tablet (even in tablet mode) can be a little finicky when it comes to the finer details, especially those of us who aren't graced with slim fingers. The trackpad does provide accuracy, but you may well need the Bluetooth stylus pen to manoeuvre through the finer points of your work - which, by the way, is designed by Wacom, allowing for pressure sensitivity on the pen and the tablet. Typing on the touch keyboard is easy, however.
The Samsung/Windows touchpad is easy to use/large enough for typing - much better than typing with the keyboard.
Samsung settings are basic but allow for AMOLED customisation, battery life extender and pattern login functions, syncing with Windows/Android/iPhones and much more.
Processing video on the fly is fairly robust although does take a while, using the 6th Gen. Intel Core M processor (Dual Core 2.2GHz). It took five minutes to process 512mb, 720p video file. While I didn't get time to run full HD, 1080p video through an editing suite, I did get the distinct feeling that core M processors aren't as groundbreaking as many sales reps claim them to be.
Overall, I expected slightly more from the global giant that is Samsung. I think next time a little more focus on a better folio keyboard would put the company in better stead... for now, at least.
Samsung Galaxy TabPro S 4G LTE: $1999 RRP
​Samsung Galaxy TabPro S Wi-Fi: $1799 RRP
Find out more about the Samsung Galaxy TabPro S on Samsung's website.