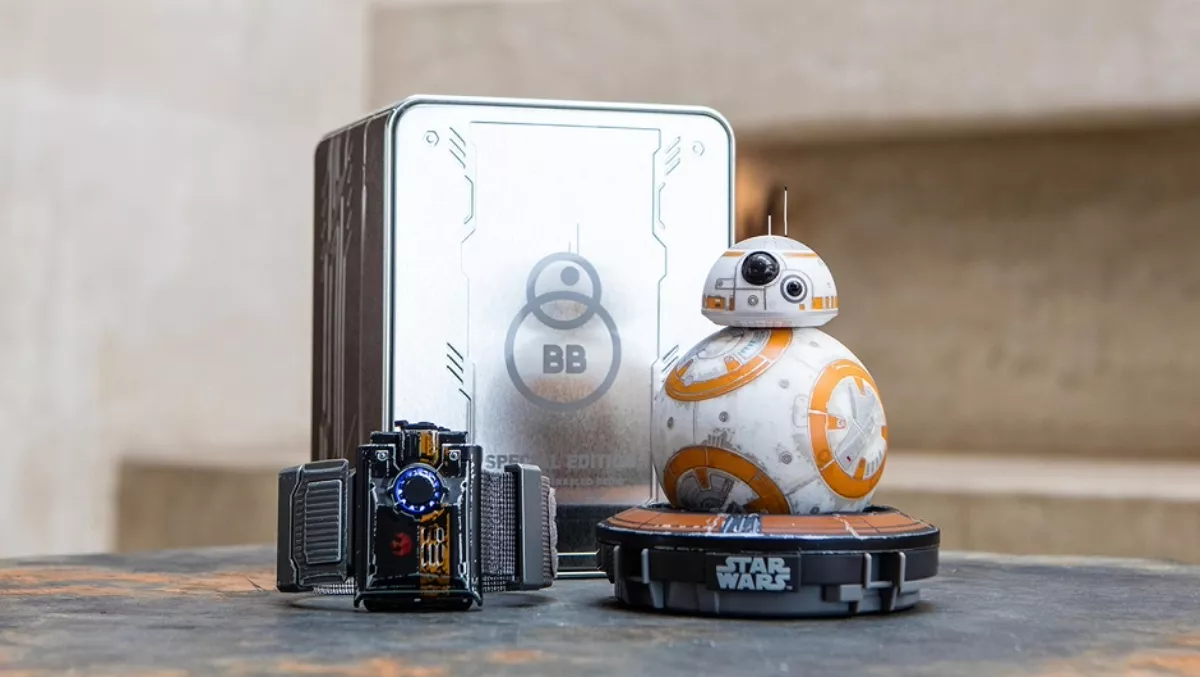 Hands-on review with the Star Wars Force Band Sphero BB-8 unit
By Damian Seeto,
Mon 5 Sep 2016
FYI, this story is more than a year old
Last year, Sphero released the popular BB-8 robot that allowed you to control him using your own smartphone. This year though, the company is releasing a special edition version of BB-8 that includes a new app as well as a Force Band. What's different about this version of BB-8? Well for starters, it has a different design to the one that Sphero released last year. This year's model includes a "battle damaged" aesthetic meaning that is looks like it has been rolling in Jakku for several hours. The biggest change however is the watch-like device called the "Force Band". You can control BB-8 with just hand gestures and it looks like you are actually using the Force. It feels more natural than just pushing down the buttons on the smartphone like last year's model. Here's how the Force Band works. It uses Bluetooth technology and it notices small gestures that you make with your hand. For instance if I push my hand forward, BB-8 will roll around away from me. If I put my hand down, BB-8 will stop. To make him return to you, you wave your hand towards yourself. Moving your hand left and right also controls his sense of direction. It takes a bit of practice in order to get him rolling. After you have played with the Force Band and BB-8 for a few minutes, you will be a Force master in no time.
It's a lot of fun using the Force Band to move around BB-8. I can see some people probably playing pranks on their friends and family members pretending that they are using the "Force" to move around BB-8 while concealing the Force Band under their sleeve. You can still use the old app to move around BB-8, but the Force Band is more entertaining in my opinion. If you already own last year's Sphero BB-8 model, you can buy the Force Band separately to try out how cool it can be. It's also worth mentioning that the Force Band is easy to use and everyone in the family will enjoy it. My Mum loved waving her hand around controlling BB-8 and he's quickly become her favourite Star Wars character of all time. She previously loved the Ewoks... Aside from the Force Band device; Sphero is also releasing a new app to accompany this BB-8 model. The new app is used with the new Force Band and includes some mini-games that will be updated as time goes by. The first new mode in the app is called "Force Training". This is basically a tutorial teaching you how to control BB-8 using the Force Band. It's like a mini-game as you have to navigate BB-8 around on a ship. It's quite fun as it teaches you the basics.
The second mode is called "Combat Training" and this is where you can pretend to wield different weapons from the Star Wars universe. While using the app, you can select which sounds you want to hear and mimic. This can include the blaster sounds of Han Solo's gun to even the whoosh of Kylo Ren's lightsaber. The longer you play; you can unlock more weapons and sounds. The third and final mode in the app is called "Force Awareness". This is where you can use the real-world environment to try and collect digital holocrons in the app. It works like a radar device as the Force Band will react when you get near a new holocron for you to collect. What is included in the Special Edition BB-8 Sphero unit? Well the packaging is impressive as it includes a metal collector's tin and a charging base. It also comes with two USB charging cables so that you can charge both the Force Band and BB-8 himself. As for the price of it, in New Zealand, you can get the new BB-8 including the Force Band for $NZD359.99. In Australia the price is $AUD349.99. The Force Band is $NZD149.99 and $AUD139.99 by itself in New Zealand and Australia respectively. It will be available in retailers such as EB Games, JB Hi-Fi and more on September 30th, 2016. Overall, the new BB-8 from Sphero is a lot of fun and is a great gift for anyone that is a huge fan of Star Wars. You can check out our little fun video below that shows you that the Force Band really works!