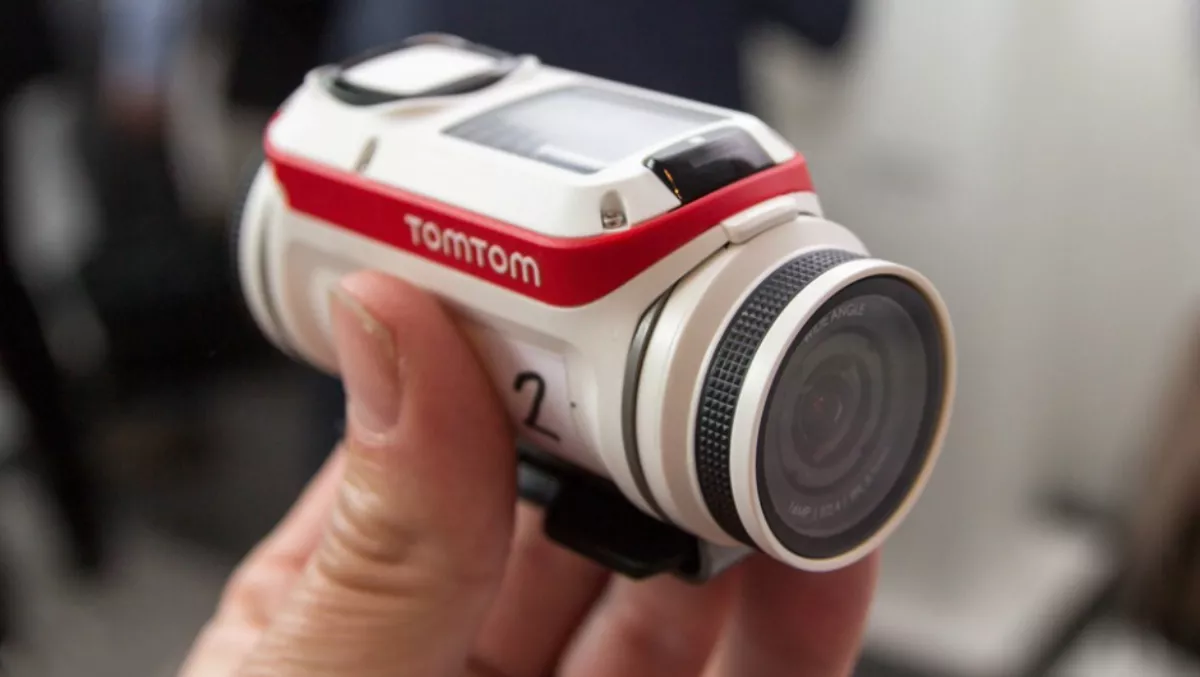 Hands-on review: TomTom Bandit Action Cam
FYI, this story is more than a year old
You'd be forgiven for thinking that the action cam market was sewn up. The latest arrival, the TomTom Bandit, brings some impressive video capture and features to play with. The Bandit shows that there's still scope for innovation
Look and Feel
Finished in red and white, the Bandit resembles an oversized tube of toothpaste. This said, it is IPX7 rated. This means it is pretty much waterproof and it comes with an integrated mount/connector.
The mount deserves special mention. It's a clever piece of design. Most action camera users connect and disconnect their action cams from their bikes, helmets and surf boards to make sure they're recording and to eyeball battery levels. The Bandit's connector allows users to easily clip and unclip it. It might be handy, but it is also solid. In use the clipped Bandit tends to stay put. This is definitely a good thing if out surfing/skiing etc.
Along the top of the Bandit is a small LCD panel. It provides an at-a-glance overview of shooting modes and other functions. The Bandit comes with a four-way d-pad. This arrangement proved intuitive enough that most tasks were done without the user manual. When out in the back of beyond mountain biking, this is a definite plus.
All told, the Bandit is a tough unit that feels built to take the odd knock and bump. Measuring just over 9 x 3 x 5 cm, it weighs in at 186g. It is waterproof, working from 1 metre down to 50 metres.
Bells and Whistles
The Bandit's innards can be removed for easy access to its battery and memory card. There's a USB plug which allows you to attach the assembly to a PC for charging or transferring footage. It is a simple and elegant solution that frees you from fiddling about with cables. Extra batteries are also available, which can extend filming time. This is a definite plus when away from power sockets.
TomTom has crammed a ton of sensors into the Bandit. These measure speed, acceleration, altitude and even heart rate - you'll need a chest strap sensor to do this. Data from these sensors can be overlaid on video. It can also be used to work out where the most heart stopping video clips are.
As well as the tech crammed into the Bandit, there's a slick editing app available. It can automatically edit and find key scenes. It also makes uploading polished clips to the Web a hassle-free process. This saw an hours footage edited into just 15 minutes. It was both interesting and watchable.
There's another app that lets you use your smartphone as a viewfinder and for transferring footage. The Bandit creates an ad-hoc Wi-Fi network that my smartphone was able to connect to. It's a simple, but useful feature.
Performance
The Bandit is capable of 4K at 15fps. This isn't as flash as the GoPro which can capture 4K footage at 30fps. Getting higherrates with the bandit requires a trade off in resolution to 2k or 1080p.
In practice this wasn't a biggie. Captured footage looked great on my HD TV and was definitely watchable on a UHD screen. The Motion looked smooth.
The Bandit also proved adept at snapping still images. Low light issues aside, it did a passable job. Photo quality was comparable to that of a good smartphone. Its photos might not look that great if enlarged and hung on a wall, but they were fine when viewed on my laptop.
The Bandit also acquitted itself well when it came to capturing video. Video looked as smooth as you'd expect off of a mountain bike helmet-attached camera. It looked detailed with accurate colours. That said, the Bandit struggled with low light conditions. This isn't all that surprising for an action cam. On the plus-side, the Bandit handled rapid changes in light levels well, pointing to good iris control.
Slow-motion modes and time-lapse feature also delivered good results. Considering the Bandit is an action cam that fits in one hand, yet can withstand nuclear war, this isn't too shabby at all. All told, the Bandit can definitely hold its own against competing action cameras.
Verdict
You'd be right to assume that I'm impressed with the Bandit. It's built like a brick you-know-what house. It is also packed with well thought out features. Most important of all, these features are likely to be useful to sporty types.
Slick apps such as the smartphone and editing apps enhance usability. These are rounded out with a competitive sticker price. Depending on where you shop, the Bandit can be had for a wallet pleasing $499. For the adrenaline freak Peter Jackson wannabe, the Bandit is a great way to capture the action.
Related stories
Top stories