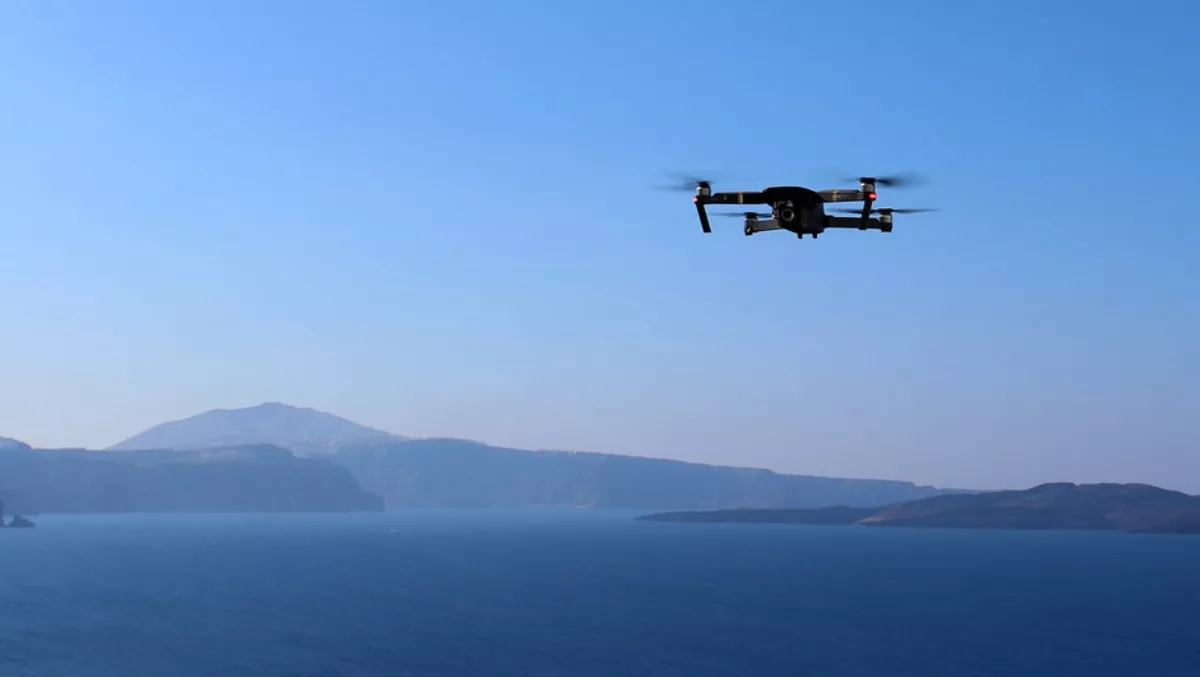 Heat-seeking drones can save the dolphins
FYI, this story is more than a year old
Unmanned drones equipped with thermal imaging cameras could save dolphins, according to a new scientific study out of NZ and the UK.
According to the study, the endangered Maui and Hector's dolphins in New Zealand and other marine mammal species around the world could be saved from caught up accidentally when fishing for other species.
The successful study proved aerial thermal detection and identification of Maui and Hector's dolphins, and other marine mammals would be possible from both manned and unmanned aircraft and could be used on drones.
Martin Stanley from Ocean Life Survey, who led the study, has designed and developed an unmanned remotely operated thermal imaging drone system that can be used for marine mammal study and protection.
The thermal drone system can be operated from vessels such as fishing boats to provide real-time detection of and protection to marine mammals.
It can also be used from land or boat to deliver aerial surveys night and day, providing the potential means to answer the key conservation question of - where do Maui and Hector's dolphins go at night and what do they do?
The system is designed as a cheaper, safer, more effective and environmentally efficient system, with less noise and shadow disturbance effect on target species, than traditional manned aircraft marine mammal aerial surveys.
It was developed, tested and trialled in the UK and New Zealand, before being deployed and operated along the New Zealand Waitakere coastline for a trial alongshore survey.
"The results of our latest research, opens the way for the use of thermal imaging drones, for improved marine mammal study and their direct protection," says Stanley
"The thermal imaging drones, which detect the body heat of marine mammals, have been designed to operate from boats and land and can be used to thermally detect and identify Maui & Hector's dolphins, and other marine mammals, in real time night and day.
"The thermal drone systems we have designed, transmit live thermal imaging, dolphin thermal detections with GPS positions, in real time to an operator. This means thermal imaging drones could be used to provide direct protection to marine mammals such as Maui and Hector's dolphins.
For example, thermal imaging drones could be used to search for marine mammal activity in an area prior to a risk activity, such as commercial trawl fishing. If marine mammals were detected then the activity could be avoided in the area of the marine mammals or halted until they have left. This would then reduce the risk of marine mammal-fisheries bycatch deaths.
Similarly, this could be applied to other potentially harmful situations, such as disturbance from marine industrial noise such as pile driving, navy sonar operations and seismic testing.
They will allow researchers to learn more about marine mammal presence, movements and behaviour at night. This, in turn, will improve the existing understanding of marine mammal nocturnal movements, and allow better protection and management measures to be adopted."
Thermal drone systems can also reduce the cost, and replace the risk of manned surveys.
They are more environmentally friendly, with significantly less CO2 and noise emissions produced than traditional manned aircraft or boat surveys.
"The technology is affordable and available, with Ocean Life Survey having made affordable aerial thermal imaging drone systems commercially available, for under $5000 NZ dollars," adds Stanley.
The 2018 study involved an assessment of Maui & Hector's dolphin aerial thermal detection capability, and the design and testing of a thermal drone system in the UK and New Zealand. It follows on from work conducted in 2016 and 2017 by Martin Stanley (Ocean Life Survey), which proved Maui and Hector's dolphins could be thermally detected and identified from moving boats in real time.
Related stories
Top stories