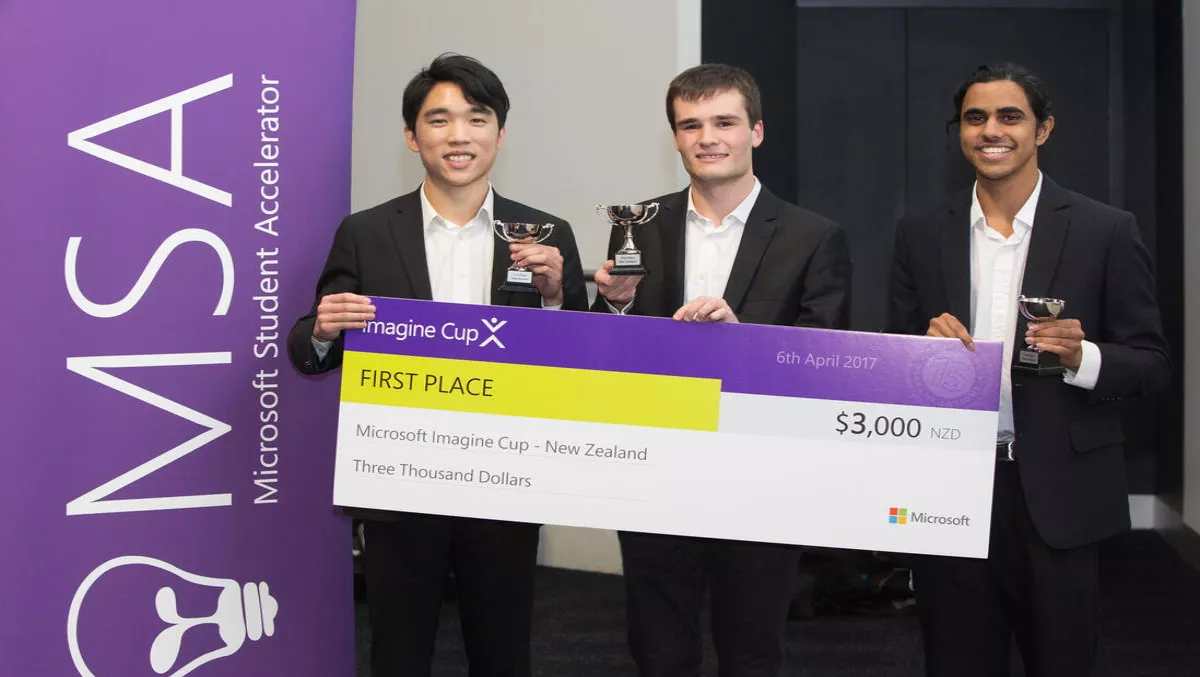 Students to take on the world after taking out Imagine Cup
Fri, 7th Apr 2017
FYI, this story is more than a year old
By Matthew Bain, Contributor
Last night saw Microsoft take over Auckland University's Owen G Glenn building to showcase the 2017 Imagine Cup New Zealand finals.
A crowd of industry executives, hopeful winners and their peers gathered to mingle before heading into the packed lecture theatre, nervous energy running high.
The cup started in early February and invited student start ups to let their imaginations run wild to develop, Microsoft Azure backed, technology that could change the world.
After months of mentoring and development, these teams were ready to go. Eight teams made it through to the finals this year, but there could only be one winner.
Three grand finalists were selected to present the seven minutes pitches that could well change their lives.
An expert panel of judges, including New Zealand Women of Influence Supreme winners Dr. Michelle Dickinson and Helen Robinson, crowned start up GroupCram the winners of the cup.
Driver safety app Iris took out second prize, with travel quest app Wandr coming in third. A people's choice award sponsored by Datacom saw Cura, an app to help dementia patients remember their loved ones, going home with a prize too.
GroupCram is made up of Hamish O'Neill, Eric Liu and Nilesh Magan, who had a vision to make studying for exams better for students around the world. Their clever new web app is a way to learn collaboratively from past papers.
The team were understandably overwhelmed by the announcement and took some time away from the crowd to soak it all in. Once they emerged, they were greeted with cheers and warm handshakes.
Eric Liu says they could not believe their own ears after the announcement.
"Unbelievable. I was just telling Nilesh, when we won, this must be what a heart attack feels like.
It has been a long journey for GroupCram. Coding wizard Hamish O'Neill says plans for the app were bubbling away as early as January.
The teams were given mentoring along the way, but it was still hard work says O'Neill.
"It was the Microsoft Student Partners, some of which have been past Imagine Cup participants and winners. They worked with us, gave us feedback and were kind of an echo chamber for us.
The future is bright for GroupCram, taking out the $3,000 prize and an all-expenses-paid trip to the world grand final in Seattle. There, they will be pitted against finalists from Imagine Cups around the world.
Eric Liu says they are in for some staunch competition.
"If we look at the 2016 winners, or even this year's global winners, we're already blown away by what they have to offer.
The Imagine Cup, now in it's 15th year, is real chance for students to put themselves out there and be noticed by big names in the industry. Microsoft director of Developer Experience Chris Auld says this and the Microsoft Student Accelerator programme are ways to turn ideas into realities.
"Imagine Cup is about empowering the next generation of young Kiwis to use technology to shape how we live, work and play. Every day we're seeing incredible examples of our students creating game-changing software, with the potential to be the next big thing.
After moving through the likes of the Imagine Cup, Microsoft Student Accelerator and Partner programmes, students will be noticed very quickly by leading companies. Auld says the exposure is huge.
"They are over-represented among the over-achievers in New Zealand ICT companies.
Auld says he is confident GroupCram will excel, and that it is not the end of the road for the other finalists..
"We're confident GroupCram will do New Zealand proud in Seattle and we look forward to following the journey of each of our eight finalist teams over the next few years.
Nilesh Magan says GroupCram's next step is to prep for Seattle as well as do some further testing.
"We're going to try to launch it to more of our colleague students, more of our classes and try and get more data and try and approach other universities and get their input.
Auld says now is the time to get involved with initiatives like this, giving students a chance to prove themselves on an industry stage.
"MSA really stemmed from that, from this idea that they have plenty of technical capability, but no miles in their tyres yet. It gives them the opportunity to go and work on real projects in real businesses.
Now the call is going out to New Zealand businesses to take on one of these teams and let them surprise you, says Auld.
GroupCram will head to Seattle in July for the world grand finals.