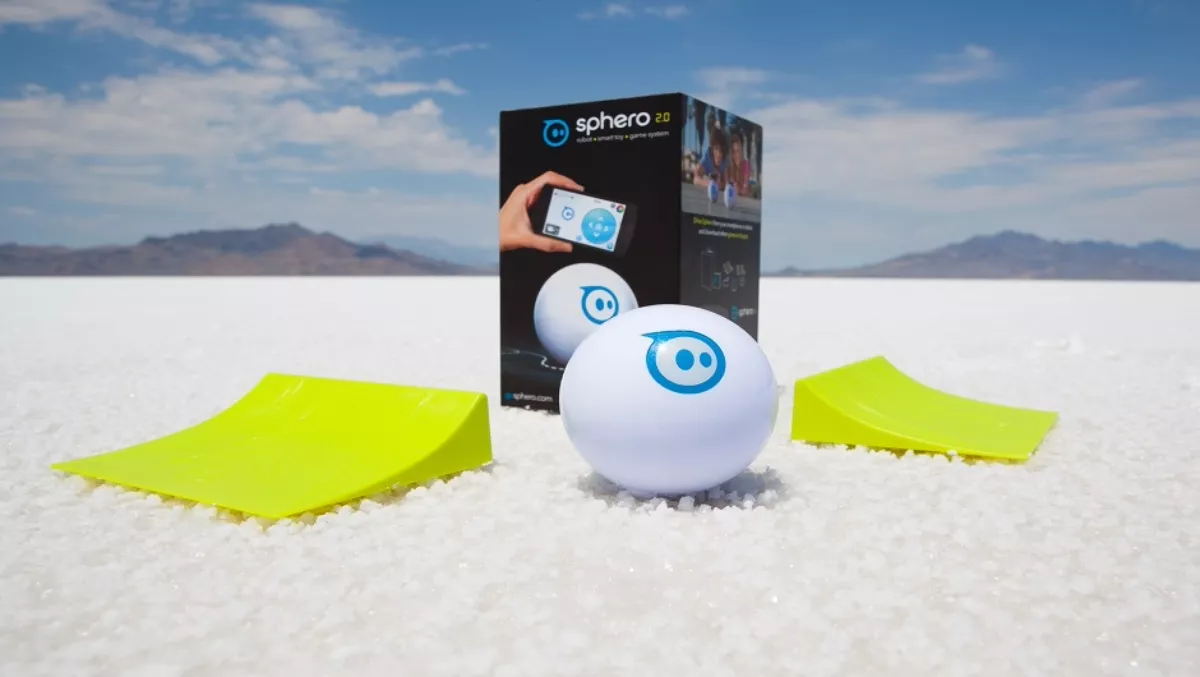 Interview with Star Wars Sphero BB-8 designer Ian Bernstein
By Damian Seeto,
Fri 2 Sep 2016
FYI, this story is more than a year old
Ian Bernstein is the founder of Sphero which is a company that focuses on building smart robots that you can control with your phone. You may have heard of the company before as they designed the popular BB-8 toy. We had a chance to speak with Bernstein about the company and his experience building BB-8. Check back with us next week as we had a chance to test out the new Sphero BB-8 unit. We will give you our hands-on impressions with the unit and the new app. Techday: How did Sphero first come out? Bernstein: My co-founder and I were interested at a young age about programming and things like that. I started building robots when I was 12, and around the same time I would just sit at home and my friends and family and they would give me all kinds of broken VCRs, CD players. I would take their motors out and build robots. I even started my own website as a kid to show off and teach others how to build robots. I ended up going to University for Electrical Engineering and Computer Science. I did that for three years, dropped out and did a bit of travelling until I was transferred to Colorado State. I continued Electrical Engineering and did that for one year. I dropped out again and decided to do business to start a web design company. At the same time, I worked part-time at a robotics company. I liked working at the robotics company as it kept my skills fresh and I did that for four years. One night, I was playing on my original iPhone and came up with an idea. I realised this phone could do a lot of things, but it cannot control physical things yet. I was thinking why can't I control physical things on this phone yet? We were spending thousands of dollars on other controllers to control robots. By 2009, smartphones were starting to take off, but at some point I knew more people would own them and I thought the phones could be the brains behind the robots. I got online and started to talk to people in the community. I realised then that nobody was controlling robots or anything physical with a smartphone back then. That was the initial idea of the company and I managed to meet a co-worker by the name of Adam Wilson the co-founder and we prototyped a lot things like controlling my garage door and so forth. The Sphero ball (our first product) came to fruition when we were a part of Techstars' startup programme. It was a couple months into the programme that we knew we were going to be the robot ball company.
After the programme, we had our big demo day where we had to pitch to a couple of big investors. One of our mentors at Techstars joined us to be our CEO on the business side. It wasn't until a year or so that the first version of Sphero came into the market. Long story, but that's how we got started in Holiday 2011. How popular were the first Sphero balls? It wasn't like a rocket ship, but it did really well. It did well enough that we were able to keep growing the company. We released Sphero 2.0 in 2013 and that version took off well so we hired more people. At that point we had 60 people in the company and Techstars was initiating a partnership programme with Disney. With Sphero 2.0, we started to add a bit of character to it. It was more of a character than just a robot ball. We even had a back-story with an intro cinematic where he comes crash landing to Earth.After that, engagement for our product went way up. We knew we needed a better character, a better story, and expand on the story. Did you approach Disney first or did they come to you? It was mutual. We ended up getting into the programme and the first third into it, we had some mentors coming in from companies like Disney, ABC, Marvel and more. After that, you were supposed to find mentors that you wanted to work with. In the first week of that, we had a 10 minute meeting with Bob Iger who is the CEO of Disney. In our meeting, we introduced ourselves and I think you know where this is going. He pulls out his phone and started showing use set photos of Episode 7. Were you shocked at the time? Yes, we were like 'this is crazy'. Nobody has seen this stuff before. He gets to a picture of BB-8, and says it kind of looks like your Sphero robot. He then asked us if we could make something like this. So right after the meeting, we knew this is going to be the most important droid in the film. We sketched out a plan from what we had seen from the photos. Was this around the time the first trailer dropped? No, this was actually way before the first trailer came out. This might have been around seven months before the first trailer came out. When did that first trailer come out? December 2014 So it was probably five months before that. When we sketched our draft that night, we actually made it. We cut open our first model of the Sphero and modified it. We put on some Star Wars music, filmed it and sent the video over to Disney.
Was it hard to build BB-8 at first? We had an idea of how to technically do it, but getting the first model done to actual production was an incredible amount of work. Specifically the decoration. We wanted it to be as authentic as can be to the movie. Was there a strict time limit? I suspect it had to be come out before the movie? Yes it was Force Friday back in September 2015. We had to make it work, make sure the app was running and also make the unit look as authentic as it can be. Some of the stuff was not easy as it was challenging. How many months of work was it to make it? I think it was about 10 months of really working on it. It took quite a while to get through licencing until we actually got to see real images of it. It was 10 months to get all of the decorations, get the app running and more. Obviously, you were happy with how BB-8 turned out? Oh yeah. The product turned out really well. People had a lot of fun with it and it was definitely a huge enabler for the company. It helped us to grow and now we are working on a lot of products. Are you allowed to tell us about the future Star Wars toys you are working on? Ummm no. Not yet. (laughs) I was thinking that R2-D2 could work really well Yeah. Umm .I cannot get into details about that. However, our goal for the future of the company is to put a robot in every home. We think there will be a robot in every home. Ahh, your aim is to make robots do something more useful in the future? We are making more connected play droids. We think we can make actual living droids that live in your home and that you can talk to and hang out with. They can be do utilitarian things or they can just be there for entertainment. They can be your little buddy. We feel we will be the company to pioneer this.