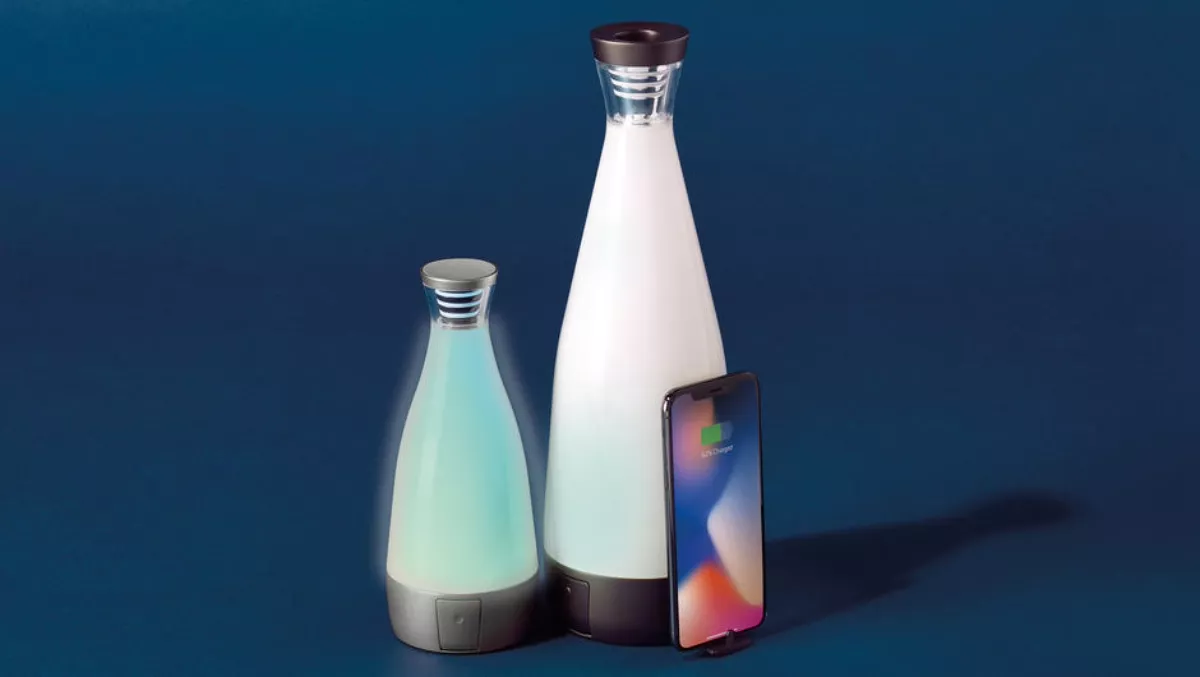 Is it an elixir? Is it a bottle? No, it's a wireless charger
FYI, this story is more than a year old
Wireless charging stations aren't exactly the most attractive pieces of tech, so it's hardly surprising that one smarthome company has come up with an entirely new look for them.
Gloo looks something like a cross between a bottle of elixir (or milk, or potion) and actually doubles as an 'ambient light source'. So basically it's a charging station that function as a slightly mystical-looking lamp.
Gloo is the work of a US smarthome brand called Deconnect, which is using Kickstarter as its way of taking Gloo to the masses.
The company says Gloo is the first crowdfunding project that allows people to use augmented reality. Through the companion app, users can preview how different versions of Gloo will look will in their own homes.
"The Gloo ecosystem aims to redefine the image of mobile charging – from purely functional, and often unsightly - to something that complements today's contemporary interiors and connected lifestyles equally. Deconnect is all about the sharp edge of the internet of things - and with Gloo, form meets function for the first time, whether you're at home, in a bar or at an airport lounge," says Deconnect CEO Boris Brault.
So far Gloo is produced in 'mini' and 'regular' with five different finishings. On board, it has a 20,000 mAh battery, which is around eight full smartphone charges both through Qi wireless charging and through USB.
The company says Gloo also works as an ambient lighting system (controlled by mobile app). Gloo Regular will also apparently be able to take panoramic photos and video through a high resolution Gloo 360 Cam add-on.
But they're not just trying to woo those of us at home. You may eventually see these Gloo chargers popping up in hospitality units like hotels, bars and restaurants – basically anywhere multiple charging stations are needed.
Each bottle-shaped Gloo uses Wireless Surface Chargin technology, a means of charging that is unique to Gloo and that allows devices to sit against even rounded surfaces thanks to the product's customized and patented curved coils.
Gloo is also complemented by a collection of 10W fast charging wireless pads, crafted out of things such as marble and carbon fibre. Deconnect thinks the pads will particularly appeal to premium smartphone owners.
"Using Kickstarter is important for us as a means to validate our product innovation, as well as being able to tap into ideas and inspiration for new, compatible accessories that we can develop and launch in 2019," Brault says.
Super Early Bird backers who sign up for Gloo via its Kickstarter campaign can get their hands on Gloo Mini for $59 (instead of $99) and Gloo Regular for $119 (instead of $199).