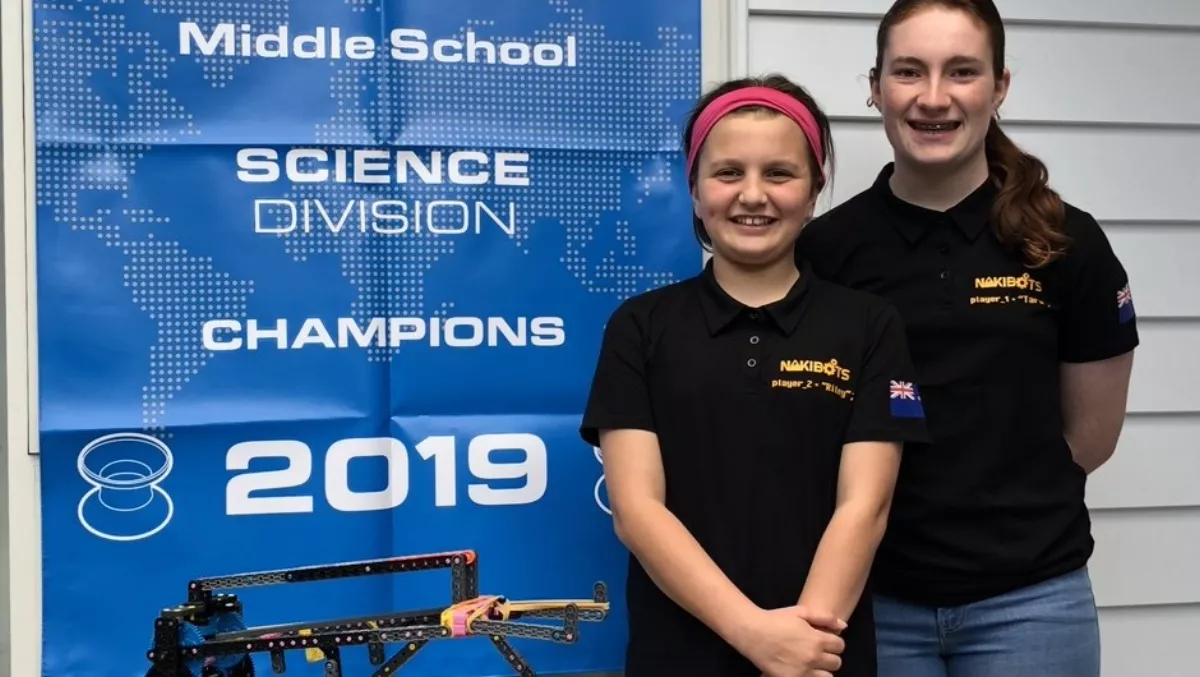 Kiwi girls take on robotics world… and WIN
FYI, this story is more than a year old
The first all-female team from New Zealand has been crowned winners of their division at the world championship for Middle School (years 6-8) students and the best all-girl team at the VEX IQ Robotics World Championships, the biggest and fastest growing youth robotics competition in the world.
Tara Stevens (14) and Riley Pollard (11), from New Plymouth and Okato and the Nakibots team, fought off around 80 others in their division from 24 countries, including the United States, China and the UK.
Not only did they win their division but also go on to compete and be placed 6th in the world across all 400 teams in the wider competition, in front of 20,000 spectators.
The World Championships is based on the VEX robotics system, the largest producer and distributor of robotics kits in the world.
New Zealand sent 90 students between the ages of 11 and 18, including their support teams to this year's event in Louisville, Kentucky, United States. The teams have just returned home.
As well as Taranaki, the teams this year came from Feilding, Palmerston North, Auckland and Tauranga.
Chris Hamling, from Kiwibots says Tara and Riley's win makes them the best all girl robotics team in the world for their age group:
"This is a great victory for Girl Power as they were up against the might of some very well funded teams from big schools and cities. We've all lost our voices cheering for them as they beat off team after team. They showed just how good young Kiwis are at innovating, building and programming robots to compete.
"Their win is an example for all young people, especially girls, to get involved in robotics and technology as a way of understanding the importance of STEM skills."
Nakibots is an afterschool club created by parents keen on helping their intermediate and high school kids learn about STEM (science, technology, engineering and maths) and use it to create and be innovative.
The competition involves building a robot to compete in a game designed by VEX IQ. It is completely student led with adults acting as mentors. This year's game involved moving and stacking plastic objects called hubs, hanging the robot from a bar and working together with another team (selected at random), all in a 60 second time limit.
Robots could only carry one hub at a time, but the students quickly figured out strategies to move large numbers of hubs without lifting them (see video below).
Kiwibots produces and promotes robotics education and competitive events, with an aim to inspire young New Zealanders to be innovators and creative thinkers. It is a trust supporting seven regional robotics organisations, involving around 2,500 students and manages two national robotics competitions.
Its aim is to help teach STEM skills and prepare young people for the future of work.
In 11 years of competition, Kiwi teams have been crowned World Champions and Division Champions ten times.
It is supported by New Zealand sponsors including Fisher and Paykel Healthcare, Glidepath's Sir Ken Stevens, SMC Corporation and Smales Farm.
The entry of the Kiwi teams is supported by the Royal Society, an independent, statutory not-for-profit body in New Zealand providing funding and policy advice in the fields of sciences and the humanities.
Related stories
Top stories