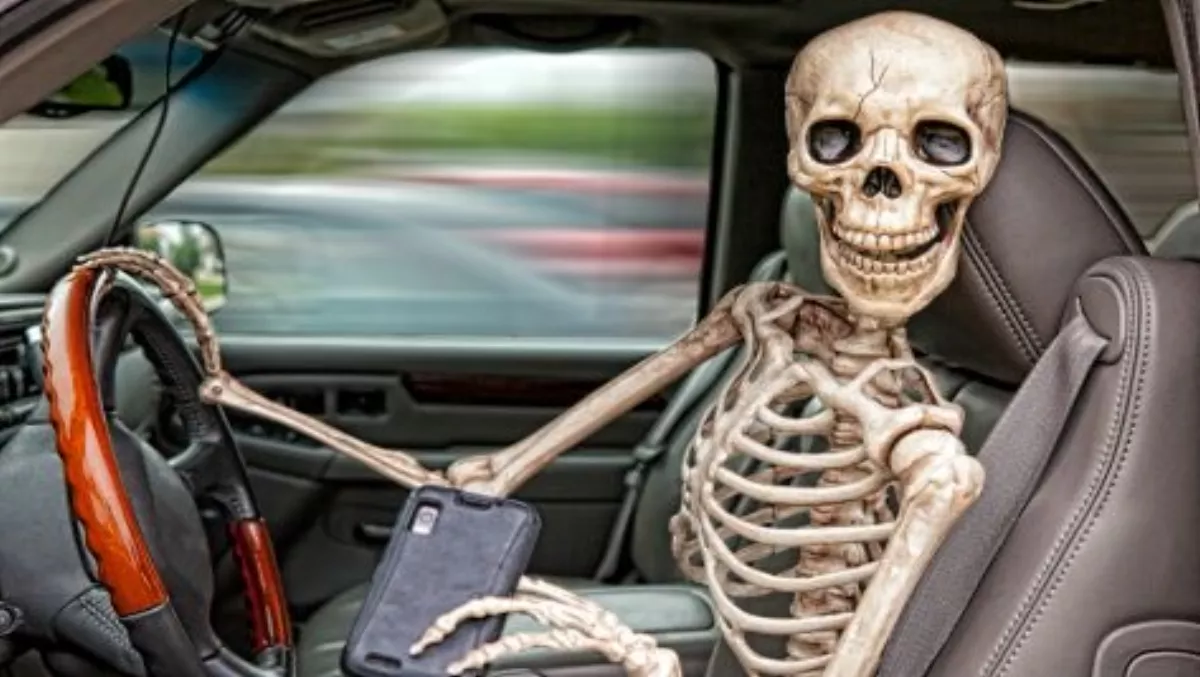 Kiwis are still texting and driving, five years on
FYI, this story is more than a year old
The NZ Police are targeting drivers using mobile devices in their vehicles, it was announced today.
In a statement, the organisation says police nationwide will be paying particular attention to those 'driven to distraction'.
"We want drivers to put away the phone, tablet, iPod or other distractions that can tempt you or take your attention away from driving," explains Superintendent Steve Greally, national manager Road Policing.
According to the Police, Ministry of Transport data shows that in 2014 'diverted attention' was identified as a contributing factor in a total 1053 crashes (12% of all crashes), which resulted in 22 people being killed and a further 191 sustaining serious injuries.
The total social cost of crashes involving diverted attention was about $297 million, which is approximately 9% of the social cost associated with all casualty crashes, Greally says.
"However, this is nothing compared to the devastating human cost of the broken families and friends that are left behind when someone is needlessly killed in a crash that could have been prevented, and that is what Police are focusing on," he says.
"While mobile technology has increasingly allowed us all to stay connected, no text, call or social media update is so important that it's worth risking life and limb for – or those of others on the road."
Although current legislation allows the use of hands-free mobile phones, Greally says the Police recommend drivers minimise the potential for distraction by switching phones off while driving, or pulling over to make or receive calls.
"There are a number of things drivers can do if they're going to be tempted to use their phone while behind the wheel," he says.
"This might include turning it off and shutting it away in the boot or glove box during the journey, or giving it to a passenger to answer if travelling in a group.
"Alternatively, pull over if you must take a call," says Greally.
"Family, friends and colleagues can also help by not having phone or text conversations with drivers while they are travelling."
Greally says Police is concerned at a rising number of people being caught while distracted by their phone, despite legislation being in place since November 2009.
This makes it illegal to text or use a mobile phone when driving – even when a car is stationary at traffic lights or in a queue.
"Given that the law has been in place for more than five years now, there really is no excuse for drivers to keep offending," Greally explains.
"While Police has continued to actively enforce the law, it requires everyone to play their part - including other drivers not tolerating those who put them and other innocent road users at risk through their behaviour."
Greally says anyone seen by Police using a mobile phone while driving can expect to be stopped.
The penalty for offending is an $80 infringement fee and 20 demerit points.
For repeated offending, people can lose their licence, given that each offence carries with it 20 demerit points.
If 100 points are accumulated within 2 years, this results in an automatic loss of licence for three months.
Greally says people need to weigh up the effect of a loss of licence; including on employment, education, family and social aspects of their lives.
"But this campaign is not about issuing notices - for which we don't get a cent - it's about encouraging people to change their behaviour," he adds.
"In fact, we'd be really happy to never have to issue another notice, as it would show that drivers are staying focused on the road ahead, not on their phone, which makes us all safer."
Greally says while mobile phones are a major contributor to distraction behind the wheel, they are not the only high-risk behaviours Police will be targeting.
Putting on make up, shaving, reading and being distracted by passengers are frequent examples the Police come across, he says.
"Although there is no specific infringement offence for these other types of distractions, they can result in a more serious charge of careless driving, which requires a court appearance," Greally says. ""Careless driving has stiffer penalties, with a fine of up to $3000 and the potential for licence disqualification.
"However, more importantly, this is not all that these distracted drivers are risking," Greally says. "They are also at much greater risk of a fatal or serious crash if not paying full attention to driving, which could have tragic or life-altering consequences for them or other road users."
Greally says Police will also be on the lookout for other high risk behaviours, such as people not wearing their safety belts and failing to stop at intersections.
Related stories
Top stories