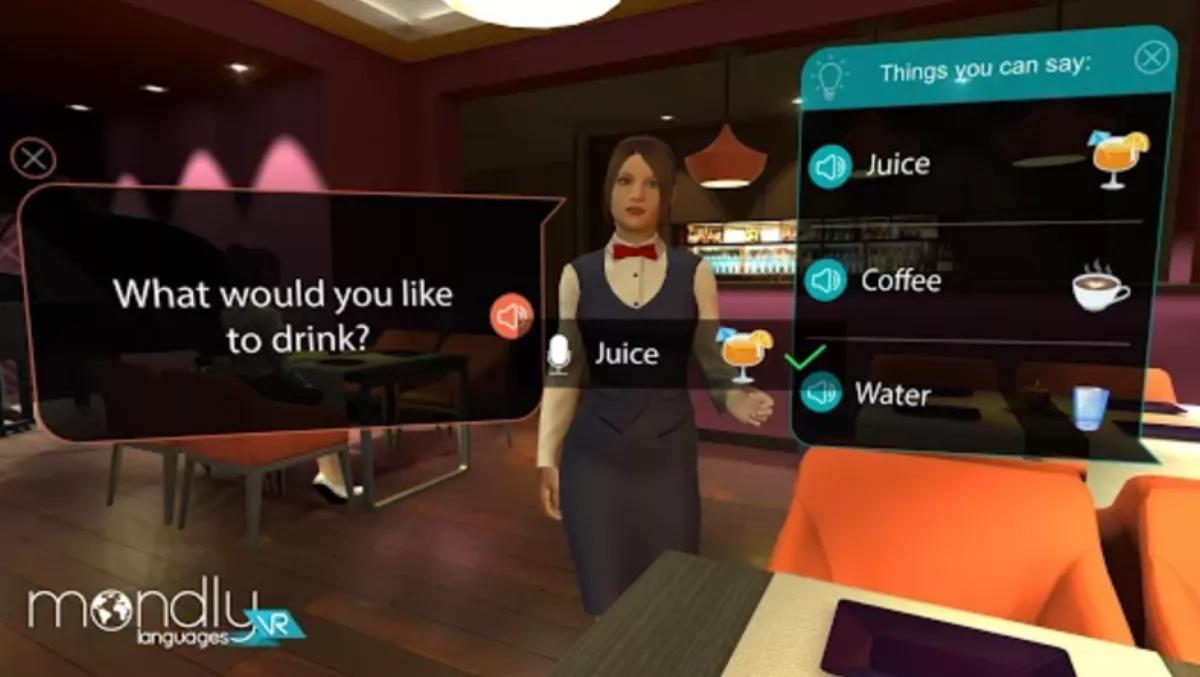 Learn to speak 30 different languages with virtual reality
By Jacques-Pierre (JP) Dumas,
25 Sep 2017
FYI, this story is more than a year old
ATi Studios, creators of Mondly, the language app with over 20 million downloads, launched MondlyVR, a first-of-its-kind language experience for Google's Virtual Reality platforms Daydream and Cardboard.
MondlyVR allows people to take part in life-like conversations with virtual characters in 30 different languages by combining a voice chatbot, speech recognition, and VR technology.
The app aims to offer instant immersion, feedback on pronunciation, suggestions that enrich learners' vocabulary and interactive scenarios that make learning languages fun and easy.
Alex Iliescu, Mondlyn CEO says, "We realised the best way to teach languages would be to create an immersive experience that replicates real-life scenarios and conversations, VR gives us the best opportunity to do this.
"From our experience, the biggest things that keep people from actually speaking and using new languages are fear and lack of life-like practice."
"MondlyVR overcomes these barriers and quickly gets learners comfortable and speaking in real life situations, we're filling the conversational gap of traditional language education."
The traditional language learner typically takes up to six months before even beginning to engage in conversations.
MondlyVR provides instant immersion and conversational learning from the comfort of home.
Before MondlyVR, to experience language immersion, it typically required months of preparation and then travel.
Today, it requires MondlyVR and a VR headset.
In a study featured in the New York Times by Michael Ullman, a neuroscientist at Georgetown University Medical Center, language learning subjects were split into two groups.
One group studied language in a formal classroom setting, while the other was taught through immersion.
After five months, both groups retained the language.
However, the group that learned through immersion displayed the full brain patterns of a native speaker. MondlyVR overview:
It is the first and only app to combine VR, Voice Chatbot & Speech Recognition on Google Daydream.
Teaches 30+ languages.
Dramatically shortens time to conversing in a new language from months to minutes.
Recreates real-life situations and actual conversations in VR.
Offers instant feedback on pronunciation.
High-caliber 3D graphics and five realistic scenarios.
You can watch a video on the app here: