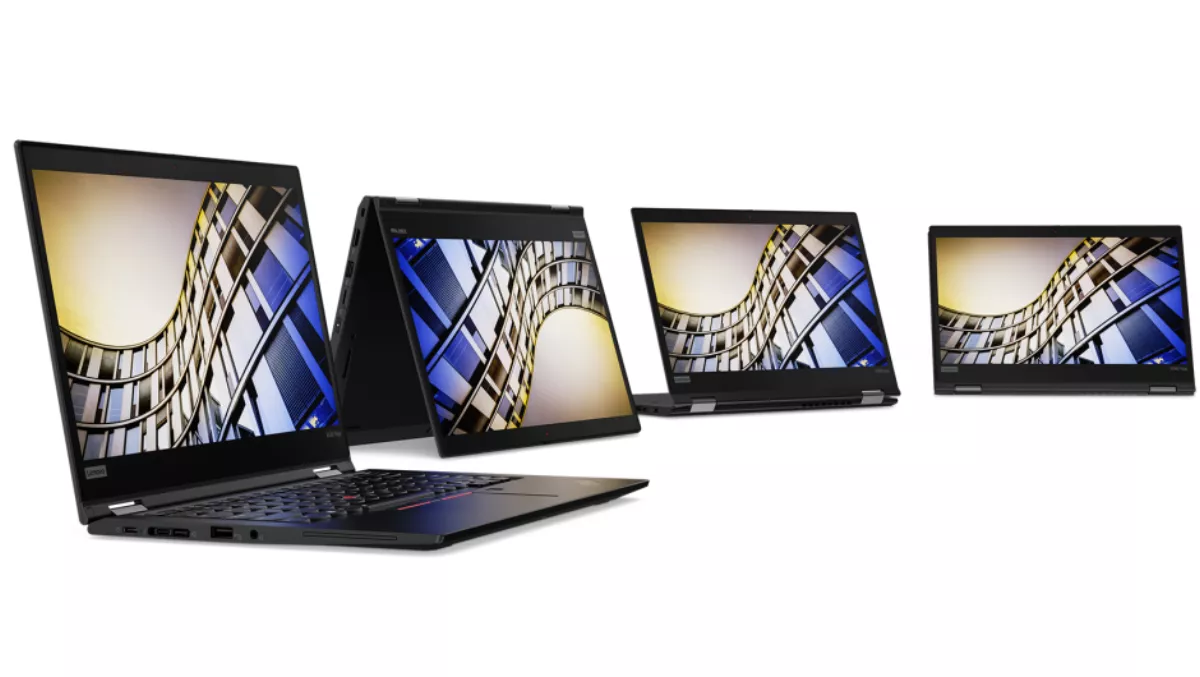 Lenovo's latest ThinkPads get a security boost
FYI, this story is more than a year old
Keeping in line with the torrent of product releases coming out of MWC Barcelona this week, Lenovo has added a range of new devices to its ThinkPad family.
Introducing the Lenovo T490s, T490, T590, X390 and X390 Yoga, as well as the Lenovo 14w with Windows 10 Pro and Lenovo 14e Chromebook laptops, and the ThinkVision M14 mobile display and X1 ANC Headphones.
If that seems like a lot of different devices, it's all because Lenovo has pretty much redesigned the ThinkPad T and X series.
The new ThinkPad T and X series now include new features for secure mobile computing such as physical webcam security, dual microphones, and a new ThinkPad BIOS.
"The online world is full of hazards and threats. We frequently hear of data breaches and stolen identities. Users want their personal information, identity and data to be secure out of the box. In any typical day, a user will most certainly login to their laptop, likely participate in a video conference and perhaps review confidential information," Lenovo states.
This forms the basis of ThinkShield, which includes a Match-on-Chip fingerprint reader. This reader keeps the biometric image on the chip.
There is a screen privacy feature called PrivacyGuard, which can alert you when someone is looking over your shoulder.
And there's also ThinkShutter, a physical camera cover that hides your webcam.
"We have also made significant improvements to the ThinkPad BIOS," Lenovo explains. "Most noticeable will be a new modern Graphical User Interface making the BIOS much easier to navigate. We also developed a range of new UEFI-based BIOS security and manageability enhancements, providing users and IT administrators with higher levels of security and management capabilities.
All ThinkPad models include high-performance Wi-Fi and optional LTE-A global WWAN capability, with the ThinkPad T490 capable of connecting with gigabit speeds.
The ThinkPad T490s, X390 and X390 Yoga feature new Intel Wi-Fi 6 Gig+ technology with Bluetooth 5.1 for premium Gigabit wireless connectivity.
Meanwhile the Lenovo 14w with Windows 10 Pro comes with a spillproof and backlit keyboard (for when you spill your coffee over it in the dark, presumably), as well as other features such as a 14-inch FHD with IPS touch display. It runs an AMD A6-9220c.
The Lenovo 14e Chromebook comes with the same spillproof, backlit keyboard, the same 14-inch FHD with IPS touch display, but with a slightly lower power CPU, the AMD A4-9120c.
The ThinkVision M14 monitor features a 14-inch FHD ultra-slim display (4.6mm) provides vivid images with 300 nit brightness and includes a height adjustable foot for viewing comfort and two USB-C ports.
The X1 ANC Headphones were specially tuned by Dolby. It offers enhanced audio features like Synaptics AudioSmart and electronic noise-cancelling features. It can be connected through USB-C or through Bluetooth 5.0.
Local pricing is yet to be released.