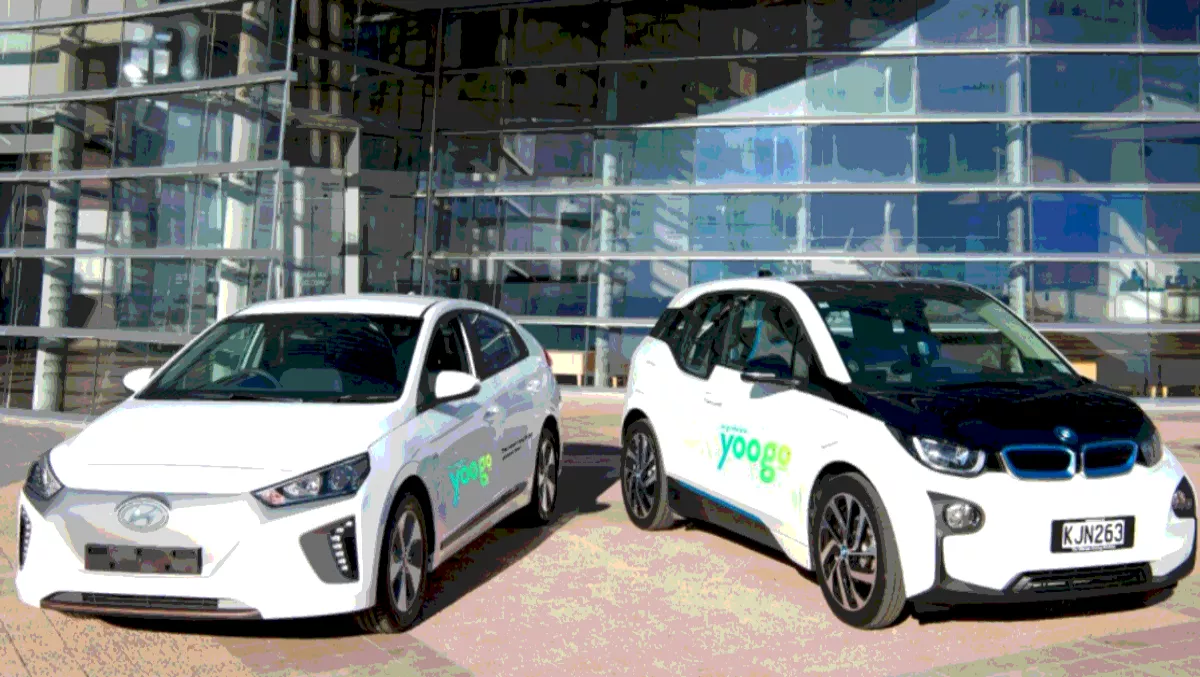 Meridian and Yoogo create an all electric car-sharing service in Christchurch
FYI, this story is more than a year old
The largest transition of combustion engines to pure electric shared vehicles in the Southern Hemisphere is set to get underway in Christchurch from November.
Canterbury organisations and residents will soon have access to a pool of 100 pure electric vehicles, only one of a few cities internationally to offer a 100% electric-powered car share service.
Kiwi fleet management company, Yoogo, known for its innovative approach to fleet management and leasing, was selected by the Christchurch City Council to implement the service.
Yoogo has been leading the way in its use of GPS data to monitor the efficiency of its fleet.
This led the company to strategically develop a car-sharing model that also demonstrates its commitment to electric vehicles.
As a result, the company is rebranding to reflect its two core business streams, Yoogo Fleet, which will maintain the business' focus on fleet management and leasing, and, future focussed Yoogo, which is committed to growing the pure electric car-sharing market.
The aim of both brands is to optimise New Zealand's fleet.
Yoogo's pure electric car sharing model aims to break down barriers around cost and charging infrastructure making pure electric vehicles accessible and affordable.
Kirsten Corson, Yoogo general manager says, "The pure electric car-sharing platform is a smart and sustainable way to get around town for businesses and everyday Kiwis.
"Yoogo will deliver an experience that is easy, enjoyable and affordable."
"Cantabrians will pay for the time they use the car and Yoogo takes care of everything else, users can simply book online and access vehicles via the Yoogo app or swipe card."
This initiative is the result of both leading public and private sector organisations partnering over a shared vision for an efficient and sustainable transport solution.
Yoogo will initially launch 70 electric vehicles across three city hubs in late November with 30 additional vehicles to follow in February 2018 across ten locations in total.
Kevin Crutchley, the Council resource efficiency manager says, "This new, innovative, 100% battery electric transport service is an exciting development for Christchurch.
"New Zealand's electricity is mostly generated from renewable energy so this electric vehicle offering will reduce our city's carbon emissions."
"Also using a transport service with zero tailpipe emissions will improve air quality and have positive health benefits for the residents of Christchurch."
The Yoogo programme also aligns with Christchurch airport's active interest in energy management and migrating its vehicle fleet to fully electric.
Yoogo will open hubs at Christchurch Airport, West End and Art Gallery using an A to A model.
All the other hubs will be open by the end of March and next year Yoogo will move to an A to B model which means a vehicle can be dropped off at a different Yoogo hub.
Related stories
Top stories