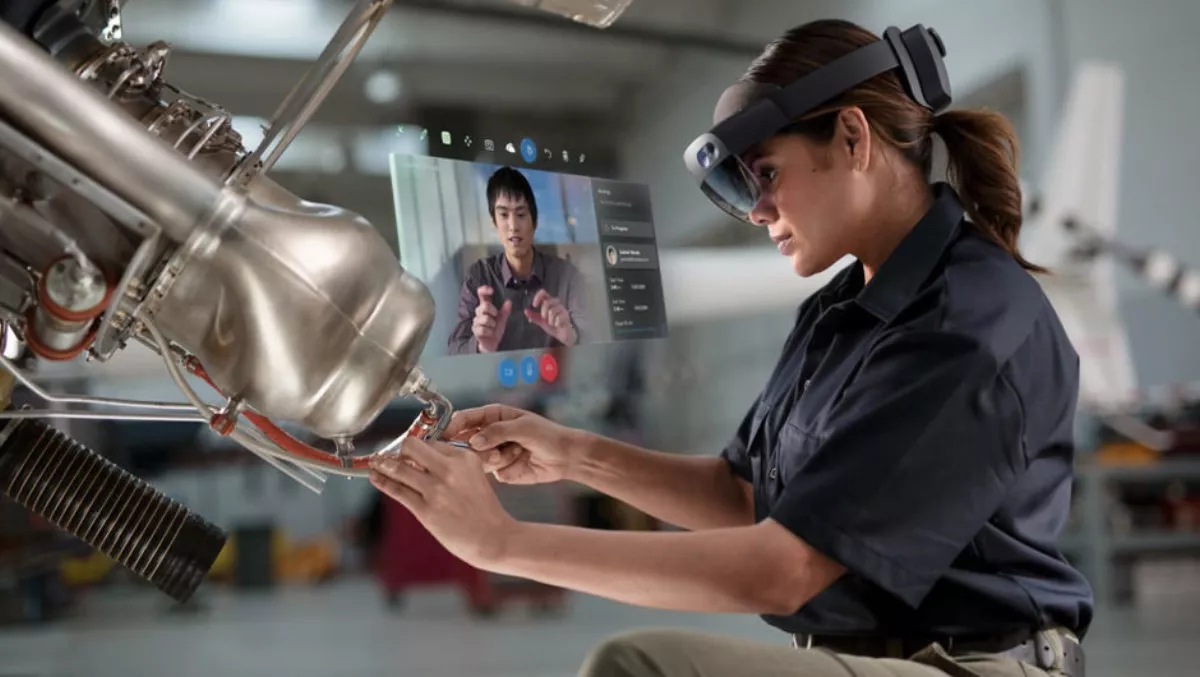 Microsoft HoloLens 2 more 'immersive' than ever
Mon, 25th Feb 2019
FYI, this story is more than a year old
Microsoft has unveiled its HoloLens 2 kit ahead of Mobile World Congress in Barcelona this week and it promises greater immersion, greater comfort, and greater time-to-value for business use.
The original HoloLens was released in 2016 but since then, mixed reality has come a long way, according to Microsoft's Julia White.
It's now used in classrooms, operating rooms and on factory floors – proving that this is the new era of computing in which the digital world isn't just two dimensions anymore – it's now 3D.
"This new collaborative computing era will empower us all to achieve more, break boundaries and work together with greater ease and immediacy in 3D," says White. Microsoft says it listened to people who used the original HoloLens and used that feedback to improve the new version.
Immersion
By immersion, Microsoft means things like more realistic and vibrant holograms, a wider field of view, eye-tracking sensors and more.
Microsoft expanded the field of view to more than twice the range without sacrificing holographic density of 47 pixels per degree of sight. That is part of what Microsoft calls a new display system that improves performance ad low power.
White explains more:
"We have also completely refreshed the way you interact with holograms in HoloLens 2. Taking advantage of our new time-of-flight depth sensor, combined with built-in AI and semantic understanding, HoloLens 2 enables direct manipulation of holograms with the same instinctual interactions you'd use with physical objects in the real world. In addition to the improvements in the display engine and direct manipulation of holograms, HoloLens 2 contains eye-tracking sensors that make interacting with holograms even more natural. You can log in with Windows Hello enterprise-grade authentication through iris recognition, making it easy for multiple people to quickly and securely share the device.
Comfort
Microsoft has changed the HoloLens' design to incorporate light carbon fibre material, a more balanced centre of gravity, and a few design changes that allow HoloLens to fit almost anyone.
"The new dial-in fit system makes it comfortable to wear for hours on end, and you can keep your glasses on because HoloLens 2 adapts to you by sliding right over them. When it's time to step out of mixed reality, flip the visor up and switch tasks in seconds. Together, these enhancements have more than tripled the measured comfort and ergonomics of the device.
Time-to-value
For business use and those who experiment with Microsoft mixed reality apps such as Dynamics 365 Remote Assist, Dynamics 365 Layout and the new Dynamics 365 Guides, Microsoft says its partner ecosystem is growing bigger with a new wave of mixed reality entrepreneurs.
Those entrepreneurs are, according to White, "Realising the potential of devices like HoloLens 2 and the Azure services that give them the spatial, speech and vision intelligence needed for mixed reality, plus battle-tested cloud services for storage, security and application insights".
HoloLens 2 will be available this year. HoloLens 2 will be initially available in the United States, Japan, China, Germany, Canada, United Kingdom, Ireland, France, Australia and New Zealand.