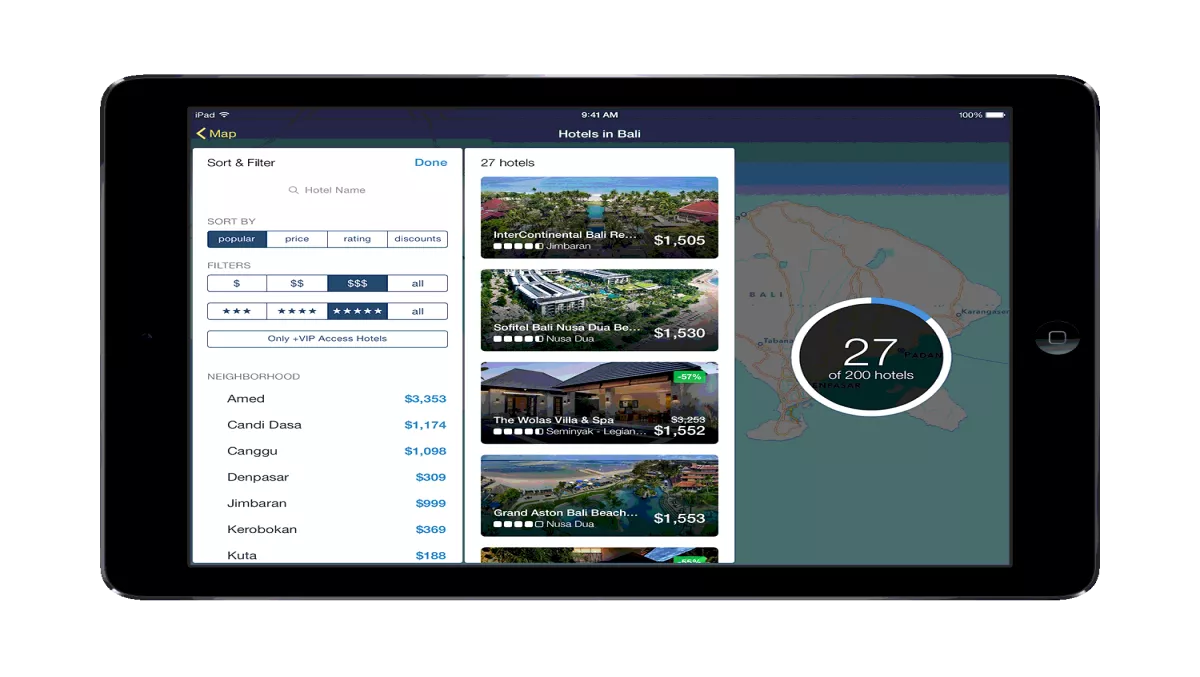 New Expedia app changes travel game...
Fri 5 Sep 2014
FYI, this story is more than a year old
Expedia.com, one of the world's largest full service online travel sites, has released the all-new Expedia app for tablets, available for free download from the App Store and Google Play.
Expedia says the tablet app presents a "fresh way" for travellers to shop destinations: the new search tools enable consumers to shop for both hotels and flights on one screen, simply by entering or selecting a destination.
This is a stark contrast to the user interface seen across the industry, and Expedia has made the leap to create an experience specifically for tablets.
"The problem is pretty basic: tablet apps to date haven't actually been designed for browsing on a tablet," says Dara Khosrowshahi, President of Expedia Worldwide and CEO, Expedia.
"Travellers expect an easy, convenient way to explore potential travel destinations and browse flight and hotel details and they expect to be able to do it in a way that feels right for them when they're on their tablet."
Status Quo is Unnatural
Through internal user testing and ethnographic studies on tablets, Expedia concludes that travellers using tablet devices were frustrated with website designs that forced users to pick a flight or hotel separately.
Notable findings included:
• Early in the shopping process, travellers want easier ways to see prices across destinations.
• Separately shopping for flights and hotels is the most time consuming aspect of the process.
• At the same time, travellers do not want to lose access to traditional filters and sorting options when they want to explore more specific type of hotels/flights.
"If you forgot about the way we trained customers to shop for travel online over the last 15 years and you wanted to create an experience from the ground up with the traveller at the very centre, you would build this tablet app," adds John Kim, Chief Product Officer, Expedia Worldwide.
"Our new tablet app embraces Expedia's core strengths by bringing together our marquis hotel and flight capabilities to create one beautiful and easy-to-use combined search experience."
To address travellers evolving needs, the new Expedia tablet app is specifically optimised for mobile exploration and browsing and introduces a handful of unique features:
· Single Search Box: To eliminate hefty search interfaces, the new tablet app offers a single search box to do the lifting.
When a traveller enters a city name, landmark, or airport, the app will surface hotels and flights relevant to that query – no dates or specific details are required at the start.
· First-Ever Combined Hotel & Flight Travel Search: For the first time in the industry, combined search has arrived for the travel market.
Rather than searching for trips in a rigid, linear progression of flights then hotels, or hotels then flights, Expedia is introducing one combined search that provides both hotel and flight results simultaneously, available all in one glance.
· Collections: Expedia presents various themed travel destinations to spark interest in future journeys.
Collections offer customers the opportunity to explore vacation destinations they may not have otherwise considered. Beautiful locations come to life in a particularly compelling way on tablet devices.
For more information on the Expedia app for tablet, including an overview of all product features, visit www.expedia.com/app.