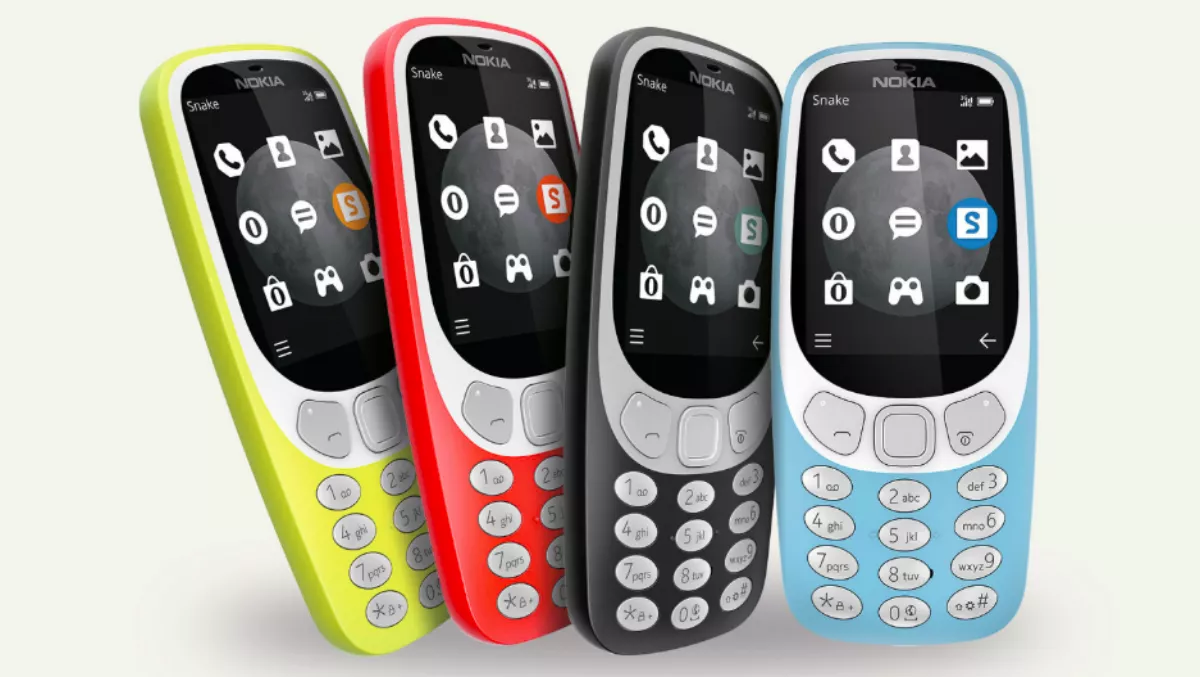 Nostalgia or nonsense? Nokia's revamped brick launches in NZ next week
Thu, 2nd Nov 2017
FYI, this story is more than a year old
By Ashton Young, Editor
Ah, those were the days. It didn't matter whether you had the Nokia 2110, 2280 or the 3310 (among many others), owning one of these phones involved endless amounts of gratification.
Not only could they text and make phone calls, they were also able to be used as bottle openers, chopping boards, thrown projectiles – and who can forget Snake?
Well those days could be back with the announcement from HMD Global that the 3310's revitalised sibling will be available in New Zealand from Spark as early as next week for $99.
The Nokia 3310 3G retains some of the features of the past but has obviously had some Botox, a tummy tuck and new organ replacements.
"Our reimagining of the Nokia 3310 has been a global and cultural phenomenon. In a world dominated by smartphones, the mix of nostalgia and a beautiful phone that just keeps going has captured people's imagination," says Juho Sarvikas, chief product officer at HMD Global.
"Our fans around the world have been asking for this iconic phone to support 3G. Fans asked, we listened, and today welcome the Nokia 3310 3G.
With a range of new colours, a new user interface, and a flurry of additional features, the modern classic is now 3G enabled to be enjoyed in more countries around the world – and yes, it still has Snake, although that too has had a makeover.
The phone (which some have deemed a 'dumbphone' given its distinctions to the modern day smartphone) is designed to look and act just like the classic and much lauded 'brick' of old but with a modern touch.
The screen is substantially bigger and in colour while the buttons are larger and more spaced apart to prevent any clumsy mistakes.
Something that people often complain about with their smartphones is the battery life. With this dumbphone, you can expect it to last a couple of days without a charge and even longer if you don't use it much as it has up to 27 days of standby time.
It also supports other technologies like standard wired headsets and the ability to sync contacts from your SIM or a nearby Android device via Bluetooth.
The new brick has software that takes cues from smartphones with an app-style layout including features like a voice recorder, torch and even an MP3 player that allows you to store your music on a MicroSD card.
So nostalgia aside, is there reason to buy this 'dumbphone'? Well that's up to you, but could you live without all your go-to apps that are designed exclusively for the touchscreen?
Perhaps there is a niche there for the younger ones that you want to shield from the horrors of the Internet for just a while longer.