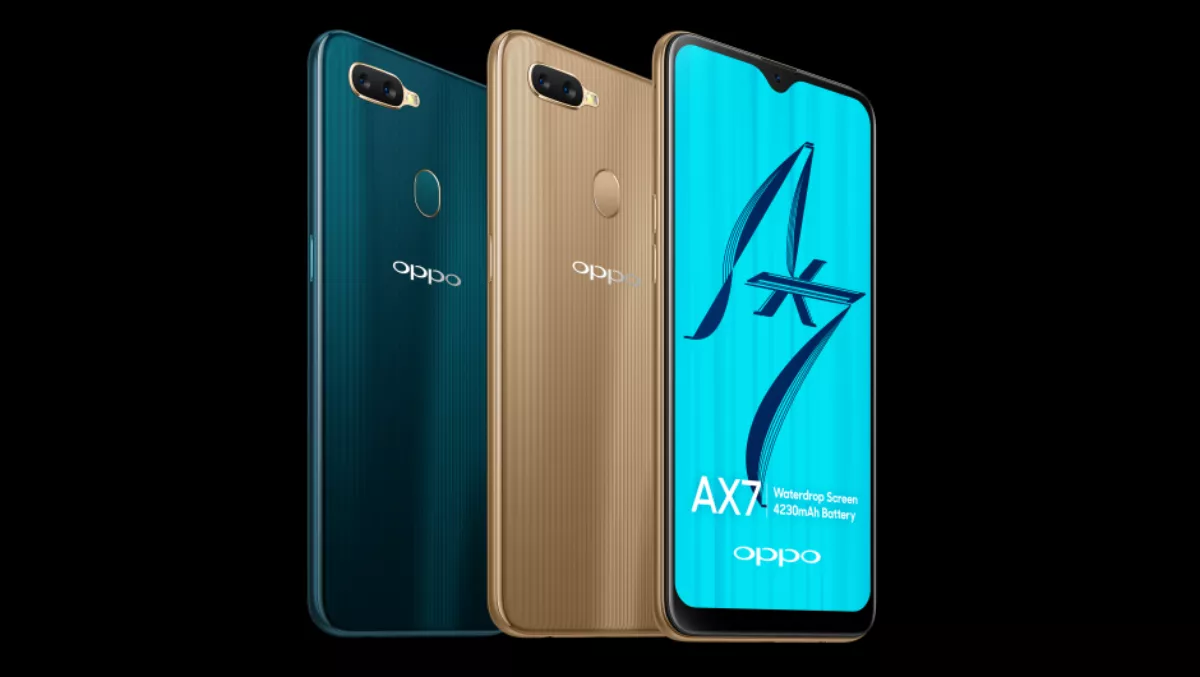 Oppo to launch AX7 smartphone in NZ this week
FYI, this story is more than a year old
OPPO is launching one of its latest camera phones in New Zealand this week. The OPPO AX7 is a phone that fuses 'premium features' with an entry-level price point, according to the company.
This phone is equipped with an AI-enhanced dual camera, 4340mAH battery, and 6.2" screen. Behind the scenes, the operating system is based on Android 8.1.
According to Oppo New Zealand's managing director Kevin Cho, the AX7 continues the trend that the AX5 introduced, such as the diamond-shaped texture on the back of the phone – and the dual cameras.
"The AX7 will show Kiwis that premium doesn't have to mean pricy," Cho says.
"We believe our customers shouldn't have to compromise on quality or design when choosing an affordable smartphone. This is what our AX series delivers and it continues to be extremely popular with New Zealanders. With the new features and capabilities the AX7 has brought to this price bracket, we expect our latest device to be a major hit locally.
At a $399 price point but with plenty of competition, OPPO is aiming for the slightly higher entry-level price point and competing with other vendors such as Huawei. Oppo says its AX series has always included large batteries.
"The AX7 is no different, sporting a 4230mAh battery. OPPO's smart and thoughtful AI battery management enhances the battery life further, by freezing inactive apps and reducing excess caching, giving you more time to power through your day.
That large battery has to power the 6.2" AMOLED HD+ screen (protected by Corning Gorilla Glass), the operating system (Android 8.1 and Oppo's ColorOS5.2), a Qualcomm Octa-core Adreno 506 processor, and the cameras.
The cameras include a 13+2MP AI enhanced dual rear camera set-up, with optical image stabilisation. The front camera is an enhanced 16MP selfie camera, with F2.0 aperture and a wide angle lens.
Design-wise, the AX7 brings a whole new design coupled with unique colour options to Oppo smartphones. The AX7 is available in Glaring Gold and Glaze Blue. It also includes an industry first, 3D heat-curved sheet and Grain Pattern.
The OPPO AX7 will be available from January 15 at retailers including 2degrees, JB Hi-Fi, Noel Leeming, PB Tech, Smiths City, The Warehouse, and Warehouse Stationery.