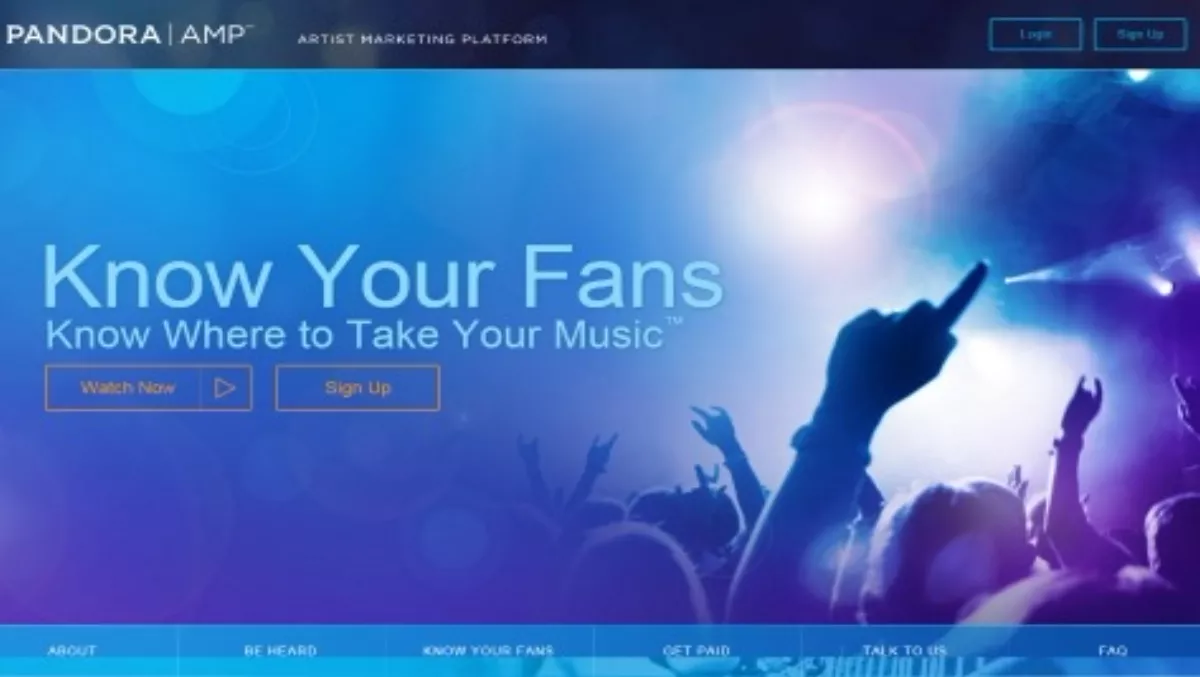 Pandora AMP, connecting audience and artist
By Catherine Knowles,
Thu 23 Oct 2014
FYI, this story is more than a year old
Pandora, the world's largest internet radio platform, has launched a new platform that will give artists insight into their audience.
Pandora Artist Marketing Platform (AMP) is a free online service targeted at artists and their managers. It's powered by The Music Genome Project and offers a glimpse into the immense data Pandora has been collating since it was launched nine years ago.
Pandora AMP is updated daily and has 'unrivalled data'. It is based on the two million registered listeners and the equivalent of 45 years of music downloaded every day. This is the largest source of music engagement in the Australia, New Zealand region.
Already more than 125,000 artists are on the site, with more than 1,100 from Australia and New Zealand. Pandora as it is an easy to use and actionable tool for artists who are seeking coverage and want to put their music to the public.
"The challenge faced by artists trying to find and build an audience was part of the original inspiration for Pandora. With AMP, the goal is simple: we want to harness the power of our scale and data to make artists' lives easier," he says.
"Musicians have largely had to reply on social media to interface with the general public," said Tim Westergren, Pandora's founder. "Not only are their audiences significantly larger on Pandora, the numbers reflect fans who are actively engaging with an artist's music. AMP provides a direct view into who and where these audiences are and what resonates with them."
Some insights Pandora AMP can give are song by song performance information, including how many 'spins' the song has had and how many times it has been given a thumbs up. Artists can also see the number of unique fans that have created a station for each artist, and a detailed breakdown of the audience in terms of geographic location and demographic.
It is said this will help artists to make crucial decisions around touring, selecting a single, creating a set list and understanding their target audience.
Neil Fraser, lead singer and guitarist of New Zealand's rock band Villainy, says, "We got an advance look at Pandora's AMP Platform and it gave us some great insights into how people were discovering Villany, what tracks were really connecting and where. We can now see how many spins we're getting every week and it turns out we have a big following in LA!"