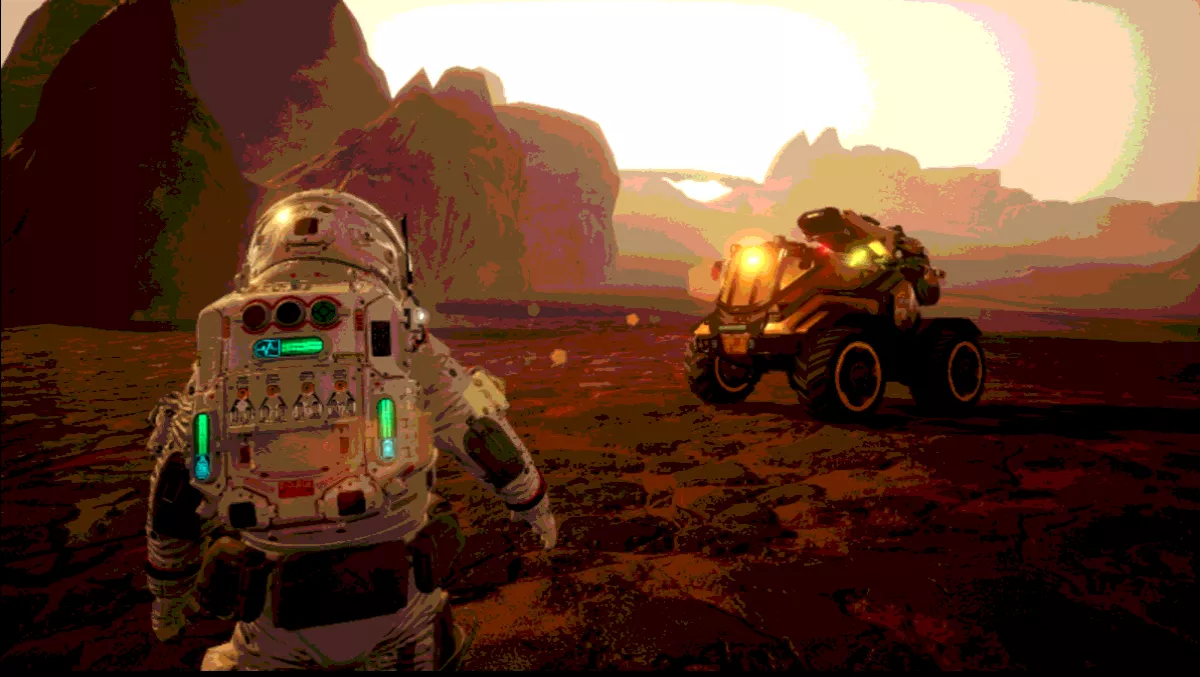 Pioneer: Mars, the game that promises you can live out your Martian dreams
FYI, this story is more than a year old
Independent studio, Atomicom and publisher GamesCo, announced that JCB Pioneer: Mars, its survival sandbox game, will launch on Steam Early Access this year.
Set on the titular red planet, JCB Pioneer: Mars asks the players to utilise hard science in their attempts to successfully colonise its dusty wilds.
Taking the wheel of futuristic, ultra-rugged JCB vehicles, players must explore the alien landscape, mine precious materials, construct large-scale buildings and research new technologies to ensure that humanity's future lies beyond planet Earth.
Esteemed astrophysicist, Dr Maggie Lieu, provided advice to Atomicom during the development process, as well as making an in-game cameo appearance within the game.
Andy Santos, Atomicom design director says, "We want to provide players with a hardcore survival experience, one based on what an early human colonisation of Mars may actually look like.
"We've gone to great lengths to ensure that the game is as realistic as possible while retaining the sense of adventure an early explorer of Mars would feel."
The game begins as the player awakes from a crash, surrounded by the wreckage of their lander vehicle amidst falling debris and hurtling winds.
Survival is the first goal, the location of oxygen and the establishment of an outpost.
As the player slowly begins to establish themselves on Mars, learning to combat the planet's fierce and hostile weather patterns, they'll begin a larger operation of colonisation.
Michael Plummer, Worldwide marketing director says, "We are hugely excited to partner with Atomicom and GamesCo on JCB Pioneer: Mars."
"It's been a wonderful experience to see our visionary design and engineering team craft vehicles for futuristic space colonisation." "We are delighted that this will bring JCB to the attention of a future generation of potential customers, enabling them to use machinery on Mars before using them on earth."
JCB is the world's third largest manufacturer of construction equipment, employing 12,000 people in 22 plants around the world.
This game is an interesting and innovative take on product marketing and depending on how well the game plays it could, in fact, draw attention to the manufacturer.
However, it is important that the game is the main focus and that it plays well, or else it will simply turn into a failed marketing ploy.
The game does show promise however and I am excited to live out my Matt Damon, potato-eating, 'The Martian' fantasies.
Related stories
Top stories