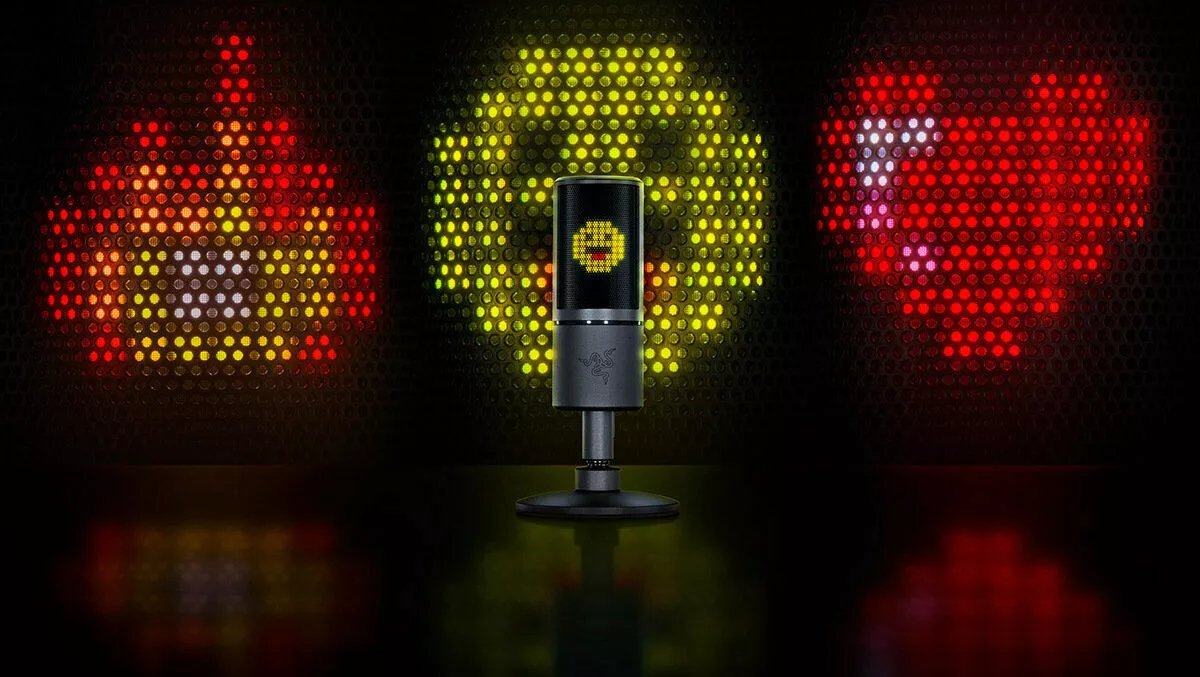 Razer releases gaming mic that syncs emotes with streaming interactions
Mon, 30th Sep 2019
FYI, this story is more than a year old
Gaming setups for streaming are bringing out a whole range of little inventions to make the experience much more engaging – and those inventions now stretch right out to the most crucial of streaming devices, the humble gaming microphone.
Razer has created a USB gaming mic that features an emoticon (emote) display which changes based on what's happening in the live stream.
The Razer Seiren Emote is the 'world's first' eight-bit emoticon LED display, which is powered by Razer's Emote Engine. That engine synchronises emoticon responses to on-stream interactions like alerts, chat messages, follows, donations and many other actions.
Streamers have the ability to add or create their own emotes, or they can choose from hundreds of preset emotes.
But emotes are good and all, but the mic quality needs to be up to par as well, and Razer knows that streamers need crystal-clear sound.
The Seiren Emote uses what's called a 'hyper-cardioid pickup pattern', which can capture voice and eliminate background noise that might disrupt streams.
"The hyper-cardioid pick up pattern is a tighter more focused pattern compared to the regular cardioid pattern for greater reduction in background noise," Razer says.
The mic also features an inbuilt shock mount to protect from accidental knocks and bumps; as well as an interchangeable gooseneck that extends the microphone's height, making it flexible enough to be placed in the best position possible to display its unique emoticon display.
"Up-and-coming streamers are looking for more ways to engage with their fans and grow to new heights in order to become like their idols," says Razer peripherals business unit senior vice president, Alvin Cheung.
"With the Razer Seiren Emote, we are providing them with a new creative avenue, enabling an additional layer of interaction between streamers and fans that is truly fun and engaging.
Features at a glance:
8-bit Emoticon 8 x 8 RGB LED Display showcasing hundreds of emoticons on your mic
Stream Reactive Emoticons ready for customisation
Hyper-cardioid Condenser Microphone for professional grade streaming
Streamer Companion App compatible with Twitch, Streamlabs, XSplit - Mixer
Built-in shock mount to dampen vibrations
Interchangeable Gooseneck for height extension
Plug and Play for fuss-free streaming out of the box
The Razer Seiren Emote will be available for NZ$321.95 or AU$250.95 at Razer.com and authorised resellers.