Red alert! The new Star Wars trailer has finally arrived
Tue, 10th Oct 2017
FYI, this story is more than a year old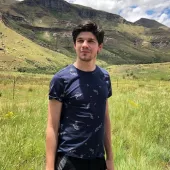 By Jacques-Pierre (JP) Dumas, Reviewer
The long wait is finally over, the new trailer for The Last Jedi has just dropped out of hyperspace.
That's right ladies and gents, we have some Star Wars goodness to nerd out about.
Check it out here:
So now you've watched it let me help you digest all of the awesomeness with a scene by scene breakdown.
The trailer opens up with a shot of Kylo ren overlooking a hanger, this might have been just before or after a major space confrontation that we see more of later in the trailer.
This segment is narrated by what I assume is the leader of the first order, Snoke, talking to Kylo about his power, perhaps after he finds out about the disappointing confrontation with Rey.
We also get our first close up glimpse of the massive and frightening First Order walkers.
The trailer then cuts to Kylo picking up his lightsaber or perhaps a new one.
After a fade to black, we see Rey ignite Luke's blue lightsaber, which leads me to believe that she will in fact be keeping this saber for the majority of the film.
The ignition of the blue saber also directly juxtaposes Kylo picking up his lightsaber and could symbolise a shift towards the light for his character.
This is when the music kicks in and we get a beautiful shot of Luke's island getaway.
At this point, Rey's dialogue Kicks in and she describes the force as she feels it, perhaps to Luke, perhaps to Kylo.
This dialogue is accompanied by shots of what I believe to be her training and journey with Luke.
Luke then warns Rey of her power and states that it scares him, bad move Luke, that's how Anakin turned into Vader.
You'd think the Skywalkers would choose their words more carefully.
Anyway, the trailer then continues with a close up of Kylo's mask, this image directly opposed to the earlier images of the lightsaber in that it may symbolise Rey's shift toward the dark side as she is rejected by Luke.
We then get a sneak peek at the films massive space battle, in which Kylo may kill his mother, Lea.
This segment is followed a bunch of short shots showing off some of the other characters including Chewie and his new companion, Finn fighting Phasma and some more shots of that spectacular battle.
The next major shot is Rey in the hands of Snoke, who bids her to fulfil her destiny, although this line could be directed at Kylo as well.
The final scene is Rey asking someone to show her where her place in everything is and this line may be directed at Luke, however, the trailer makes it out to be directed to Kylo.
This final shot could have massive implications as both the Jedi and the Sith may completely cease to exist and Kylo/Rey may find a new order based on balance in the force.
I am so hyped up for this movie.
It's important to note that this is just my analysis of the trailer, I may be completely wrong or I may get some things right, we'll just have to wait and see.