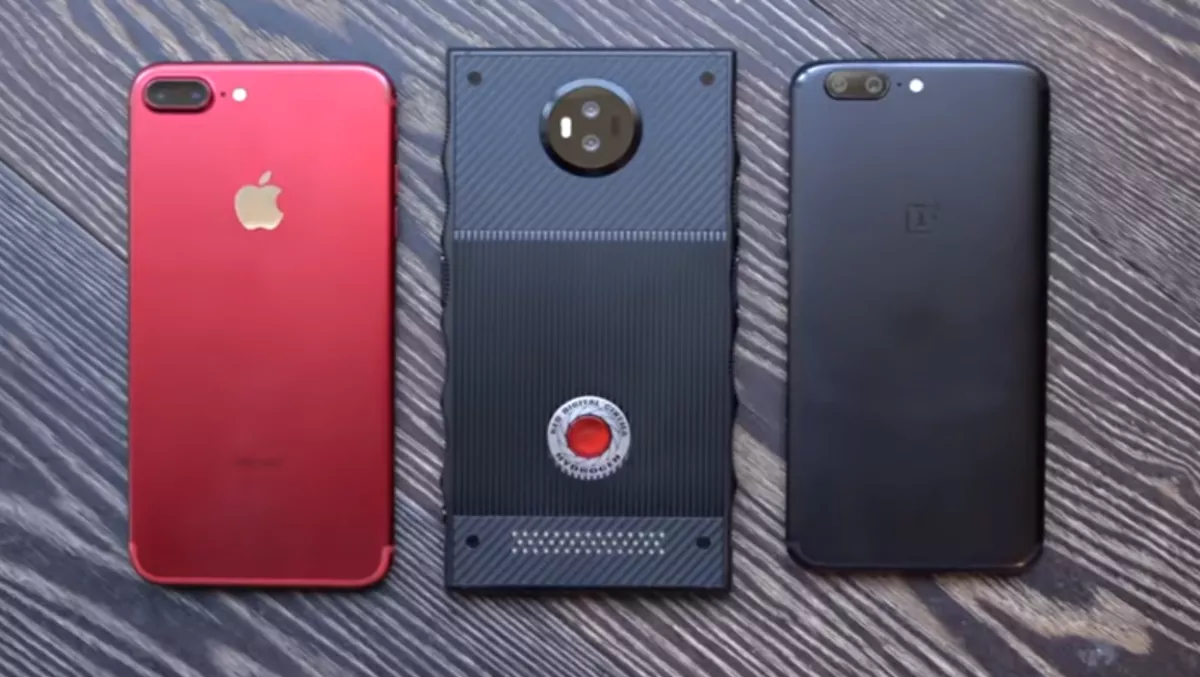 The holographic phone is real! Red reveals its elusive modular smartphone
By Jacques-Pierre (JP) Dumas,
Fri 4 Aug 2017
FYI, this story is more than a year old
After several months of waiting, we finally have a few more details on Red's elusive new smartphone.
The smartphone with a holographic screen and VR/AR capabilities is the company's first attempt to entice the mobile market.
Up until now, the device was shrouded in secrecy and many people were sceptical of its existence.
That scepticism was not without reason, the Hydrogen promises to be the first portable holographic machine without the need for any kind of glasses.
Despite all the VR/AR tech advancements we have seen over the past two years, the concept of this phone still seemed like science fiction.
I was thus delighted when I saw Youtube personality Marques Brownlee had gotten the opportunity to look at and play with the device prototype.
One of the most striking features of the phone is its size, it is not small.
This will be one of the biggest smartphones when it is released.
However, this massive size means that the phone will be packed to the brim with the latest and greatest mobile technology.
The phone also has a modular system, which means that users will be able to optimise it to fit their needs.
The module that is shown off in the video allows users to turn their phone into a high-end mobile camera.
The phone also looks like it will have quite a large stereo-system when compared to other smartphones.
Users can also expect all the usual bells and whistles that other smart phones offer.
But what about the holographic screen you ask?
We don't actually get to see it in the video, but Brownlee does describe what it looks like.
He describes the screen creating a deep 3D look.
He also says that it is far from perfect, however.
Red promises to have a complete working prototype within the next two months.
Users contemplating on buying this phone might think again when they see the price.
The pre-orders for the phone cost US$1,500 and that price will undoubtedly go up once the phone releases commercially.
You can watch Brownlee's video here:
​