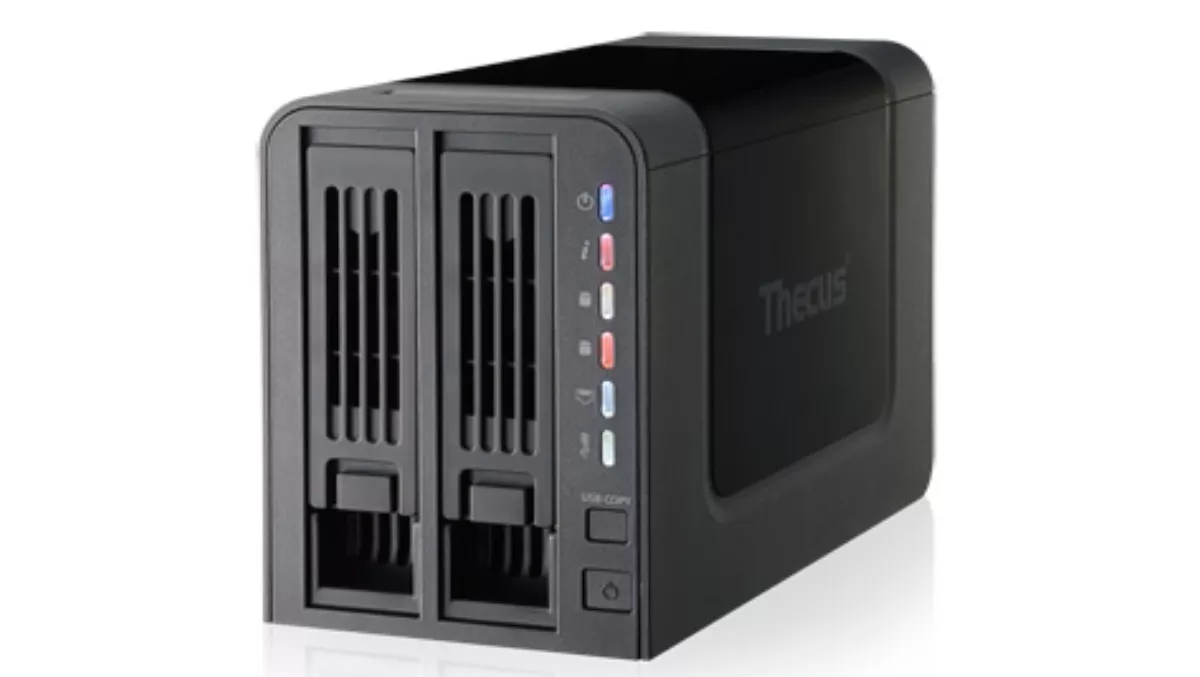 Review: Thecus N2310 NAS
FYI, this story is more than a year old
Thecus are known for their NAS capabilities, but are they launching into a whole new market?
The N2310 at first glance looks like a normal NAS, no different from one of its many competitors in the NAS market. But the Thecus has a few tricks up its sleeve.
It doesn't follow the path of its competitors and provide a proprietary app to access the data, it is a lot smarter than that, Thecus have built their own OS, ThecusOS!
Stéphane, their lead developer is a man after my own heart, he's obviously a hacker, and a bloody smart one at that!
By creating their own OS, Thecus have opened up the capability of its devices, enabling Stéphane to port pretty much every open source app to the range of Thecus NAS devices, along with some other useful apps.
This means rather than an app developed by a manufacturer, you can use a selection of common apps such as Pydio and ownCloud for a personal cloud, sabnzbd for obtaining your favourite programs, XBMC, Plex and other DLNA servers, iTunes management, home automation servers and web sites to surface content.
This ability moves the Thecus to the top of the list versus its competitors, it's more than network attached storage, it's your own micro server!
The OS can be a bit clunky sometimes, but it is running on an 800mhz SoC and only 512MB of RAM, so that has to be expected. The initial registration also was tricky, but this is where Thecus' support comes in, the team answered pretty much immediately and the issue was resolved straight away. Now that's customer support. There's also a forum which is busy, making it the ideal place to resolve issues and queries, you'll often get Stéphane replying direct to you which shows the passion they have for their products.The community is strong and help each other make the most of these pretty awesome devices.
I got so into the Thecus, I took on creating some guides for installing your own cloud server and starting home automation. They'll follow shortly once I've turned my scribbles into typing!
If you're looking for just a NAS, Thecus do well. If you want to achieve more and exploit the capabilities of a NAS, then the Thecus is definitely for you.
Pros:
Priced like a NAS, looks like a NAS, but so much more
Offers a solution for pretty much every requirement
Great support from the manufacturer (yes that's right!)
New applications are added all the time
Cons:
Slightly underpowered for some of the apps it's capable of running
Slightly noisy when accessing drives
Summary:
The Thecus doesn't just satisfy the everyday user's requirements, but offers the geek the capability to run most apps, and is a simple pathway into home automation and removing your data from other's servers without spending a heap of cash. Small businesses should be looking at this rather than storing data on external providers, enabling the ability to share data securely with clients and colleagues.
In my book it's worth 5 stars, more power and I'd have given it 6.
Related stories
Top stories