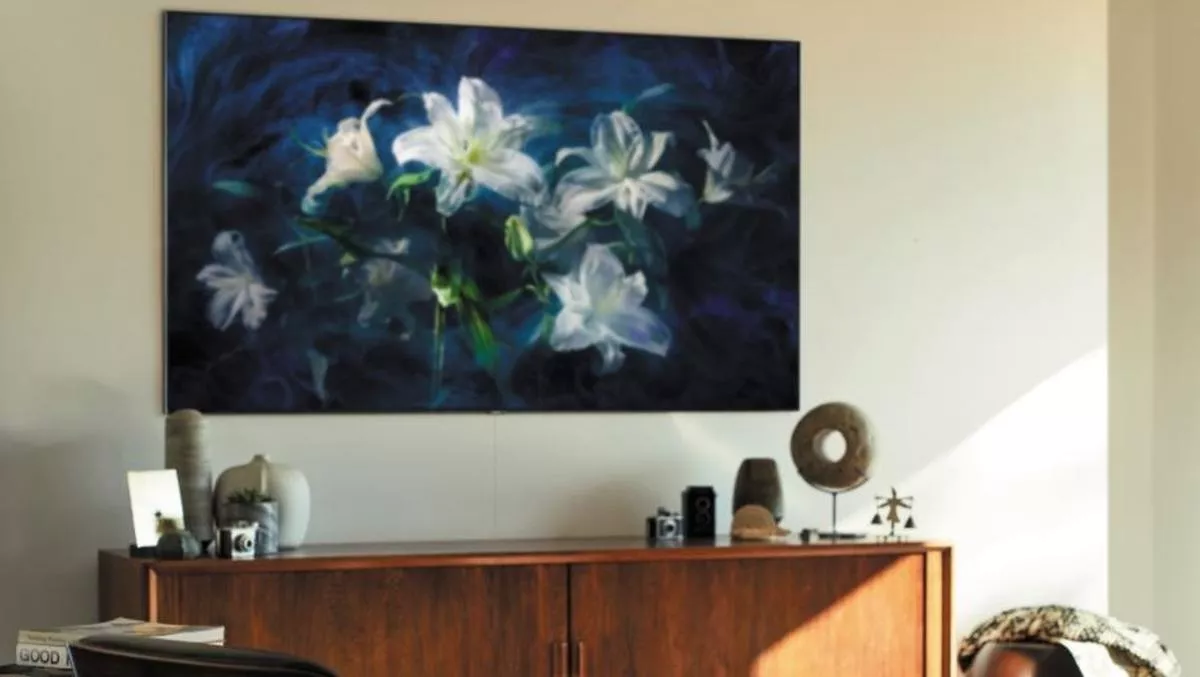 Samsung announces 2018 TV and home entertainment lineup
FYI, this story is more than a year old
Coming into prime TV watching season, Samsung has today unveiled their home entertainment lineup that transforms the role of the TV in the home with design elements, enhanced picture quality and intuitive smart capabilities.
The new range includes Samsung's latest QLED TVs, which offer significant jumps in design and picture quality.
The average TV spends a large portion of its time turned off and Samsung's latest range gives consumers unprecedented control over how their TV will look, function and perform in active use and even when sitting idle.
With a wall mounted Samsung QLED TV, Ambient Mode mimics the pattern behind it to complement consumers' home styling with a chameleon-like visual camouflage.
It also displays news headlines, traffic reports and weather information or plays music.
Another of Samsung's QLED innovations is its One Clear Connection which combines both power and AV cables into one super thin, robust, Teflon-coated connection eliminating cord clutter.
The low-profile cable available up to 15m allows the TV to be placed almost anywhere in the room without data or power outlets dictating the position.
Also available for separate purchase is the Slim Fit wall mount making installation simple and leaving almost no space in between the TV and the wall.
The tiltable wall mount solution adjusts the QLED TV's angle after mounting to achieve optimal viewing and allowing the TV to fit perfectly in any room.
The 2018 QLED range sets a new standard of picture quality for Samsung TVs featuring pure colour and deep blacks in a range of lighting conditions, times of day, or content on the screen.
Samsung's inorganic Quantum Dot technology means the QLED display helps ensure that colour remains pure at high brightness across both light and dark scenes.
The QLED display is also resistant to damage from burn-in, and Kiwis can enjoy added peace of mind with a 10 Year No Screen Burn Guarantee.
The Q9F QLED TVs feature Direct Full Array (DFA) technology that delivers pristine contrast with blacker blacks and pure whites.
DFA uses a panel with zones of smartly controlled backlighting that adjust automatically to produce stunning images.
Despite the new innovations in design and picture quality, Samsung has ensured the 2018 TV range is as easy to use as ever.
Set up time is drastically reduced with the new SmartThings app and Samsung's Universal Guide enables consumers to switch between live TV and streaming accounts with one intuitive menu.
The range also responds to the rising demand amongst New Zealanders for large-screen televisions with the introduction of seven models across the lineup that are 75 inches and above.
To complement the new TVs, Samsung will also be introducing an updated range of new audio products tailored to the different ways that people use their home entertainment system.
With front-firing, up-firing and new side-firing speakers, the HW N950 Dolby Atmos soundbar creates a cinematic experience that delivers 7.1.4 surround sound designed for a complete cinema solution, while the HWN650 soundbar featuring Acoustic Beam Technology supposedly takes the gaming experience to the next level.