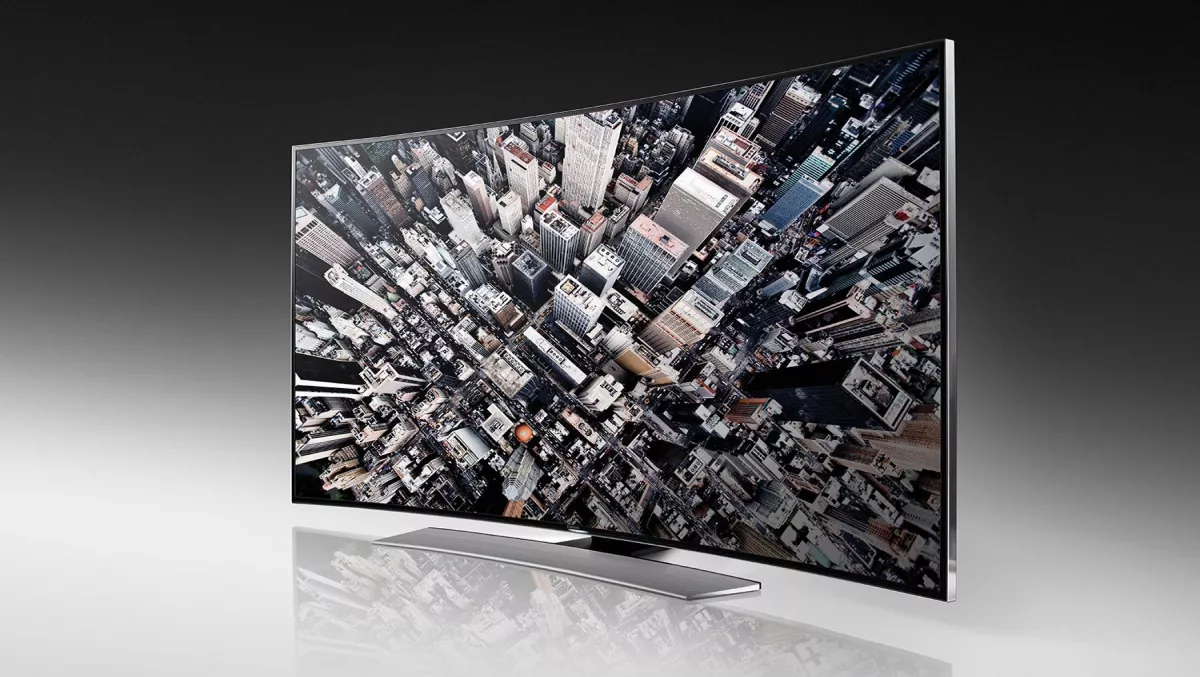 Samsung NZ: Ahead of the curve for Kiwi homes
FYI, this story is more than a year old
Samsung New Zealand has launched a range of televisions and home appliances which the tech giant claims are "so ahead of the curve" that they are "setting the pace internationally for innovation and design across the industry."
"We've made a commitment to be a global leader in the television and home appliance categories," says Jon Barrell, Consumer Electronics Director, Samsung.
"From our stunning UHD Curved TVs, to our Crystal Blue front loader washing machine (which can be programmed from your Samsung smartphone) and our ShowCase refrigerator, we're categorically out in front.
"We're looking forward to more Kiwis seeing what a difference Samsung can make to the way they live, entertain and design their homes."
According to Barrel, Samsung develops products that fit the way that Kiwis live.
"While design is at the heart of product development, we also work hard to understand what New Zealand consumers need to save time, money and to better enjoy their lives," he says.
"For example, sport is a key reason Kiwis get together around the TV.
"Whether it's to watch the rugby or football, our UHD Curved TVs enhance the whole experience, allowing viewers to completely surround themselves in picture and sound that adds to the thrill of New Zealand victory.
"New Zealand families are active, so they need a washing machine that can remove the dirt from the rough and tumble of a soccer or netball game while reducing the complexity and time spent in the laundry.
"The Crystal Blue washing machine does this while saving on water, energy and detergent use – and, being a front loader, it frees up more space for storage in the laundry.
"More and more Kiwis are enjoying world-leading and innovative home appliances made for their lifestyles, thanks to Samsung.
"That said, it's important that we never lose sight of delivering better performance and design, regardless of whether we're talking about TV and audio or vacuum cleaners."
Samsung UHD Curved TV – The World's First Curved UHD TV
Heralding a fundamental shift in the way Kiwis watch television, the Samsung HU9000 UHD TV blends its innovative Curved TV design with UHD TV technology.
Available at 55", 65" and 78", the curved screen gives content a presence not felt on flat screens and a wider field of view creates a panoramic effect that makes the display seem even bigger than it is while drawing the viewer in like no TV has ever done before.
Samsung developed the optimal curvature of 4200R, which provides the best picture quality from the average living room watching distance of three to four meters.
The combination of the curve and UHD quality creates the ultimate viewing experience bringing images to life and enveloping viewers in spectacular colour, clarity and detail.
Thanks to UHD Upscaling, featured on all Samsung UHD TVs, viewers are treated to the best possible picture, regardless of source material.
The proprietary technology converts Full HD, HD and lower resolution sources to near-UHD clarity through a unique four-step process that includes signal analysis, noise reduction, detail analysis and finally, upscaling, so everything looks better on Samsung UHD TVs.
UHD TVs are also future-ready, thanks to the Samsung UHD Evolution Kit, which houses a number of key technologies of the TV externally. This enables customers to replace out the kit with the latest version to utilise the latest Samsung technology – without having to change the whole television.
Samsung Crystal Blue (WW9000) Washing Machine
The Crystal Blue washing machine opens up a new chapter in design with its revolutionary styling that makes it truly standout.
The Crystal Blue lets users take care of household chores with ease and speed, thanks to an intuitive 5-inch color Full Touch Screen and enhanced Smart features that deliver optimum performance.
Once Auto Optimal Wash is activated, four sensing technologies gather information about the load: size, degree of dirt and soiling, amount of water, and detergent required and dispenses right amount of detergent based on this information.
The WW9000 represents true future thinking and comes equipped with Smart Control, letting users remotely control and monitor the washer using an application on a smartphone.
From inside or outside the home, the user can instantly start or pause a cycle, get information on remaining cycle-time as well as notifications when the wash is complete.
Related stories
Top stories