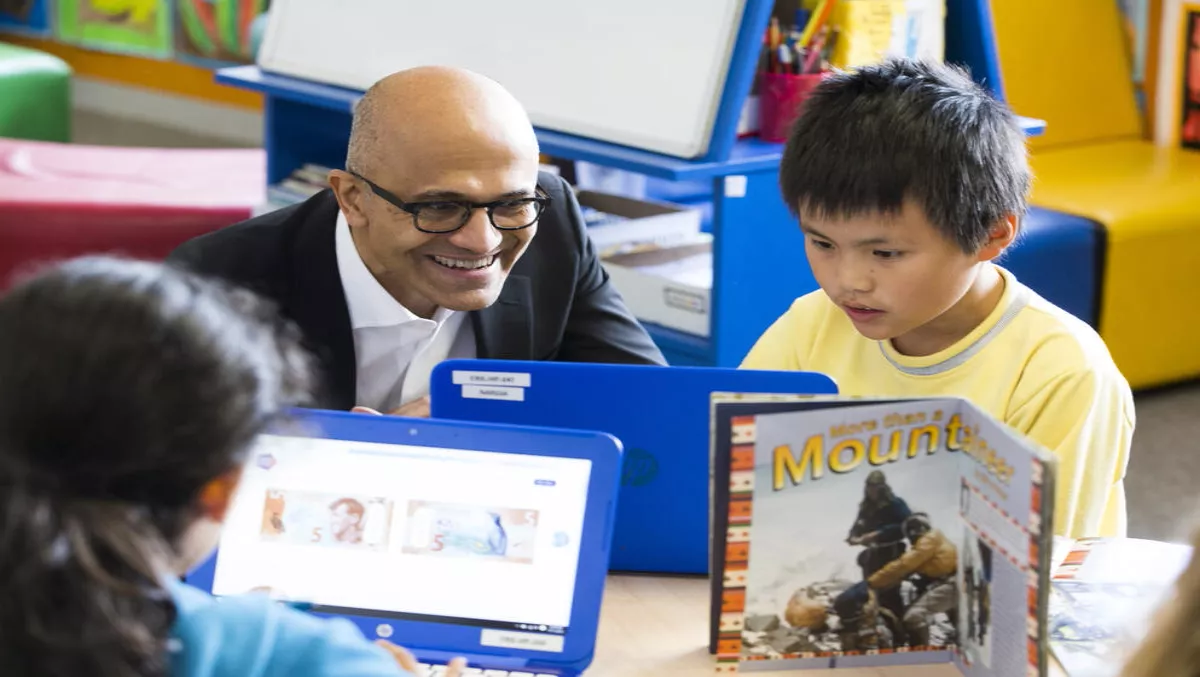 Satya Nadella visits Kiwi school, sees Microsoft computer science grant in action
By Sam Worthington,
Fri 18 Nov 2016
FYI, this story is more than a year old
A New Zealand-designed school programme for developing computational thinking skills has just been given a grant by Microsoft NZ.
The Computer Science Unplugged project is a collection of free learning activities that teaches Computer Science through engaging games and puzzles.
The activities introduce students to Computational Thinking (CT) through concepts such as binary numbers, algorithms and data compression.
It's also suitable for people of all ages and backgrounds, from elementary school to seniors, and is available free of charge under a Creative Commons license that allows it to be copied.
The new Microsoft 'Youthspark' grant will enable Professor Tim Bell, creator of the project, to re-factor the material so it will be easier to access and use in New Zealand and around the world.
Bell says he is thrilled to receive the grant from Microsoft, which will enable this program development work to be done in New Zealand.
"One of the challenges is how we help teachers and students get started with teaching and learning computational thinking. CS Unplugged introduces the concept through a fun and engaging program that can get them started without the need for technology," he explains.
"We have found that enabling teachers and students to approach the subject through 'unplugged' lessons prior to getting onto a computer builds confidence and enthusiasm, and gets students thinking about the concepts involved."
The funding will also support a sister project, the Computer Science Field Guide, which is an online resource for teaching the subject to high school students.
This announcement was also unveiled the same day that Microsoft's CEO, Satya Nadella, was visiting New Zealand.
He dropped by Freeman's Bay School yesterday as the guest of the Hon Hekia Parata to see how the school is utilising the CS Unplugged program.
Microsoft New Zealand managing director, Barrie Sheers, says the CS Unplugged program will make it easier for young people in underserved communities to learn computational thinking skills.
"Computer science talent can come from anywhere, and this program allows for equity of access to education in computational thinking," says Sheers.
He explains that globally, Microsoft is committed to working in partnership with governments, nonprofit organisations and businesses around the world to provide opportunities for all youth to learn computer science.
"Microsoft's mission is to empower every person and every organisation on the planet to achieve more, and today's announcement is a perfect encapsulation of that mission," he says.
"We were equally pleased by Ms Parata's announcement of a new focus on Digital Technologies in the New Zealand school curriculum, and we see this as a significant way we can support students and teachers in building pathways to careers in the technology industry from the primary and secondary school level."