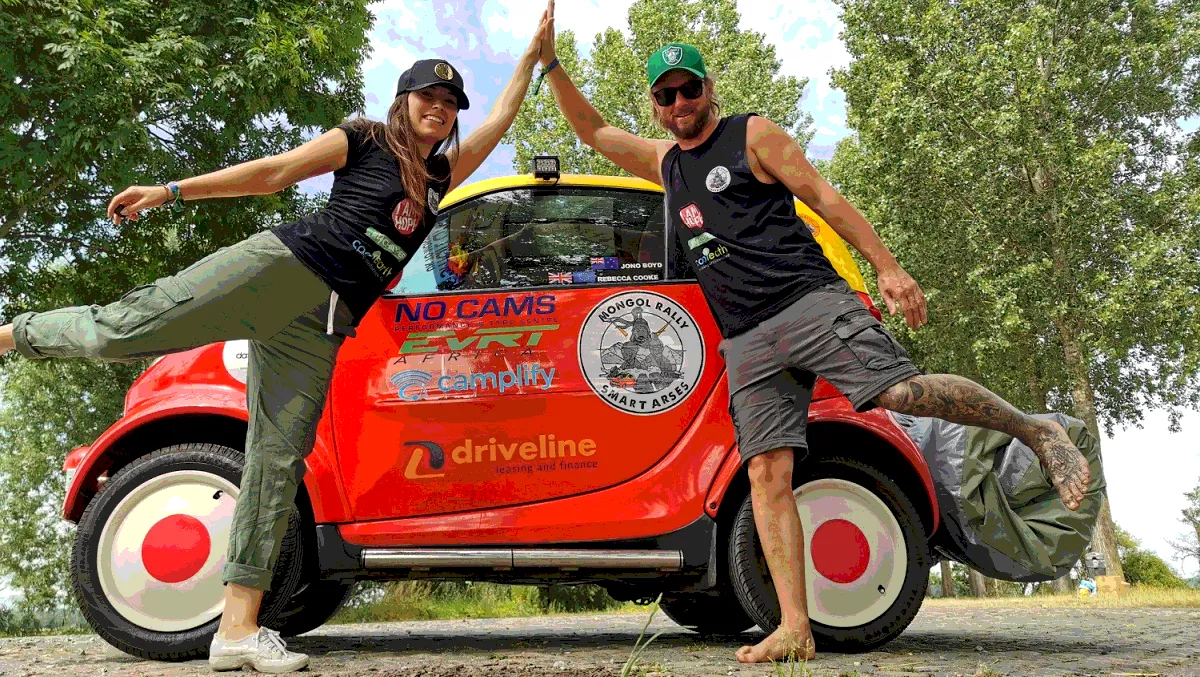 'Smart arses' in a smart car on 18,000 km rally for mental health
Wed, 24th Jul 2019
FYI, this story is more than a year old
18,000 kilometres is a long way to travel in a tiny 0.6 litre smart car, but that's exactly what a Kiwi-British couple are doing to raise awareness of mental health.
As part of the Mongol Rally, the couple will spend the next two months travelling through three deserts, five mountain ranges and 23 countries in the 2002 Smart Passion City Coupe.
The couple has even named its team 'Smart Arses' until they cross the finish line around September 16, and they'll share the entire journey on social media to more than 18,000 followers.
It's all for a good cause: the couple aim to raise more than $10,000 for their chosen charity, I AM HOPE. It is a charity founded by Mike King. It supports those suffering from mental health problems.
"We're always up for stepping outside of our comfort zones and the Mongol Rally ticked all the boxes for us - we can experience parts of the world we've never been to before while putting the spotlight on charities we feel passionate about," says Jono Boyd, one half of the duo. He is travelling with his English girlfriend Rebecca Cooke.
Boyd, a recovered methamphetamine addict who has overcome mental health issues, says I AM HOPE is a charity that resonates strongly with him.
Driveline CEO Lance Manis is supporting the couple's quest. Manis is a recovered alcoholic, so he understands the struggles. He met Boyd nine years ago.
"Jono and I have both been on our own personal journeys with addiction and mental health and share the motivation to help others who are going through tough times. This is a great opportunity for Driveline to get behind Jono and Rebecca's drive of a difference to make a difference," says Manis.
Cooke adds that this will be the couple's biggest test yet.
"During the past year we've been travelling the world together at a leisurely and comfortable pace, but this will be a bit different," Cooke adds.
The couple is filling 40 litres of fuel supply into the tiny car, along with all other essentials like food, clothing and shelter, during the traverse.
"We had to get a whole new clutch put in the car just two weeks ago as the original clutch was slipping, so we're hopeful Smart Arses will do us proud and get us all the way in once piece," says Boyd.
"We're very grateful to everyone that has had confidence in us to do this, particularly Driveline. We wouldn't be able to do this without all the support!
Team Smart Arses are also raising funds for Cool Earth, committed to protecting the planet's rainforests from deforestation and Chilypep, that builds emotional resilience and improves young people's mental health services.