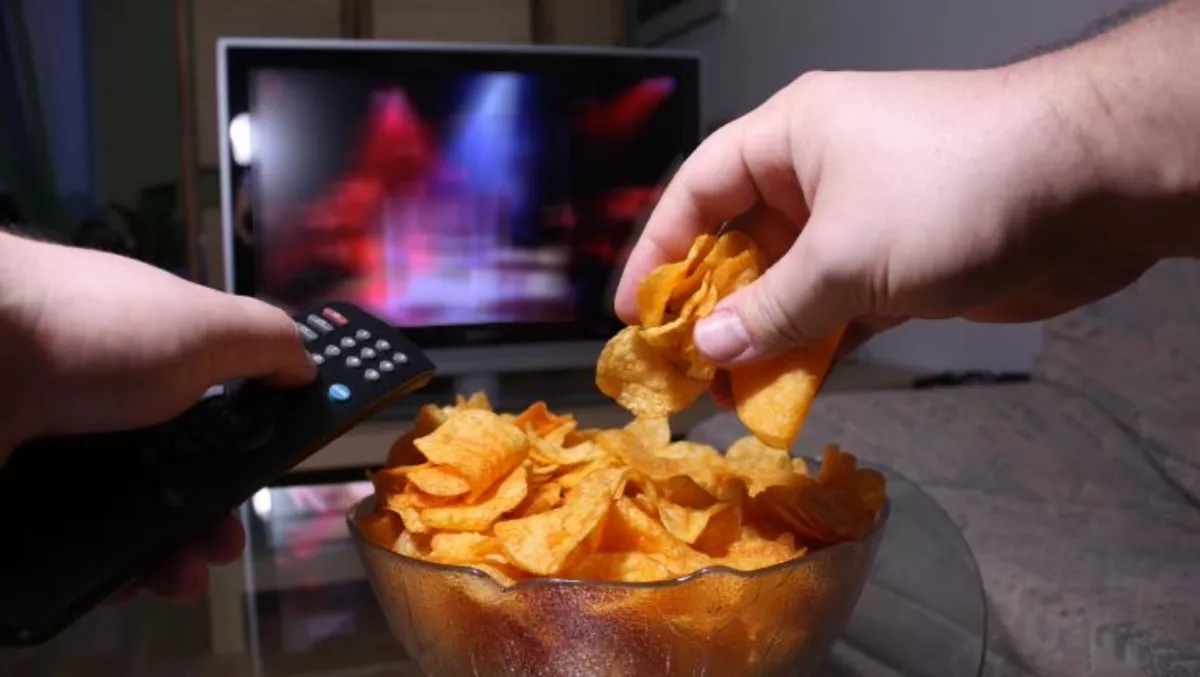 Is snacking in front of the telly bad for Kiwi kids?
FYI, this story is more than a year old
Growing dependence on digital devices and social media could be having a negative impact on Kiwi waistlines according to a new Ministry of Health report.
The Ministry's report found that watching television while eating increased food intake in children, adolescents and adults, even in the absence of food advertisements, and that this effect may also be present with other screens including computers and phones.
Psychologist Sara Chatwin says we have become dependent on the consumption of media and social media and devices that allow us access to information quickly and easily.
She states, "The consumption of media through digital devices has become so ubiquitous in our daily lives it now pervades every part of our day, including our meals.
"As a society and as parents, we need to learn to say no to screens at key times and set firm rules around when and how we eat, so we are not mindlessly consuming food while distracted by a constant barrage of digital content."
The 2017 Ministry of Health report found that eating a healthy breakfast every day in childhood can lead to improvements in academic performance, may improve diet overall and may protect against weight gain.
However recent research from Sanitarium showed that less than half (49%) of children usually have a nutritious breakfast seven days a week.
Only a third of children aged 13 to 15 years ate a nutritious breakfast every day.
The research carried out in conjunction with the company's Better Brekkie programme found that while the majority (72%) of children have breakfast at home seven days a week, a sixth (16%) of those aged five to seven years eat away from home at least once a week.
The likelihood of eating breakfast at home decreased with age, with more than half (52%) of those aged 13 to 15 years eating breakfast away from home at least once a week.
The survey also found that half of 13 to 15-year-olds and 7% of those aged five to seven years skip breakfast once a week.
Sanitarium nutritionist Stephanie Polson says, "Watching TV or your phone while eating can prevent people from focusing on their eating behaviour, where we would normally be more attuned to internal processing food cues as well as being able to exert a habitual dietary restraint."
Polson says parents can influence their children's eating habits by encouraging them to help prepare and cook food, turn off their screens while eating and sit together with the family for meals.
Related stories
Top stories