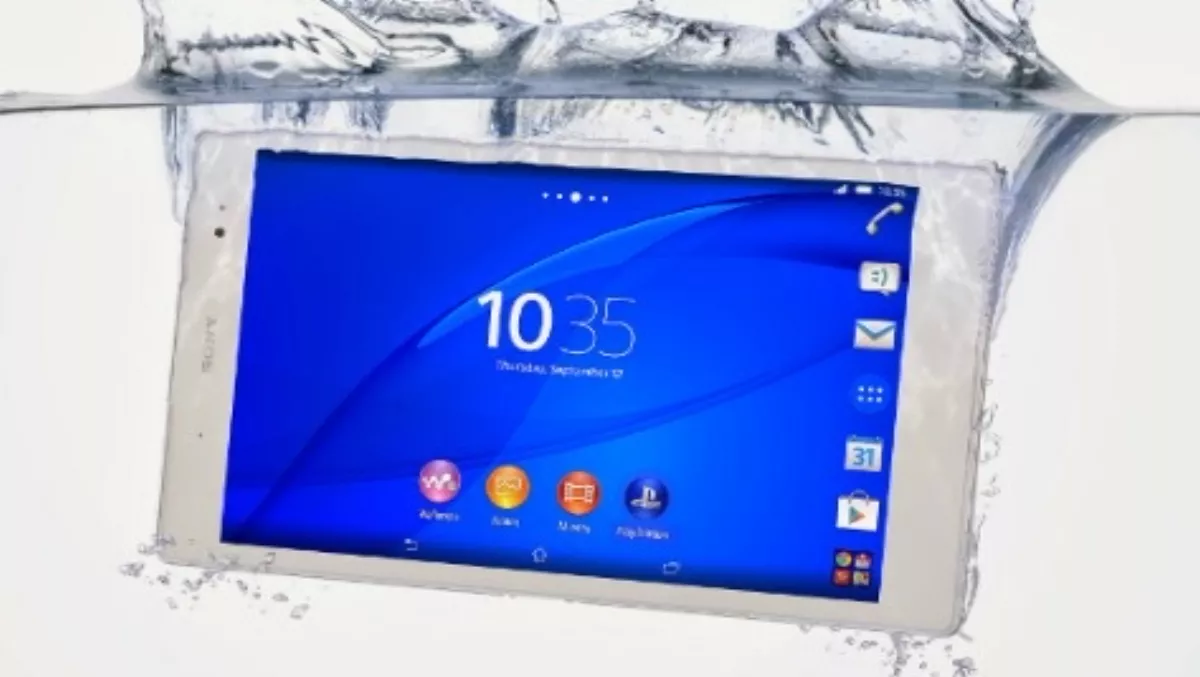 Sony releases the world's slimmest and lightest waterproof compact tablet
By Shannon Williams,
11 Nov 2014
FYI, this story is more than a year old
Sony Mobile Communications New Zealand has announced the Xperia Z3 Tablet Compact will soon be available in New Zealand.
The company says the Xperia Z3 is the culmination of years of Sony engineering, resulting in a tablet where might isn't held back by measurements.
Sony says the tablet is the world's slimmest and lightest waterproof compact tablet, delivering the high levels of waterproof design. With the most powerful processor in a compact tablet, it has a sharp 8" Full HD display, as well as audio technology. It also features PS4 Remote Play.
"Following on from the success of our award-winning Xperia Z2 Tablet, we're continuing to expand our tablet portfolio with the launch of the no-compromise compact tablet. Xperia Z3 Tablet Compact pushes the boundaries of technology innovation by bringing our flagship Z3 series features in a compact sized tablet, continuing our new standard of offering premium experiences in a choice of form factor for consumers," says Peter McKeon, managing director Oceania, Sony Mobile Communications.
At 6.4mm slim, and weighing only 270g, Xperia Z3's compact design is ideal for those on the go, while advanced technology ensures users don't have to compromise on power.
Sony has included the addition of PS4 Remote Play on the Xperia Z3 series. With PS4 Remote Play, exclusive to Xperia, users can now use their Xperia Z3 Tablet Compact as a remote screen to connect to and control games on PS4.
Additionally, the PlayStation app lets allows users to use their Xperia Z3 Tablet Compact as a second screen to remotely watch friends' game play, communicate with PSN friends, purchase PS4 games and download to PS4, or simply to control PS4.
The Xperia Z3 series brings Sony's Digital Noise Cancelling technology to the tablet. Ambient noise is reduced by up to 98% when paired with the MDR-NC31EM Digital Noise Cancelling headset.
Xperia Z3 Tablet Compact features the world's fastest processor in a compact tablet, thanks to the Qualcomm® Snapdragon™ 801 Quad-core 2.5 GHz processor with 3GB RAM. The speed allows for fluid interaction, quick browsing and easy multi-tasking. The asynchronous processor makes sure each core is powered independently which means users will get the precise amount of power when they need it, without wasting power when they don't.
The compact tablet comes with 13 hours of high quality video playback. Sony's Battery STAMINA Mode turns off background functions when not in use to help extend battery life.
With an 8.1MP camera and innovative new Xperia camera apps, and Exmor RS for mobile, users can enjoy quality photography. The 2.2MP front-facing HD chat camera is ideal for video calls, while the integrated social camera apps offer a unique user experience perfect for social sharing. The Multi-camera feature allows users to record from multiple angles at the same time. Or add sound to a photo with Sound Photo. Try Sticker creator to use your favourite picture as a stamp.
To switch or upgrade to Experia from their existing Android or iOS tablet, users can transfer all their existing content and contacts with Xperia Transfer,
The 16GB WiFi variant of the Xperia Z3 Tablet Compact will be available in black, from Sony stores and through Sony online, at RRP $579 from the 21th of November.
For the full specifications, click here.